The best part of this project is that it looks like it was super hard to create! There is something about a project that looks difficult to produce that makes it more desirable, don't you think? Let me take the mystery out of this process.
---
Learn How!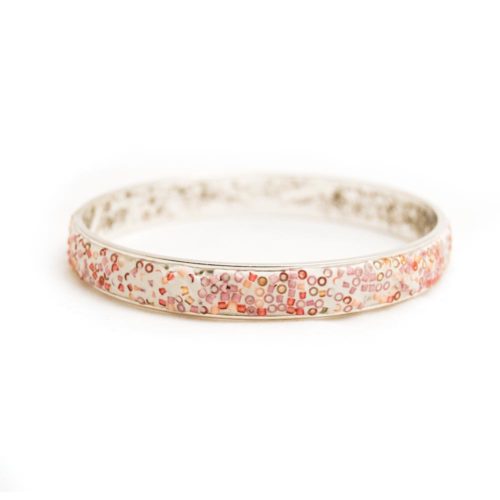 Materials Needed:
Nunn Design Bangle Bracelet Channel
Crystal Clay – White
Seed Beads Mixed Assortment
Basic Supplies:
Wet-wipes
---
Step 1.
Follow the manufacturer's instructions for the handling and mixing of the Crystal Clay. While wearing gloves, pinch off two equal grape sized balls of Part A and Part B and blend together fully until the clay is no longer marbled and uniform in color. You have approximately 90-120 minutes of working time before the clay starts to harden, so take your time. Once the clay is thoroughly mixed, remove your gloves to make is easier to work with the clay.
---
Step 2.
Roll the clay into a round ball and then into a long thick snake. This clay shape helps to provide even distribution of the clay in the channel cuff. Place the clay into the center of the channel cuff. Starting at one end, flatten the clay from top to bottom of the channel with your fingers. Continue until all the clay is flattened and smooth in the channel.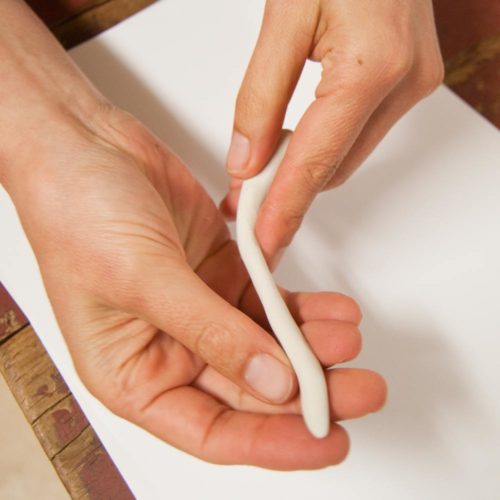 Tip: If you didn't mix up enough of the Crystal Clay, mix another small ball and add it to your channel cuff bracelet. Place the new batch of rolled and snaked clay next to your finishing point by blending the two batches of clay together with your fingers.
---
Step 3.
Place your seed beads onto a flat surface.  You may need to turn some of the seed beads so the holes are all facing up. I used two business cards to create an 8.5" long strip of beads, about the width of the Bangle Bracelet.
---
Step 4.
Starting at one end of your 8.5" strip of seed beads, press the Bangle Bracelet Channel loaded with Crystal Clay into the seed beads. Use the tips of your fingers to gently press down the Bangle along the inside curved surface. Continue to roll the bangle across your strip of seed beads until you have made the full loop.
---
Step 5.
Use your fingers to pat down the seed beads into the Crystal Clay.  I also use my fingernails to go along the outside edge of the Channel, making sure that a bunch of excess isn't spilling over the sides.  If you do have excess, use a wet wipe and wipe away the Crystal Clay while it is soft. It will be a real challenge to get off once it is set, so take your time and clean as you go along.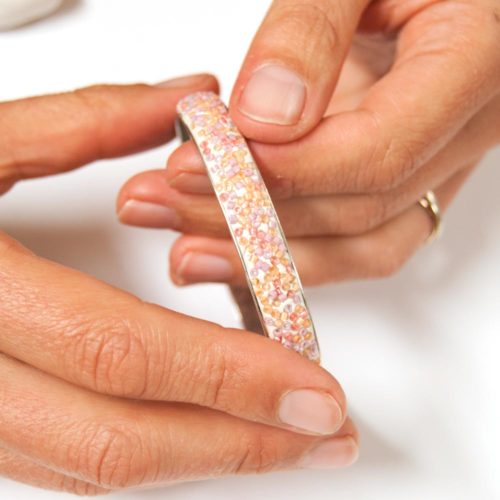 ---
Step 6.
Okay, we are on step 6 here and I told you this was an easy project.  At this point you are probably thinking I'm a big fat fibber, but it wasn't all that hard. In fact the pictures above are the first two samples I ever made…hang in there!
---
Step 7.
Really Step 6, but who's counting.  If you had excess clay from Step 2, you will use if for this next step.  If you don't have extra clay, you will need about a pea size ball of parts A and B. Once the Crystal Clay is fully mixed, snake it out into a thin long snake.  You will be basically using the thin strip of Crystal Clay to make a slip (like when working with pottery). I placed my fingers in water getting the clay very wet, so I could easily and gently rub it over the seed beads. The clay will fill all of the little holes.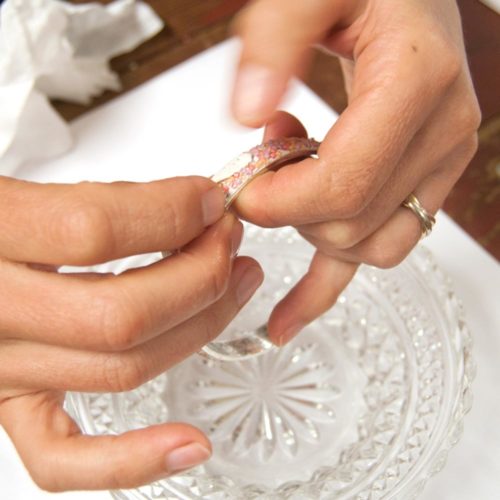 ---
Step 8.
Use a wet wipe to wipe away the excess clay.  I again used my fingernails to go along the outside edges of the Bangle Bracelet Channel to clean up that side edge.  If you don't have fingernails because you bit them all off stressing if you were going to wrap this project up or not, use a butter knife.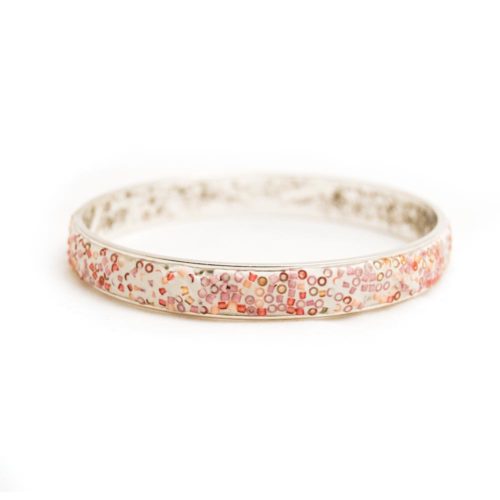 There you have it. Now you can use this technique to make a collection of pieces in whatever color suits your fancy.
---
Learn More!
---
Shop Nunn Design Wholesale
Nunn Design has been supplying jewelry artists with findings for over 20 years. Shop wholesale jewelry findings for creative jewelry makers.
Shop Nunn Design!
---
How to Purchase Wholesale?
If you are interested in becoming one of the many designers who trust their jewelry to Nunn Design Findings, please join us by registering to become one of our wholesale customers!
Please visit our Where to Buy Page for a listing of online stores that sell Nunn Design Findings retail.
---

If you enjoyed reading this post, please subscribe to our blog. Here are 10 Reasons Why to Subscribe and a place to do so!