It isn't too early to be inspired to create for Valentines! Here are 16 ideas to consider creating for this celebration of love!
---
I love this little book that Innovation Team Member Stephanie Gard Buss created for Cloth Paper Scissors Magazine. Stephanie created a wonderful pair of earrings for this project, but can you imagine a little book like this with sweet nothings written in the inside?
---
Nothing says love like a sweet heart charm. Add it as a statement or as an accent. In this piece, I colorized resin to create this unique look.
TUTORIAL: Download our "How To Add Opaque Pigments to Nunn Design Resin" and get started on your own creative endeavors!
BUY: Shop the Nunn Design Heart Charm collection
BUY: Shop Wholesale the Nunn Design Resin Kit
BUY: Shop Wholesale Castin Crafts Opaque Pigments.
BUY: Shop Retail Nunn Design Resin Kit & Castin Crafts Opaque Pigments.
---
Create a custom love note for that someone special by metal stamping.
TUTORIAL: 17 Tips For Metal Stampings.
BUY: Shop our Metal Stamping Tags!
---
Designer: Stephanie Gard Buss
Designer: Karen McGovern
Incorporate sweet nothings by rubber stamping onto leather, as Innovation Team Stephanie Gard Buss did, or create a love note that is incorporated into your jewelry, like Innovation Team Member Karen McGovern.
---
Nothing says "sweetness" like this pink cuff bracelet and cherry blossoms! Learn how easy it is to texturize Crystal Clay and then how to colorize it!
VIDEO: Learn how to use Judikins Clay Squishers in this fun video done for Artbeads.com
TUTORIAL: After the Crystal Clay is dry, I mixed up some resin and colorized it. Learn how with this free download: "How To Add Opaque Pigments to Nunn Design Resin"
BUY: Here is a link to the Judikin's Clay Squishers that we offer.
---
Designer: Donna Mussara
Here is another way to secretly incorporate those sweet nothing messages of love! Innovation Team Member Donna Musarra created this beautiful Glass Keepsake Pendant with a note that was covered in resin and scrolled up inside. Granted, these sweet nothings could be love letters to oneself!!! Ohhh…I'm so doing that!
---
Designer: Haylee Troncone
And here, Haylee Troncone, incorporated her words on the outside of our glass vials that our chatons come packaged in.
---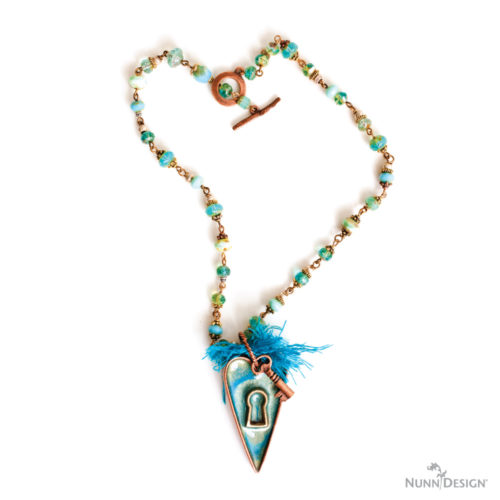 Designer: Stephanie Gard Buss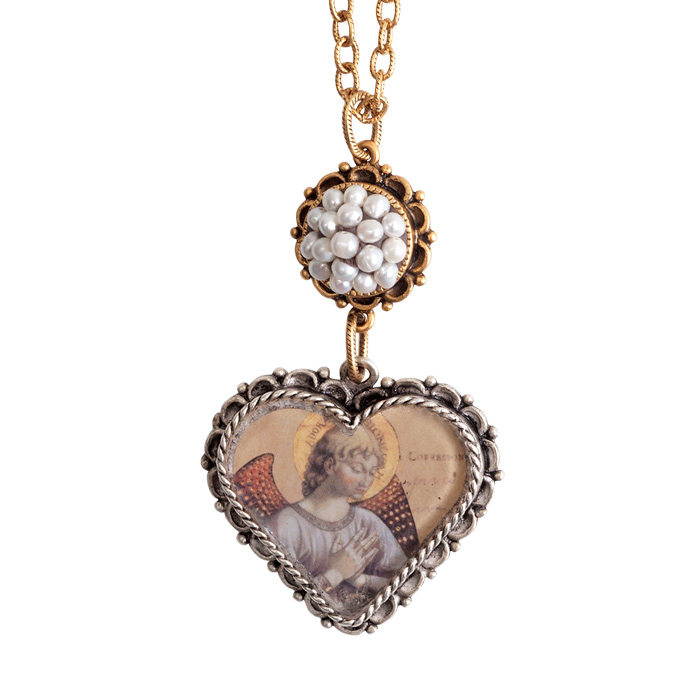 Designer: Becky Nunn
Designer: Karen McGovern
Add a collage sheet image with Nunn Design 2 Part Resin, or add Mica Powders to Nunn Design 2 Part Resin to create these great Valentine treasures!
VIDEO: Although this video covers making a druzy style piece, the coloring of the resin with the mica powders is still helpful to create a piece like Stephanie's above.
TUTORIAL: Here is a great blog post covering the step-by-step for creating Keepsake Pendants with Collage Sheets and Resin.
---
Designer: Erin Prais-Hintz
Innovation Team Member Erin Prais-Hintz is the master of creating beautiful polymer clay pendants. Erin used a Nunn Design Transfer Sheet image over her polymer clay to create the black graphic swirls. She then sealed her piece to provide protection from wear and tear, but you could also cover with Nunn Design 2 Part Resin.
TUTORIAL: Here is a blog post walking you through the steps for creating with Transfer Sheets and Resin
---
Designer: Karen McGovern
Karen McGovern is always creating something new and fun. I love how she cut out a piece of textured metal to create this heart shaped pocket pendant.
---
You can embed so many different items into Crystal Clay. Here you see samples of crystals and beads, but don't let that limit your creative muse. Push the envelope and try nailing down the cats fuzzy fur!!! Now that is pet dedication!
TUTORIAL: Here is a tutorial on Embedding Stones, but there are several other tutorials showing crystals.
BUY: Shop all of the heart shaped pendants
I hope you are inspired to speak the language of love by creating special tokens of your affection for this Valentine Season. Could someone hold me accountable for making something for my husband? That man so deserves some lovin!
---
Shop Nunn Design Wholesale
Nunn Design has been supplying jewelry artists with findings for over 20 years. Shop wholesale jewelry findings for creative jewelry makers.
Shop Nunn Design!
---
How to Purchase Wholesale?
If you are interested in becoming one of the many designers who trust their jewelry to Nunn Design Findings, please join us by registering to become one of our wholesale customers!
Please visit our Where to Buy Page for a listing of online stores that sell Nunn Design Findings retail.
---

If you enjoyed reading this post, please subscribe to our blog. Here are 10 Reasons Why to Subscribe and a place to do so!