Even after several years of exploring resin, I'm still learning! Resin is one of those mediums that you can use to push the envelope and continue to discover what you can create next. Take a look at some of the artists that I find to be very inspiring in these 30 Inspiring Resin Jewelry Creations.
---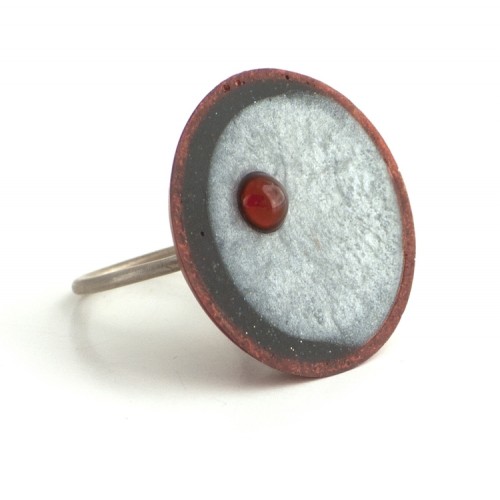 Alice Kresse is doing some seriously cool and hip pieces using resin! WOW! http://akresse.com/epoxy-resin/
---
Cat Kerr created these great pendants using sea glass, transfer images, copper foil iron solder and 2 part resin over the top. I think these are awesome! I'm so trying this! http://inthelightofthemoon.blogspot.co.uk/2012/02/sea-glass-pendants-and-my-sweet-friend.html
---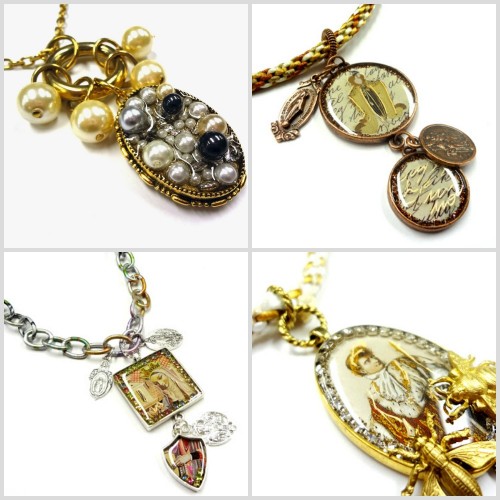 Join Carmi on her blog I Love Resin as she walks you through many inspiring projects using Nunn Design Findings. Thank you Carmi! http://iloveresin.blogspot.com/search/label/Nunn%20Design
---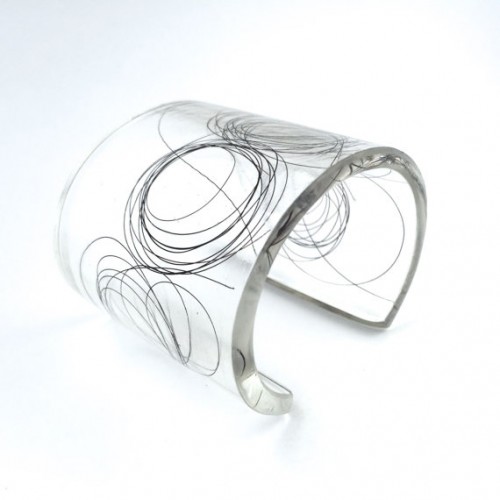 The contemporary resin pieces that Summer from Spotted Dog Farms is creating are stunning. Creating pieces like this is a time consumer! I'm totally in love with the idea that you could encapsulate your wedding flowers and have the piece signed with your wedding date. Isn't that a cool gift idea? https://www.etsy.com/shop/SpottedDogAsheville
---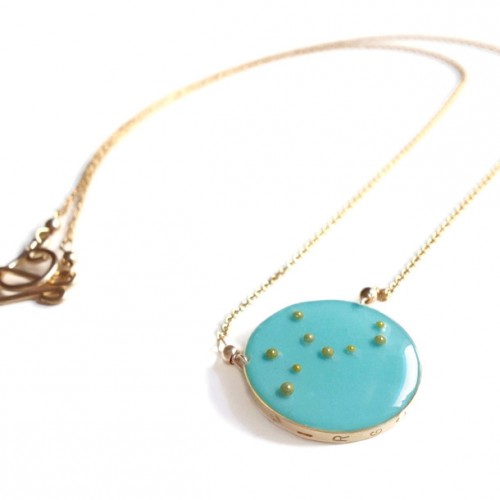 Carla de la Cruz is doing some beautiful constellation inspired jewelry! http://www.carladelacruzjewelry.com/?page_id=116&mycart_category=19
---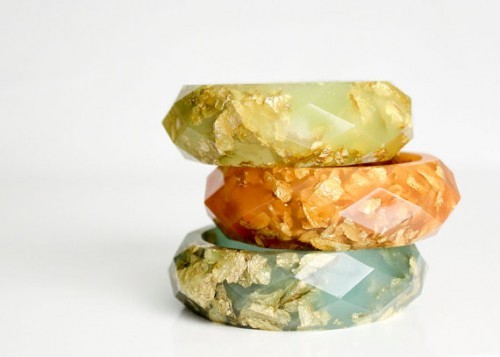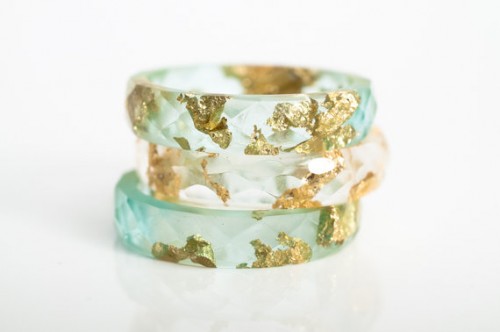 Jessica and Gwynne Burgess sell some beautiful bangles and rings on their Etsy site, Rosella Resin. The colors are so soft and sweet. And then mixed with those gold flakes. Yummy! https://www.etsy.com/shop/RosellaResin/sold?page=8&ltid=258065820
---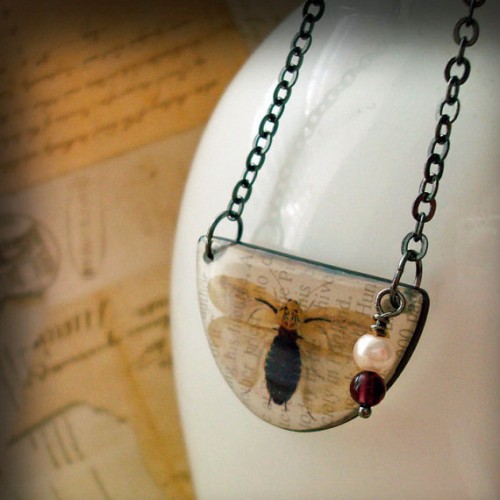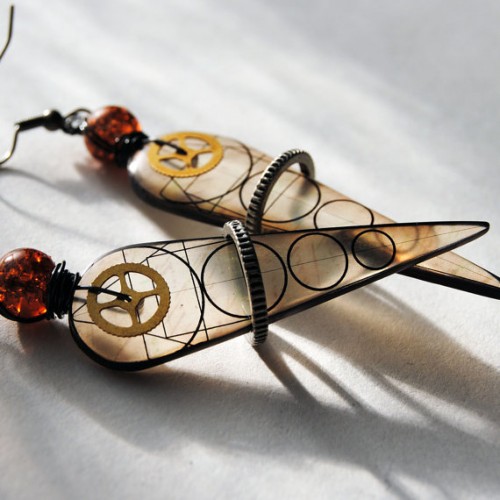 I'm totally nuts-o over Carol-Ann's resin pieces on Resin8ing Darkness. This woman is a hidden gem! Great images! Great shapes! Great design! A++++!!!
https://www.etsy.com/shop/Resin8ingDarkness?ref=pr_shop_more
---
I really like these translucent pendants by artist Mikel Robinson. http://www.mikelrobinson.com/Jewelry.html
---
The Nunn Design Gallery has dozens of great inspirational projects using resin. Here are just a few. http://nunndesign.com/techniques/two-part-resin/
---
Get Yourself Educated!
Besides a ton of books and videos that you can purchase, here are some free resources that I have gathered to help educate with.
Bop over to our blog to see this blog post highlighting 10 of our resin videos. I cover everything from Making a 'Druzy' to Adding Organics! http://nunndesign.com/10-videos-on-using-resin/
Here is another blog post from our site highlighting 8 Free Videos on Perfecting Your Resin Technique.
---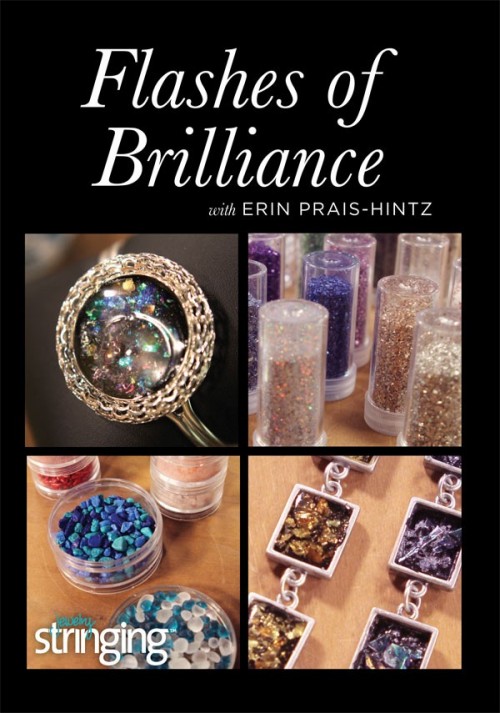 Former Innovation Team Member Erin Prais-Hintz created this great dvd with our friends at Interweave; Flashes of Brilliance. http://www.interweavestore.com/flashes-of-brilliance-grouped
---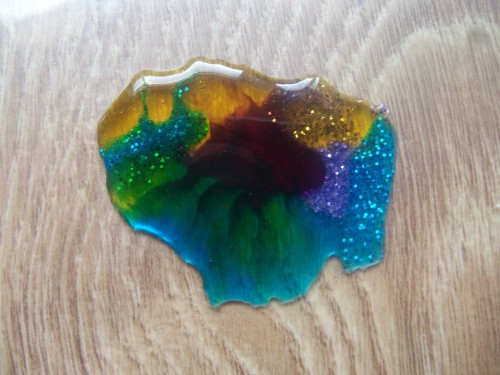 I thought Alice Bignami Todd's resin play was awesome. This is a great way to use up that excess resin. Alice writes:
"To make this pendant, I first poured the excess resin mix from a previous project onto a smooth sheet protector (made of polypropylene or polyethylene to which the resin does not bond) and left it to cure. Next I lifted off the set resin and cut it into small pieces with scissors to make the "mosaic tiles". Finally, I put a base layer of white colorized resin into a Nunn Design grande square pendant and before it set I arranged the "mosaic tiles" in the resin with a toothpick." https://www.etsy.com/shop/resinjewelsbyalice
---
Subscribe to our You Tube Channel! There are dozens of free videos to inspire and educate you on using Nunn Design 2 Part Resin. https://www.youtube.com/user/nunndesigncompany
---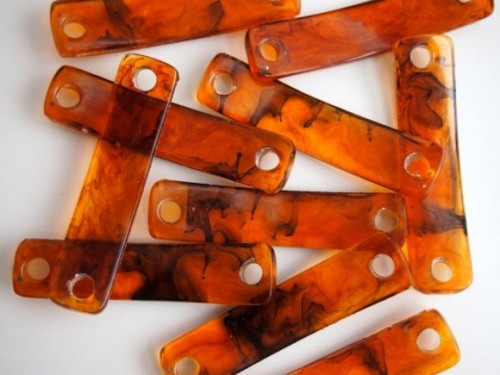 I thought these resin spacers were awesome.
http://whatido.com/posts/resin-spacers-the-new-batch
---
In this tutorial from What I Do, they walk you through the steps of finishing resin. I think all consumers should see this. It sure made me have an appreciation for the labor involved in these bracelets! http://whatido.com/posts/resin-finishing-like-a-pro
Let me know if you have some resin pieces that you would like to share!
---
Shop these items:
---

If you enjoyed reading this post, please subscribe to our blog. Here are 10 Reasons Why to Subscribe and a place to do so!