As rhinestone chain and bling continue to trend strongly into 2014, let's take a look at the different ways in which you can incorporate the small remnants of chain that are left on the spool or in your scraps. If you don't have any, well then, you are in luck. We have them in stock now!!! And they are 20% off while supplies last! Click on any of the images to shop the Nunn Design Findings used in each of the jewelry project listed below.
---
1. Embed Into a Channel Bangle.
Rhinestone Chain can be embedded into the Nunn Design Channel Bangles with a wee bit of epoxy clay. Honestly, this wasn't the easiest project that I have done, so I suggest you tackle something else first. But it sure does look good.
---
2. Add a Decorative Element.
I love this project…mostly because I found a cool purpose for all of my left over chaton bottles! The rhinestone chain is attached with epoxy clay.
---
3. Create Height
I often use Rhinestone Chain to build height, like I did in this ring.
---
4. Make Decorative Hair Accessories
Shhh.. This is what I am giving my mother-in-law this year for Mother's Day. She wears hair combs like this and I can't wait to have her all 'blinged' out with these!
---
5. Creating a Decorative Frame
Heather Thompson, our Operations Manager, created this great piece in memory of her horse, Herfy. The rhinestone chain in attached with epoxy clay, but it could have been embedded right into a two part resin.
---
6. Create a Border For Odd Sized Items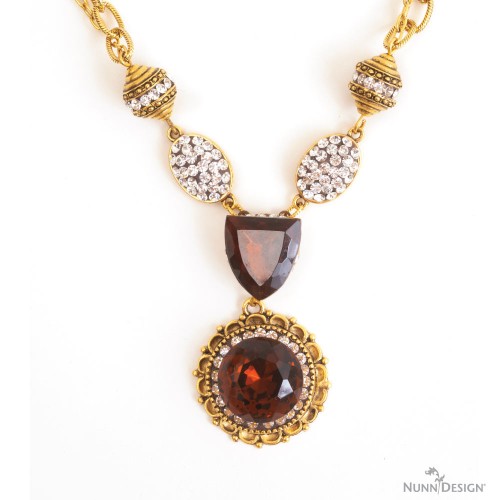 I have a lot of vintage finds that don't fit perfectly into the Nunn Design Bezels. In this piece, the vintage rhinestone cabochon was too small, so I used a piece of rhinestone chain to wrap around the base. I like it even better than if the vintage cabochon was a perfect fit!
---
7. Wire wrapping rhinestone chain onto the Nunn Design Bangle Bracelets is quick and easy…and gorgeous too
Wire wrapping rhinestone chain onto the Nunn Design Bangle Bracelets is quick and easy…and gorgeous too.
---
8. Wrap Around a Channel Bead or a Connector
Use rhinestone chain on the Nunn Design Channel Beads to create unique accents. Or attach a small bit of epoxy clay to a toggle clasp or connector to create a focal point with bling.
---
9. Wrap It On Leather
Use waxed linen cording to wrap rhinestone chain onto leather just like our former Innovation Team Member Lorelei Eurto did in this great tutorial.
---
10. Epoxy Clay and Rhinestone on Rings
Make quick and easy rings with epoxy clay and rhinestone chain remnants.
---
11. Create Length
Create length to your jewelry piece by using a rhinestone chain remnant to dangle baubles and beads.
---
12. Add An Accent
Heck, maybe this isn't a remnant, but adding rhinestone chain to a bracelet as an accent with other chains adds a great look!
---
Shop Rhinestone Chain Remnants

Shop the Nunn Design Rhinestone Chain Remnants at 20% off while supplies last!
Rhinestone Chain
---
List Your Store Front In Our Store Locator:
Nunn Design is committed to supporting our retailers. Magazine articles, blog posts, Pinterest pins, various online sites promoting Nunn Design products are some of the may ways we drive business to you, our retailers.
We often receive inquiries from consumers about how to find our product in their neighborhood. If you would like your store front to be listed in our Store Locator, please email Cheryl, cheryl@nunndesign.com and she will be sure your location is added!
---

If you enjoyed reading this post, please subscribe to our blog. Here are 10 Reasons Why to Subscribe and a place to do so!