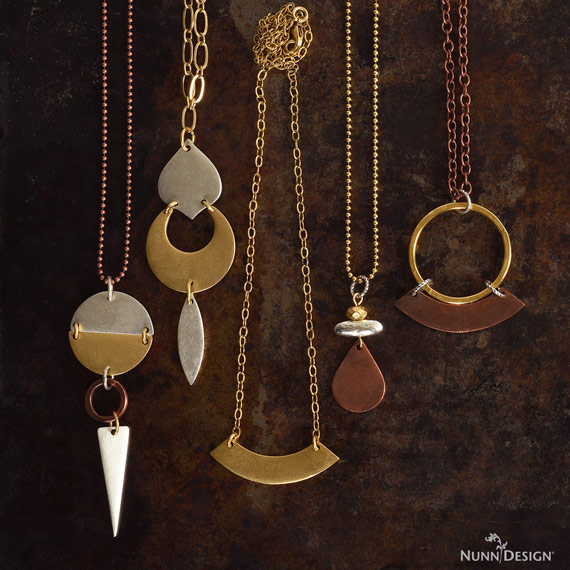 January 9th, 2020 – Nunn Design releases the 2020 Winter Collection. This is part of a series of posts in which we highlight the full collection. Each blog post will provide all of the fine details – hopefully inspiring you to create!
In this last post, we feature our 6 new Metal Stamping Flat Tags, launching with the 2020 Winter Collection!
Nunn Design Pewter Findings are cast in the United States of America using the pewter alloy NL7. This alloy's constituents consist of 95.75% Tin, 2% Antimony, .25% Copper and 2.00% Bismuth. The higher percentage of tin has always been the hallmark to indicate the higher quality pewter alloys.
The cast Metal Stamping Blanks are then electroplated for metal stamping and engraving using precious metals; copper, 24k gold and .999 fine silver. Due to the thickness of silver required for electroplating the Nunn Design Findings in sterling silver, we do not offer this plating option in our Nunn Design Metal Stamping Blank Collection. The sterling silver plating easily cracks when metal stamped upon. Metal Stamping Blanks are sold in bulk packs of 10 pieces.
Below are the 6 new Nunn Design Flat Tags to release January 9th.
---
Watch Video!
Here is a short video where I go over the new items and share finished pieces to be inspired by. Enjoy!
---
Flat Tag Grande Curved Rectangle
---
Flat Tag Grande Navette Single Hole
---
Flat Tag Small Drop Single Hole
---
Flat Tag Mini Navette Single Hole
---
Flat Tag Mini Heart Single Hole
---
Flat Tag Mini Hexagon Single Hole
---
Shop the 2020 Winter Collection!
SHOP THE 2020 WINTER COLLECTION!
Download the 2020 Master Catalogue!
---
How to Purchase Wholesale?
If you are interested in becoming one of the many designers who trust their jewelry to Nunn Design Findings, please join us by registering to become one of our wholesale customers!
Nunn Design primarily sells wholesale, but we do offer Retail Kits and Retail Buy & Try Programs for certain projects. For all other findings, please visit our Where to Buy Page for a listing of online stores that sell Nunn Design Findings retail.
---

If you enjoyed reading this post, please subscribe to our blog. Here are 10 Reasons Why to Subscribe and a place to do so!