Nunn Design Jewelry Findings are plated with precious metals. All precious metals, with the exception of platinum, will eventually tarnish. A quick Wikipedia search provided an explanation on why this occurs:
Tarnish is a product of a chemical reaction between a metal and a nonmetal compound, especially oxygen and sulfur dioxide. It is usually a metal oxide, the product of oxidation. … The metal oxide sometimes reacts with water to make the hydroxide; and carbon dioxide to make the carbonate.
In a previous blog post, 8 Tips on How to Care for Your Plated Jewelry, we have discussed ways to care for your plated jewelry to prevent it from tarnishing all together, but what happens to jewelry that you have on consignment in a store for a long period of time? How do you keep your jewelry looking fresh show after show?
As I dug through my own jewelry samples, the findings that were most tarnished were the copper plated jewelry. These pieces are individually stored in cello bags and stored in a box in my office. Even with the proper care, the tarnishing still takes place!
We set out to explore and test the best solutions for cleaning copper plated Nunn Design Jewelry Findings. Here are the results of 5 different techniques we experimented with to find the best way to clean away tarnished.
---
Test 1: Lemon Juice and Salt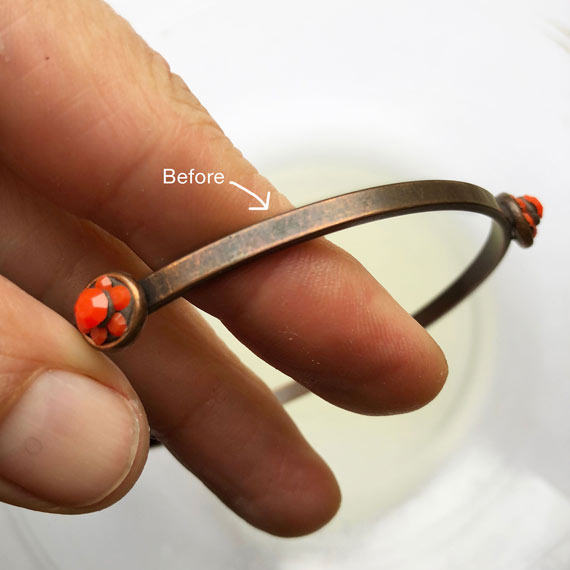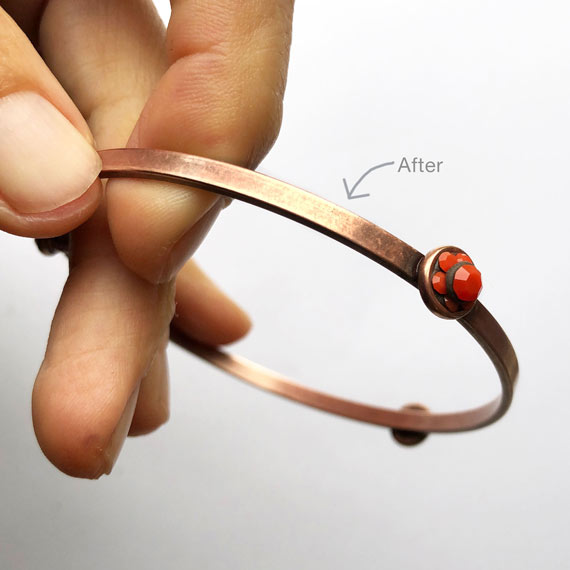 Ingredients:
1 tablespoon of lemon juice
1 tablespoon of salt
Fresh water
Other items:
Glass mixing bowl
Lint free towels
Directions: In a glass mixing bowl, mix the lemon juice and salt to form a paste. Rub the paste onto the tarnished metal surface with a lint free towel. Rinse the paste of with clean water and dry with a fresh lint free towel.
Result: Wow! I was surprised at how good the results looked with this technique!
---
Test 2: Aluminum Foil, Baking Soda and Salt
Ingredients:
1 tablespoon Baking Soda
1 tablespoon of Salt
1 cup of warm water
Other items:
Aluminum foil
Glass dish
Lint free towels
Directions: Line a pan with aluminum foil, placing the dull side of the foil facing down and the shiny side up. Mix together the baking soda, salt and warm water. Pour the mixture into the pan. Place the tarnished jewelry pieces into the mixture and let sit for 5 minutes. Remove the jewelry and rinse with cold water. Dry thoroughly with a lint free towel.
Results: Nope! This did not work at all and was a bunch of work for nothing!!
---
Test 3: Salt, Vinegar and Boiling Water
Ingredients:
1 tablespoon of salt
1 tablespoon of vinegar
Water
Other items:
A cooking pot
Lint free towel
Directions: Place a cooking pot on a stove burner. Mix together the salt and vinegar. Fill the remaining pot ½ way full with water. Bring the water to a half boil and add in the tarnished jewelry items. Bring up to a full boil and remove from the stove.
Rinse jewelry with fresh water and dry thoroughly with a lint free towel.
Results: I felt that it cleaned the tarnished copper, but it did super weird things to the pearls. I would recommend this technique, but only for copper plated items.
---
Test 4: Ketchup (you read that right!)
Ingredients:
Ketchup
Warm water
Other items:
Paper towels
Directions: Place some ketchup in a bowl. Coat the jewelry thoroughly and let sit for 5 minutes. Rinse with warm water. Pat the jewelry dry with a lint free towel.
Results: Cool! I felt this did a great job! It resulted in a "warm" copper color.
---
Test 5. Weiman Silver Wipes
We actually tested several other brands that I'm not going to mention here. I liked Weiman's the best because of the thickness of the sheets, the amount of pieces I could clean with a wipe and the price point.
Ingredients:
Weiman Silver Wipes
Warm water
Other items:
Lint free towel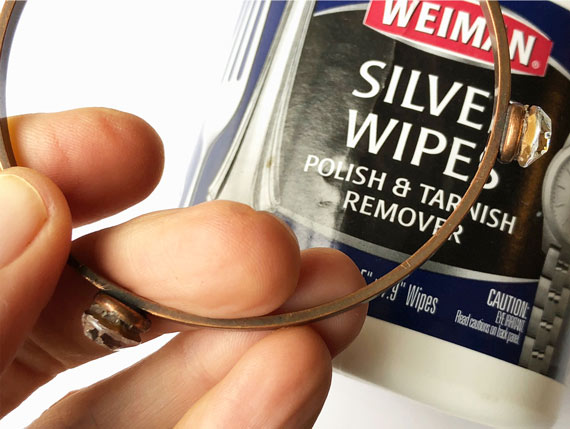 Directions: Lightly rub the plated tarnished jewelry with a Weiman silver wipe cloth. Rinse thoroughly with warm water and pat dry with a lint free towel.
Results: It seemed to wipe clean the original plated look of the Nunn Design copper plated findings and made it really super shiny copper. I think with a lot of cleaning like this over time, layers of the plating could potentially be removed.
---
What Technique Would I Recommend?
I think all except the baking soda and salt worked.
The vinegar and salt over heat made me a little nervous. I was concerned about what that acid mixture could do!
Let's do a quick review of my top technique choices. It really comes down to the end copper plated result that you like the most.
These three bangle bracelets are brass and plated with copper.
The top bangle was cleaned with Weiman Wipes.
The middle image was cleaned with ketchup.
The bottom image was cleaned with the lemon and salt paste.
These two rings are cast lead-free pewter and then plated with copper.
The image on the left was cleaned with Weiman Wipes.
The image on the right was cleaned with ketchup.
I actually did not get a test with the lemon juice and salt paste, but I am fairly confident that it would have looked brighter than the ketchup.
---
If you haven't already seen these three blog posts, you might find them helpful:
Full disclosure: I am not in any way paid for endorsing this Weiman Silver Wipes. This research is based off of my own experimenting to provide you, our valued customers, with this much needed information. As I discover other options, which I am sure I will, I'll keep you posted!
---
What do you think?
Do you have a preference on which experiment worked the best?
---
Shop Nunn Design Wholesale
Nunn Design has been supplying jewelry artists with findings for over 20 years. Shop wholesale jewelry findings for creative jewelry makers.
Shop Nunn Design!
---
How to Purchase Wholesale?
If you are interested in becoming one of the many designers who trust their jewelry to Nunn Design Findings, please join us by registering to become one of our wholesale customers!
Please visit our Where to Buy Page for a listing of online stores that sell Nunn Design Findings retail.
---

If you enjoyed reading this post, please subscribe to our blog. Here are 10 Reasons Why to Subscribe and a place to do so!