The team at Nunn Design is passionate about supporting our customers in the pursuit of running a creative business. We are constantly exploring ways to bring value to our customers' Nunn Design Experience. Our latest efforts consist of adding packaging supplies to our purchasing options.
---
Jewelry Care Cards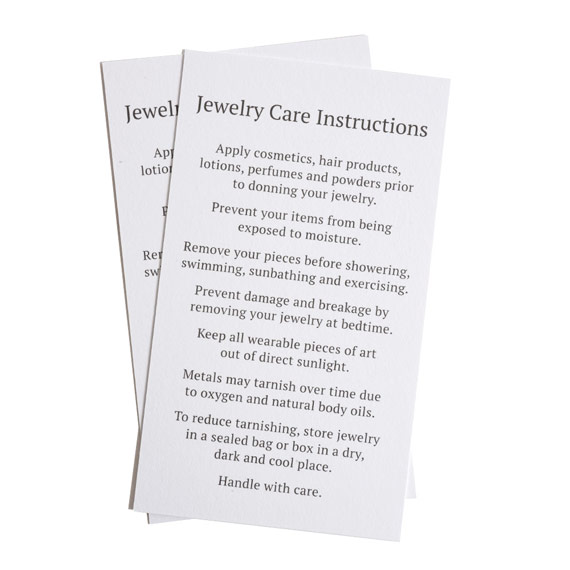 One of the methods in which we support you in your pursuit of running a creative business is by assisting with customer education regarding how to care for their Nunn Design Plated Jewelry.
This little bit of education will prolong the life of the jewelry that you spent time creating and will prolong the pleasure of your customer. Jewelry Care Cards are sold in packs of 50 wholesale.
---
Minigrip® GreenLine™ Reclosable Zip Bags

GreenLine Reclosable Bag 2 x 3 inch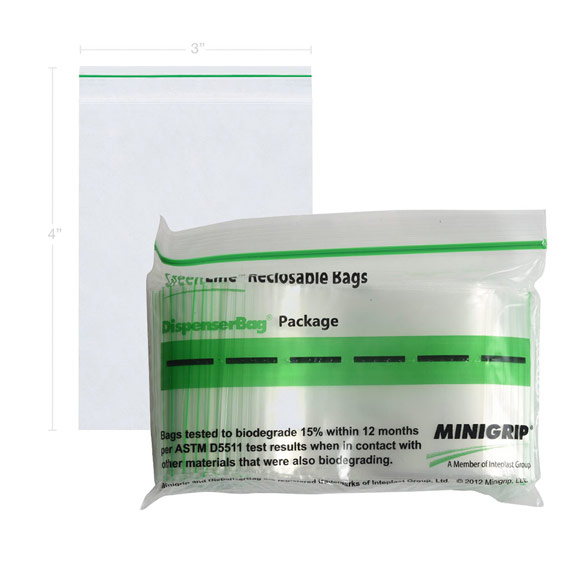 GreenLine Reclosable Bag 3 x 4 inch
Another way that we want to support Nunn Design Customers in the pursuit of running a creative business is by providing biodegradable bags for packaging jewelry. Because Nunn Design uses these bags to package your findings, we are able to purchase in large quantities and pass this savings on to you.
There are two bag sizes that we are now stocking on the Nunn Design Website:
2 x 3 x 2 mil Biodegradable GreenLine 100 Bags.
3 x 4 x 2 mil Biodegradable GreenLine 100 Bags.
Environmentally Friendly: Every part of the bag is biodegradable – film material, zipper material – EVERYTHING.
Made of: Greenline Reclosable bags are transparent, 2 mil thick bags made of low-density polyethylene (LDPE), with all parts being recyclable and biodegradable!
Over the past decade, there has been an increased focus on developing more earth-friendly, degradable products. Standards were developed to test the biodegradability of these products. Standard ASTM D5511 is a standard for testing and proving the biodegradation of plastic materials under anaerobic landfill conditions. These bags have tested to biodegrade 15% within one year per ASTM D5511 test results!
---
Suggestions for Packaging Supplies?
Are there additional packaging supplies that you would like us to stock? Please leave us a comment!
---
Shop Nunn Design Wholesale
Nunn Design has been supplying jewelry artists with findings for over 20 years. Shop wholesale jewelry findings for creative jewelry makers.
Shop Nunn Design!
---
How to Purchase Wholesale?
If you are interested in becoming one of the many designers who trust their jewelry to Nunn Design Findings, please join us by registering to become one of our wholesale customers!
Please visit our Where to Buy Page for a listing of online stores that sell Nunn Design Findings retail.
---

If you enjoyed reading this post, please subscribe to our blog. Here are 10 Reasons Why to Subscribe and a place to do so!