Have you every had those moments where you mixed up a batch of Epoxy Clay 2-Part Epoxy, did your project and had some leftover extra bits? Or, you mixed up a batch with the best intentions of doing a "big" project, but your window of opportunity faded because someone wanted a snack? Well, I have. More times than I care to admit. That is what led me to finding 7 creative ways to eliminate waste by creating fun accents with my excess Epoxy Clay bits.
Over the past week, I have posted 5 tutorials for using up your excess Epoxy Clay bits. Here is a recap of those tutorials plus two final tips!
---
1. Create a Bead!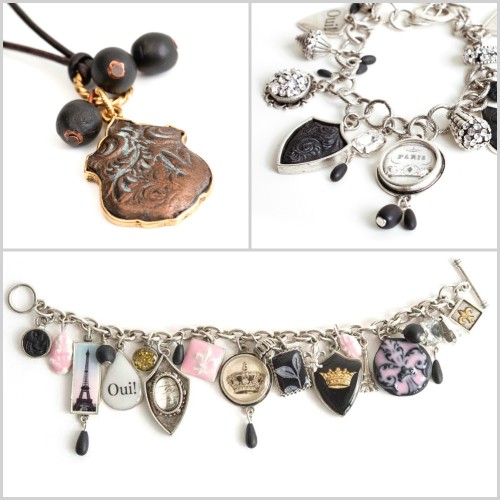 Wrap a bit of excess Epoxy Clay around a Nunn Design Tube Bead to create an interesting statement bead.
---
2.  Create an Accent on a Jumpring!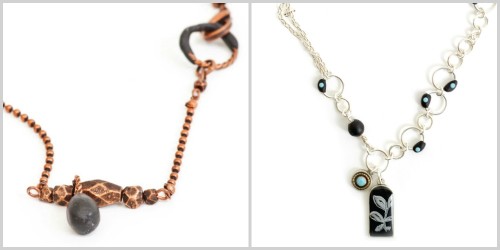 Here is the 2nd of the 7 ways you can use up those excess bits of Epoxy Clay. Add the clay onto a jumpring to create an interesting accent!
---
 3.  Make a Texturized and Colorized Drop Dangle
These are super fun to create. I have been known to make a batch of these even without having excess Epoxy Clay. I create headpin swatches to use for testing my colorized resin. I do this to see exactly what the colorized resin is going to look like on various colors of Epoxy Clay prior to pouring my Colorized Resin on my finished piece. Good idea, don't you think?
---
 4.  Make a Beaded Drop!
This is one of my newest ways that I've started to use my excess Epoxy Clay. It is also a great way to use up excess snips of ball chain that you might have on hand.
---
 5. Make a Sculpted Drop Accent Charm!
I've saved the very best tutorial for last! I think these pieces are stunning.
---
Now, onto the remaining 2 of the 7 Ways to Use Your Excess Epoxy Clay Bits!
---
 6. Cover a Damaged Flat Tag!
Now, we are getting into a double waste saver! Use up those excess Epoxy Clay bits and those damaged tags that just didn't come out the way you wanted! There are two different ways to do this.
1.  Cover with Epoxy Clay, Texturize and Colorize 2-Part Resin or
2.  Cover with Epoxy Clay, Rubber Stamp and cover with Gel du Soleil, a UV Resin. Both require very little clay. Both offer a great look.
Watch a Video!
Download a Tutorial!
---
 7.  Make an Itsy Accent!
All of these jewelry samples require oh so little bits of excess Epoxy Clay!  They are all fast, easy, yet look so great!
Watch a Video!
Read a Tutorial!
---
That's a wrap! That was 7 ways to use excess Epoxy Clay Bits.  Do you have tip #8 to share?
---
Shop Nunn Design Wholesale
Nunn Design has been supplying jewelry artists with findings for over 20 years. Shop wholesale jewelry findings for creative jewelry makers.
Shop Nunn Design!
---
How to Purchase Wholesale?
If you are interested in becoming one of the many designers who trust their jewelry to Nunn Design Findings, please join us by registering to become one of our wholesale customers!
Please visit our Where to Buy Page for a listing of online stores that sell Nunn Design Findings retail.
---

If you enjoyed reading this post, please subscribe to our blog. Here are 10 Reasons Why to Subscribe and a place to do so!