(Source: instagram @aprilhilerdesigns)
April Hiler grew up in the Dallas Texas area but has spent many of the past 20 years living in other cities and towns throughout Texas. With a minor in art and degrees in English and Interior Design, this one-woman-show creates beautiful handcrafted resin jewelry for her company, April Hiler Design.

(Source: instagram @aprilhilerdesigns)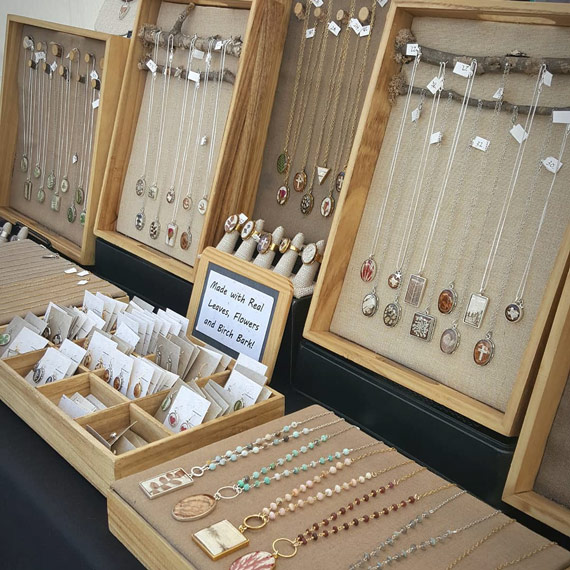 (Source: instagram @aprilhilerdesigns)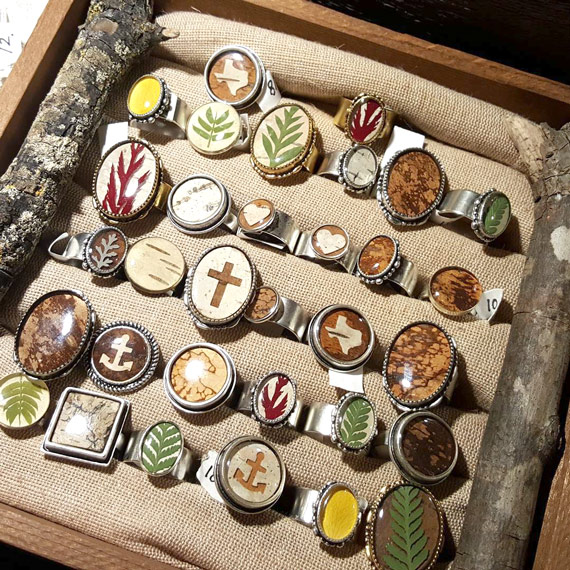 (Source: instagram @aprilhilerdesigns)
I caught up with April in between shows to ask her a couple questions about her jewelry business.
---
Becky: How long have you been creating unique nature-inspired jewelry?
April: I've been making jewelry for about four years. I started out by selling floral arrangements on Etsy. It was my creative outlet while I worked a full time job. I later began making wedding accessories using moss, birch bark and grapevine. After buying a piece of pressed flower jewelry from a glass artist, I was inspired to try using resin to showcase the beauty of birch bark and other natural materials.
Becky: Did you have a learning curve with resin? How did you work your way through that?
April: I made tons of mistakes when I first started using resin. Every time, I would resolve one issue, I would encounter another. Because I hate failing, and I like instant gratification, I was often frustrated and tempted to give up. I'm so glad I pushed myself to, instead, learn from my mistakes and keep going. Even though I still make plenty of mistakes, they are much fewer now, and it is extremely satisfying when a piece is successful.
Becky: Your background is in floral design and interior design. How do you feel that those two prior experiences have lead to where you are today?
April: The more I practice art or design, the more I train my eye to create interesting and aesthetically pleasing pieces. It also helps me to be able to create displays and booth setups that complement by jewelry and draw people in.
Becky: How many shows do you attend a year?
April: I attend about 20 shows a year, mostly in the Spring and Fall.
Becky: Is it vulnerable to put your work out there for people to judge? If yes, how do you navigate those feelings?
April: Showing my work in public was very scary at first. Because I put so much of my own personality into my designs, I felt like any judgement on my jewelry, was a judgement on me personally. Over time, I've become much more confident. My style and aesthetic isn't going to attract everyone, but when you meet a customer who really seems to connect with your work, it can be extremely gratifying.
Becky: Do you find that you have follow-up sales on either Instagram or Etsy due to your face-to-face contact with your customers during shows?
April: Yes. I try to have plenty of business cards to hand out to customers. Sometimes people aren't ready to buy on the spot, but will shop online later for birthday or Christmas gifts.
Becky: A lot of your jewelry is created with Nunn Design Findings. Thank you. Why do you trust your jewelry to the Nunn Design Line?
April: I love using Nunn Design findings! When I first started creating jewelry, I used cheaper findings because 1.) it's what I could afford, and 2.) I still made a lot of mistakes with resin and often had to discard pieces. As I progressed and became more confident, I began transitioning to better quality findings. I'm so happy I found Nunn Design. I feel confident that I am offering my customers quality pieces to last a lifetime. Their findings are heavy-duty and beautiful, but still very affordable. I also appreciate that they are very versatile and come in many shapes, styles, sizes and finishes.
---
Be Inspired!
Here are some examples of April's one of a kind jewelry creations.

(Source: instagram @aprilhilerdesigns)

(Source: instagram @aprilhilerdesigns)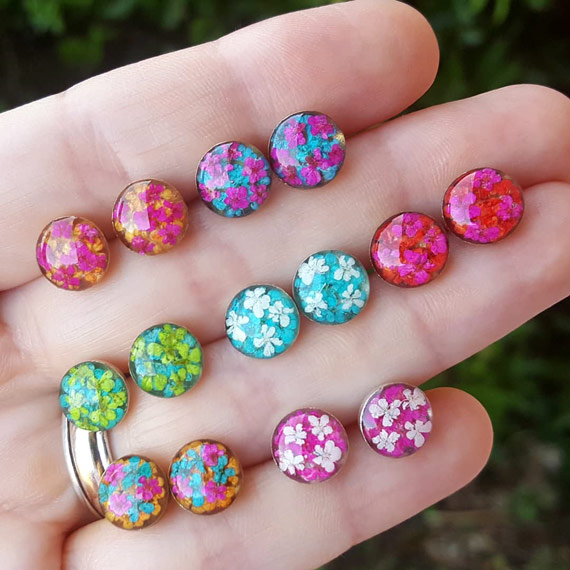 (Source: instagram @aprilhilerdesigns)

(Source: instagram @aprilhilerdesigns)

(Source: instagram @aprilhilerdesigns)
---
Learn More About April:
---
Shop Nunn Design Wholesale
Nunn Design has been supplying jewelry artists with findings for over 20 years. Shop wholesale jewelry findings for creative jewelry makers.
Shop Nunn Design!
---
How to Purchase Wholesale?
If you are interested in becoming one of the many designers who trust their jewelry to Nunn Design Findings, please join us by registering to become one of our wholesale customers!
Please visit our Where to Buy Page for a listing of online stores that sell Nunn Design Findings retail.
---

If you enjoyed reading this post, please subscribe to our blog. Here are 10 Reasons Why to Subscribe and a place to do so!