My most recent favorite color is blue. I'm not sure, maybe it was the summer months that brought it all on, but I just can't seem to get enough of it. 
It would only be natural that I would be attracted to the work of Kate Renee of Drifting Purpose. Her life on Long Beach Island inspires her to create beach inspired jewelry and home décor items. I caught up with Kate in between resin pours and kid wrangling to ask her the following questions about her creative life.
---
Becky:  How does your environment of living on Long Beach Island influence your Jewelry?
Kate:  LBI as we call it, plays a huge role inspiring my work. When I first started creating for my little business I was bartering with our local Scallop Fishermen for Scallop Shells, as well as collecting local shells, driftwood and sea glass from our beaches. I would walk miles in the freezing cold to collect "candy" as my family calls it. I would take photos along the way of various waves, pieces of sea glass/shells that are untouched. Then, I would use those pieces to create anything from wreaths to ornaments. Now, I use those same pieces to help create resin pendants with Easy Craft Silicone Putty or by utilizing them within a piece or as an accent. I use the photos and my memories to help inspire resin pours for a lot of my pieces. Variations of blue resin are a common theme in the majority of my work.
Becky:  I noticed that you do a local farmer's market in your area. Do you find that your primary customers are locals? or does tourism influence your sales?
Kate:  The Surf City Farmer's Market was an amazing opportunity for me to flourish as an artist and get direct feedback from my customer base. This has helped me tremendously and is something that I value. It's hard to get direct feedback when you can't always connect with your customer base on Etsy. The majority of the customers I see at these types of shows are tourists. However, it is such a diverse group of people that it really helps motivate you as an artist and a seller to create pieces for everyone. I am constantly trying to stay ahead of the trends and these individuals help me do just that! 
Becky:  How long have you been making Jewelry?
Kate:  This is actually quite funny, as the idea of creating jewelry was a bit unnerving to me just a few months ago. I would watch a lot YouTube videos and still I lacked the confidence to even try. Then, I started really getting into alcohol inks with Resin and my 2 beautiful children started asking for key chains. It started with Lego Key Chains and then, I thought… well… If I can make these, surely I can make some jewelry. So, I bought some inexpensive jewelry supplies to just learn and then I was hooked. This was 5 months ago. All it took was the love of resin, the confidence to know I could do it and a quality jewelry supplier!
Becky:  Did you experience a learning curve when you started working with resin?
Kate:  I'll just say it… Resin is a beast! One small mistake in measuring can ruin an entire pour. Mixing it is the 2nd most common failure, as we are all so excited to just create. Once, I mastered those 2 things, it was almost smooth sailing. Dust is and will likely always be my greatest challenge (and not touching the pieces before their cure), but finding the most perfect resin for my work was my greatest learning curve. Everyone has their own personal opinion on what is the best. I have research and tried about 8 to 10 different brands of resin, which gets expensive. I now only use 3 or 4 brands of resin routinely. Each one is for a different part of my business. I use Nunn Designs resin exclusively for my jewelry, unless recycling or re-purposing resin from a pour over art piece. 
Becky:  Have you watched any Nunn Design Videos or read any of the tutorials? If yes, have you found them helpful in your creative journey.
Kate:  I have watched and re-watched a lot of Nunn Design videos and videos with Becky Nunn on Beadaholique or other channels. I also took advantage of the Summer School Program that was offered this year to learn more specifically about the Textured Resin Pieces. I find that these videos offer more instruction and a step by step look, as opposed to someone just showing me how to do it. One of my favorite features offered by Nunn Design is the ability to get Jewelry Inspiration from their website. From there, they give you the materials you need to create and the links to the tutorials. It's helped me out immensely, as it has given me the ability to see how it was made, but the confidence to also make it my own. You can especially see this when I first began documenting my Journey with jewelry on Instagram. I started with 2 shells I found on the beach, the Easy Craft Silicone Putty Tutorial and Nunn Designs Deep Open Bezels. I sat at my kitchen table with my 5 year old and I played with the putty while having several "A-Ha" moments while watching the video and reading the blog. I went through a lot of putty that day, as it cures pretty fast. Yet, the videos really give you the confidence to try and succeed.
Becky:  Are you a full time Mom? How has it been balancing parenting and being creative? 
Kate:  My home life is definitely unique. I am a SAHM and married to a Handsome Pilot. So, our home life is a bit chaotic at times or at least 3 to 4 days out of the week. I am a Mom to 2 small children, 8 and 5 years old. They are my world and often help me create or play while I work. Due to my husband's career, I often create late at night while my kids are sleeping or while they are at school. This is most true, if I am pouring resin. If it is close to a show date or I'm in the moment, I often work at our kitchen table while the kids play with play-doh. My 5 year old who thinks she is 15, is my biggest critic. I always know when I have hit a home run, when she says, "Oooh! Can I have that?"
Becky:  What do you enjoy best about making jewelry?
Kate:  What I enjoy most about creating jewelry is the versatility of each piece. You can create anything you can imagine. From, bracelets with only jump rings to anything with resin, to adding something simple like glitter rocks to create some awesome earrings. Jewelry for me has opened me up to a whole new world! It has expanded my creativity, made me hungry to learn; all while incorporating my love of resin and the color blue. 
---
Be Inspired By Kate's Beautiful Blue Jewelry
Take a look at some of the pieces that Kate has been creating with the Nunn Design Findings Line. I'm convinced you will fall in love with the color blue too!

(Source: instagram)

(Source: instagram)

(Source: instagram)

(Source: instagram)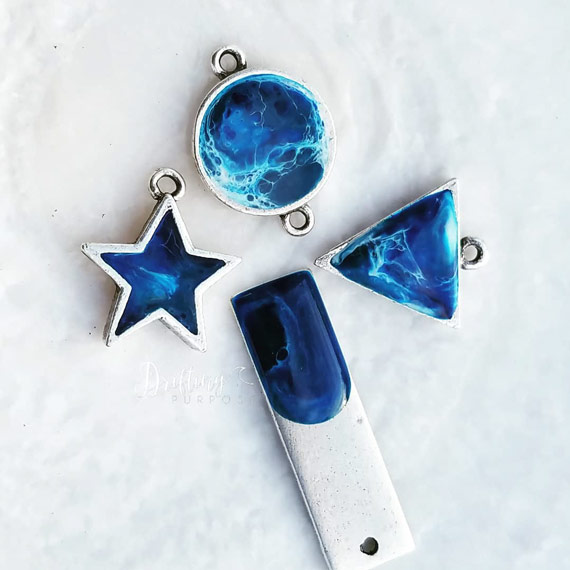 (Source: instagram)

(Source: instagram)

(Source: instagram)
Don't you agree? Kate's work is really stunning. Those blues!!!
---
Shop Drifting Purpose on Etsy: www.etsy.com/shop/DriftingPurpose
Follow Drifting Purpose on Instagram: @driftingpurpose
---

If you enjoyed reading this post,
please subscribe to our blog.
Here are 10 Reasons Why to Subscribe
and a place to do so!
---

If you enjoyed reading this post, please subscribe to our blog. Here are 10 Reasons Why to Subscribe and a place to do so!