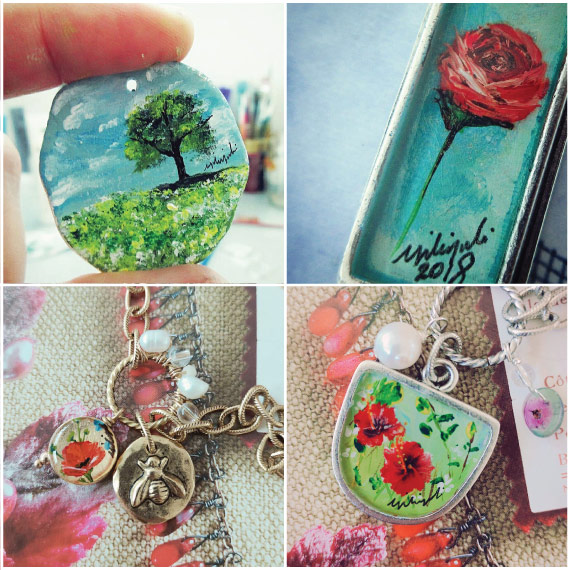 (Source: instagram @yiliyuli)
Evelyn Chan is the creative director of 'yiliyuli', a Malaysian based jewelry company named after her two daughters. Through our mutual interest in each other's art, Evelyn and I have become friends as well as business associates.
Evelyn was born in Hong Kong during the colonial period. At the age of 13 her family began their move to the countryside of the United Kingdom after her father had retired from the British Government. From a young age Evelyn was determined not to work in the catering industry, a trade that many Chinese Immigrants could not escape for employment. After finishing her undergraduate degree, she was offered a full scholarship for a PhD in Mathematics. In 2001, she launched an online language business and buried all aspects of her creative self.
It has been through our email exchanges that I have learned of Evelyn's lifelong health challenges and how art has helped her heal herself time and time again. After being diagnosed with thyroid cancer in 2015, Evelyn fell into a deep sorrow over the chances of not seeing her daughters graduate from primary school. During her mandatory leave of absence from work, Evelyn was prescribed bed rest without stress. She fought off her "loop hole of self-pity" by painting tiny nature scenes.

(Source: instagram @yiliyuli)
I was able to ask Evelyn a couple questions about her jewelry business, her family life and why she chooses to use Nunn Design Findings as her exclusive supplier for her jewelry.
---
Becky: How did you discover and decide to make jewelry?
Evelyn: I have to thank YouTube videos that I found from Beadaholique, an online jewelry supplier. In one of their video clips, I saw Becky from Nunn Design. Because I am vintage-mad, Becky's designs and clear explanations empowered me to put my foot down into jewelry making. It wasn't that easy to get hold of Nunn Designs in the UK. After our relocation to Malaysia, I started yiliyuli and turned my passion into a business. It's absolutely crucial for me to locate good supplies. I made a sound business decision by just purchasing wholesale supplies from Nunn Design
Becky: How have the Nunn Design videos helped you in your creative journey?
Evelyn: I am shy to admit that I have watched each one of Becky's videos, many more than 10 times. I really love Becky's voice and American accent. Also, she doesn't force people to make in a certain way, and as you watch, you immediately have the urge to go to the studio to create. I would say she is the best jewelry educator on YouTube.
Becky: A lot of your paintings are of nature, was that inspired by growing up in rural England?
Evelyn: My love of art developed during my time in rural England. It was the time when I saw more sheep and landscapes than humans. I was rather keen to become an artist, but my parents stressed that I have a professional career.
Becky: How have you navigated balancing taking care of yourself, your family and running a business?
Evelyn: I find that social media gives you great exposure, yet it also puts pressure on the business. I feel like I need to be checking the traffic all the time to gain loyalty from our customers. I always dedicate Saturdays as "family outing" day, and Sundays are strictly "Parents & in-law" day. I strongly believe in family bonding and family education. Once you have lost the time to bond, you cannot mend.
Becky: What are some of your biggest challenges of running your business?
Evelyn: Copyright is a huge issue in Asia. It is challenging to sell high quality handcrafted wearable art when the booth next to you at an art bazaar is selling "economical products." Other challenges consist of the postal service in Malaysia, consignment stores and theft of inventory, as they are all one-of-a-kind.
Becky: Why do you choose to trust your jewelry to Nunn Design Findings?
Evelyn: It has been easy for me to see the products that Nunn Design offers through Becky's YouTube Videos. Without the ability to visually see the products, it would be really hard to make a buying decision from afar. Nunn Design fully backs-up their quality and provides very clear descriptions of their products. This makes it easy for me to communicate with my customers exactly what they are purchasing.
I also like that the items are plated 24k gold and .999 fine silver. It sounds lush without customers having to pay a premium for wearable handcrafted art. The fact that Nunn Design designs their pieces in-house also guarantees me that I won't see duplicates elsewhere. The commitment that I feel from Nunn Design is the same commitment that I have to my customers.
---
Be Inspired!
Evelyn's thyroid cancer is now on maintenance routine check, but she pours her creative self into her on-line jewelry business. Here are some of her pieces that she has hand painted using Nunn Design Findings.

(Source: instagram @yiliyuli)

(Source: instagram @yiliyuli)

(Source: instagram @yiliyuli)

(Source: instagram @yiliyuli)

(Source: instagram @yiliyuli)

(Source: www.yiliyuli.com)
---
Learn More about Yili Yuli:
---


If you enjoyed reading this post,
please subscribe to our blog.
Here are 10 Reasons Why to Subscribe
and a place to do so!
---
How to Purchase Wholesale?
If you are interested in becoming one of the many designers who trust their jewelry to Nunn Design Findings, please join us by registering to become one of our wholesale customers!
Nunn Design primarily sells wholesale, but we do offer Retail DIY Kit supplies for certain projects. For all other findings, please visit our Where to Buy Page for a listing of online stores that sell Nunn Design Findings retail.
---

If you enjoyed reading this post, please subscribe to our blog. Here are 10 Reasons Why to Subscribe and a place to do so!