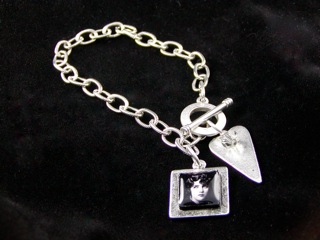 Found photos from the 1920's Ziegfeld Follies girls inspire Kelly Harms' line of jewelry.
"The images captivated me last year, but it wasn't until I found your Patera ® findings that I was able to do them justice."
Kelly uses the collage technique and finishes with a coat of Gel de Soleil.
"I filled the indentation with smaller headshots of the women. That way there is something beautiful on both sides."
To contact Kelly, you may email her at kellyharms@canby.com.
---

If you enjoyed reading this post, please subscribe to our blog. Here are 10 Reasons Why to Subscribe and a place to do so!