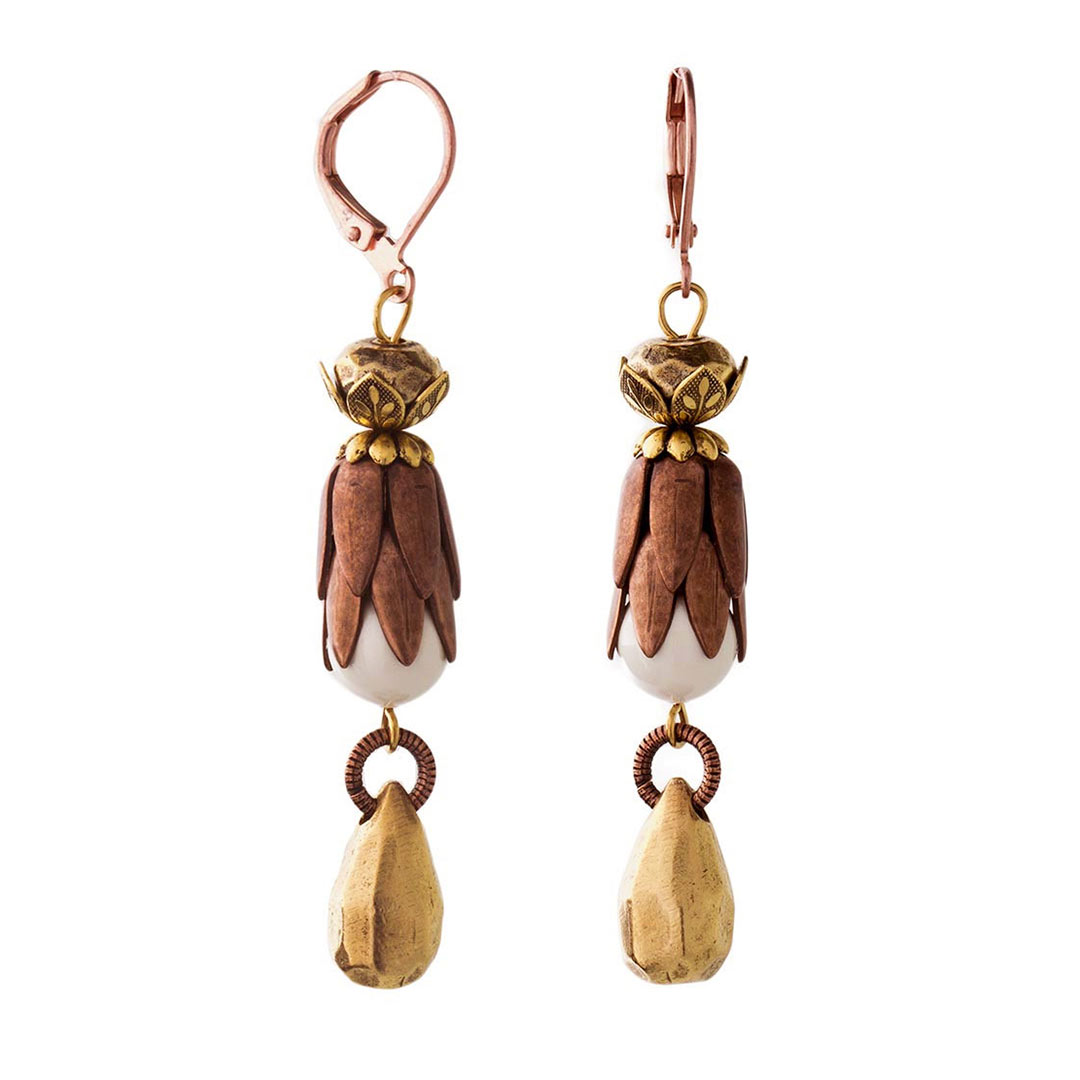 What I love about the Nunn Design Collection of Bead Caps is the many ways you can combine them. With each combination, you have a unique and fresh look. Add in some different beads and the options grow even greater! The best way to design with these little beauties is to keep trying different combinations until you get something that feels just right. It is amazing how a design can change by just turning a bead cap upside down. Have fun exploring the options!
Beadcap findings have been in our line since the beginning and it is still a shock to see how they continue to sell! Many of the Nunn Design Bead Caps have an elegant flair and are perfect for dressing up a simple pearl or bead to create an elegant pair of earrings.
A couple years ago we posted a version of this blog post. We feel that it is worth pulling it out of the archives and reposting!
---
Learn How!
Nunn Design Supplies:
4 pieces of (bc8fp) Beadcap 8mm Flower Petal-Antique Copper
2 pieces of (bc8ed) Beadcap 8mm Etched Daisy-Antique Gold
2 pieces of (bc6p) Beadcap 6mm Petal-Antique Gold
2 pieces of (mbf) Metal Bead Faceted-Antique Gold
2 pieces of (mbfd) Metal Bead Faceted Drop-Antique Gold
2 pieces of (jr6tc) Jumpring 6mm Textured Circle-Antique Copper
2 pieces of (ewlbs) Earwire Leverback Small-Antique Copper
Other Supplies:
2 pieces of Eyepin 2"-Antique Gold
2 8mm beads of choice
Tools Needed:
2 Pairs of Flat Nose Pliers
1 Pair Flush Cutters
---
Step 1:
Thread onto an Eyepin one of the 8mm beads and 1 of the Beadcap 8mm Flower Petals. The fit might be a little tight for the bead to insert into the opening of the beadcap. Press down gently on the beadcap and the petals will slightly bend around the beadcap. Thread on the second Beadcap 8mm Flower Petal so the petals are alternating.
---
Step 2:
Thread on the remaining bead caps onto the Eyepin in this order; 1 Beadcap 6mm Petal, 1 Beadcap 8mm Etched Daisy turned upside down, and 1 Metal Bead Faceted.
---
Step 3:
Trim away all but ¼ inch of the Eyepin using a pair of Flush Cutters. Create a loop using a pair of the flat nose pliers. Before closing the loop, add a Earwire Leverback. To ensure that the earring hangs correctly, make sure the top loop of the eyepin is at a 90 degree angle from the bottom eyepin loop.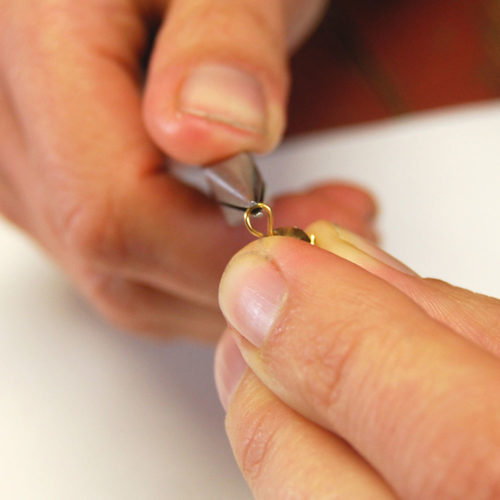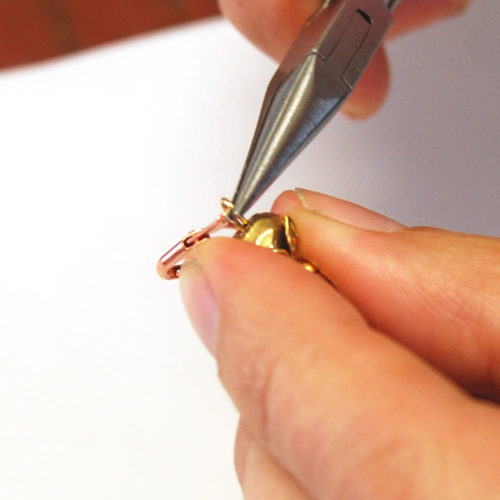 ---
Step 4:
Using 2 pairs of needle nose pliers, open up one of the Jumpring 6mm Textured Circle and thread on the Metal Bead Faceted Drop and the eye of the assembled Eyepin. Close the jumpring.
---
Step 5:
Repeat Steps 1-4 to create the matching earring set.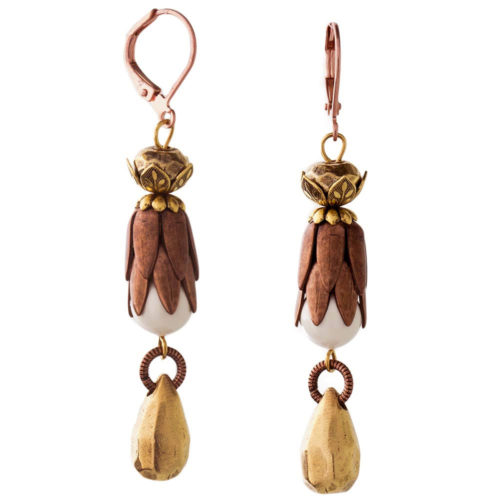 ---
Make a Collection:
Here is the complete collection of jewelry pieces that I created using the Nunn Design Beadcaps and Metal Faceted Beads. The charm bracelet was really fun to create!
---
Shop Nunn Design Wholesale
Nunn Design has been supplying jewelry artists with findings for over 20 years. Shop wholesale jewelry findings for creative jewelry makers.
Shop Nunn Design!
---
How to Purchase Wholesale?
If you are interested in becoming one of the many designers who trust their jewelry to Nunn Design Findings, please join us by registering to become one of our wholesale customers!
Please visit our Where to Buy Page for a listing of online stores that sell Nunn Design Findings retail.
---

If you enjoyed reading this post, please subscribe to our blog. Here are 10 Reasons Why to Subscribe and a place to do so!