At Nunn Design, we hold creativity and art as essential. We are honored to be a part of your creative journey, supporting you as you craft with Nunn Design Findings.
Throughout this month, we've showcased a diverse group of artists on our social media channels. Our aim is to inspire you to explore and experiment with your own creative endeavors. Join us in celebrating the remarkable world of creativity that these artisans have unlocked.
---
Stunning earrings by Nicole of @sweetellabella_crystals! Made of blue coral and abalone shell, perfect for the ocean lovers!
---
I'm loving the color contrast of lilac and emerald green in these earrings by @goldfinch_studio_!
---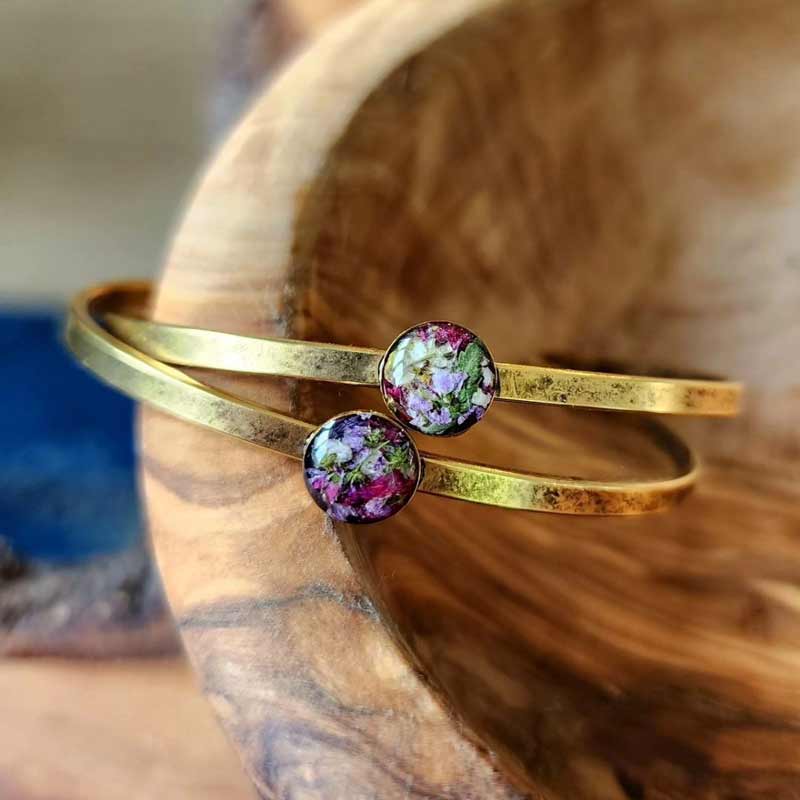 Carry the enchantment of wildflowers with you with this cuff bracelet from @meadowgrassdesigns!
---
Rebecca, of @rebeccanoeldesigns, calls these her Shimmer Minis, and aren't they just lovely?!
---
Beautiful moon earrings by @padmasana_lamb!
---
Bring on the bling! Stacking rings by @dawnjosephine!
---
Jessica, of @loveheylola, creates lovely jewelry from "what we leave behind!"
---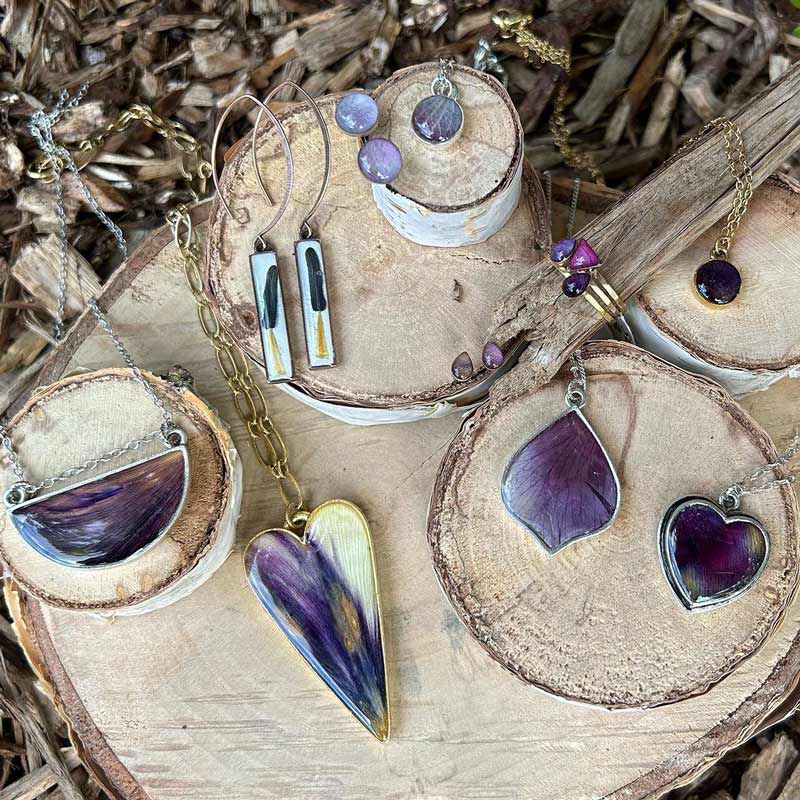 So many pretty purple petals! All jewelry by @recollectedpiecesjewelry!
---
The mountains are calling! Beautiful metal stamped necklace by @littlebluebusjewelry!
---
Dainty and adorable! Pendants by Andrea of @beemaryjewelry!
---
I adore these fused glass and beaded earrings by @sundogmosaics!
---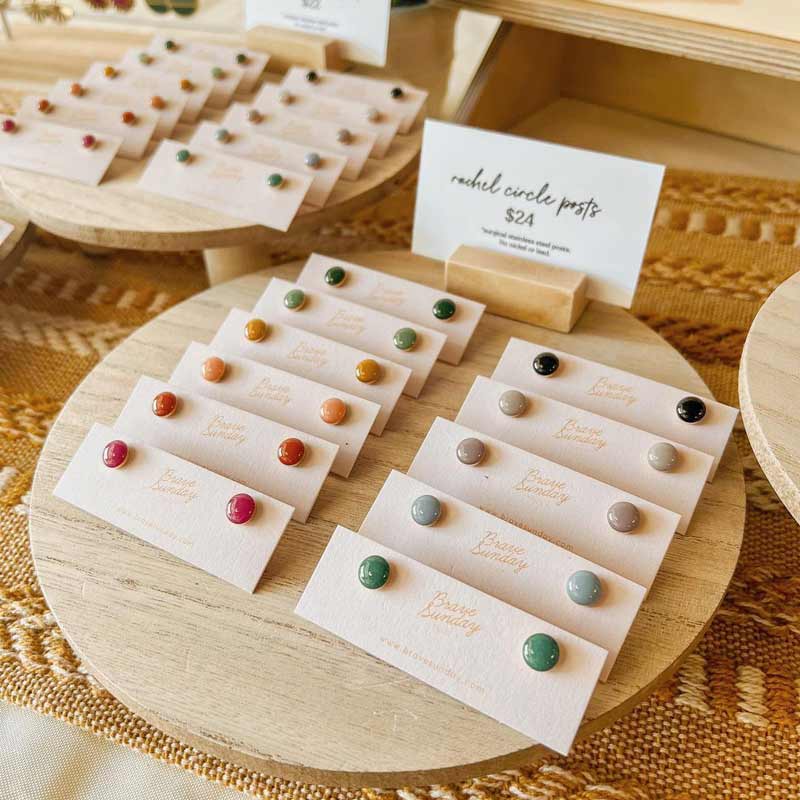 I love the colors Jill, of @brave.sunday, uses for her beautiful stud earrings! I can't wait to see what she comes up with for her Fall/Winter collection!
---
I'm loving the rich color of the gemstones, paired with itsy lotus charms! Beautiful work by @padmasana_lamb!
---
I'm wild for these wildflower necklaces! Gabrielle of @meadowgrassdesigns creates such lovely nature inspired pieces!
---
Stunning! Lovely necklaces by @rebeccanoeldesigns!
---
What a lovely necklace by @thecrowningjewels!
---
@renewablejewels makes such beautiful earrings!
---
It is starting to feel like Fall! Here is a lovely autumnal layout and collection by @dawnjosephine!
---
So pretty! Get these stacking rings from @cameoko_jewelry!
---
What's not to love about this metal stamped necklace by Janet of @sistaswithbadhabits?!
---
Stunning stud earrings by @leoandlynnjewelry!
---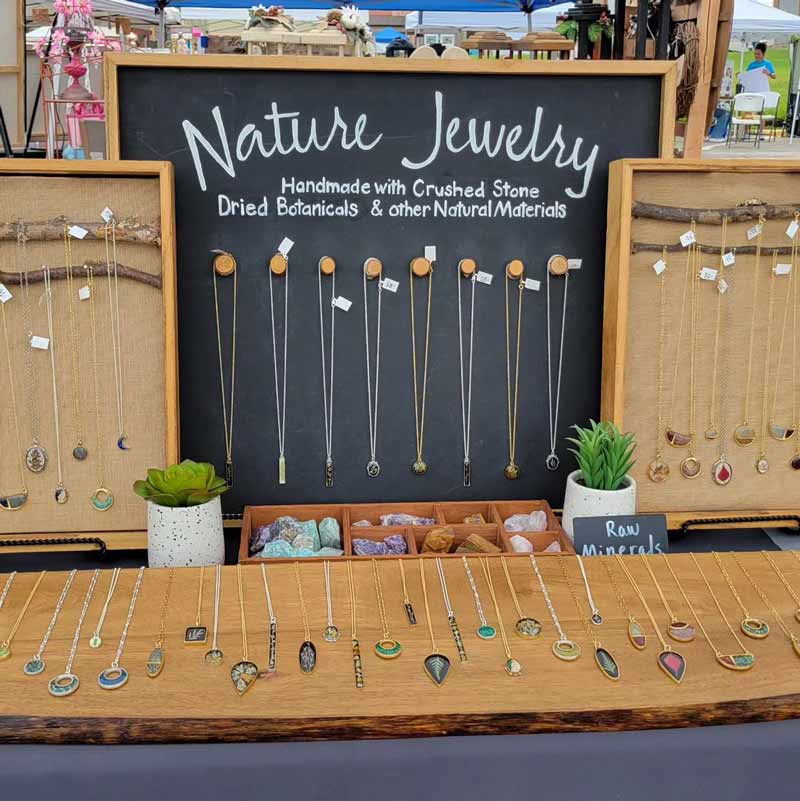 Not only does @aprilhilerdesigns makes lovely nature-inspired jewelry, check out her beautiful display!
---
To all the incredible artists featured this month, we applaud your passion and dedication. Your commitment to living a creative life and nurturing your small creative businesses is inspiring.
– Becky
---
Shop Nunn Design Wholesale
Nunn Design has been supplying jewelry artists with findings for over 20 years. Shop wholesale jewelry findings for creative jewelry makers.
Shop Nunn Design!
---
How to Purchase Wholesale?
If you are interested in becoming one of the many designers who trust their jewelry to Nunn Design Findings, please join us by registering to become one of our wholesale customers!
Please visit our Where to Buy Page for a listing of online stores that sell Nunn Design Findings retail.
---

If you enjoyed reading this post, please subscribe to our blog. Here are 10 Reasons Why to Subscribe and a place to do so!