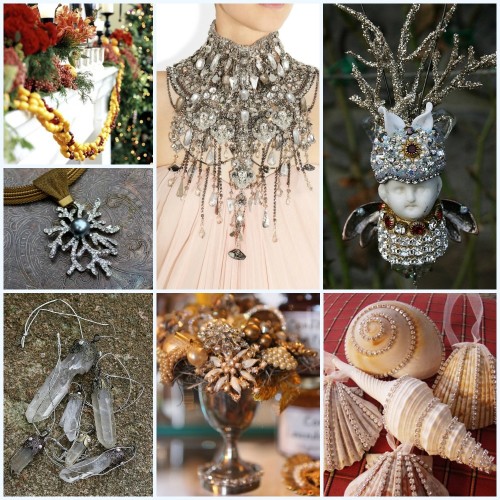 I'm crazy about the holidays. My tree is already set-up and my collection of ornaments adorned the tree. The maker in me goes into hyper mode, wanting to create more and more elements of beauty to decorate with or jewelry to make as gifts. Here is some inspiration that I've been drooling over.
---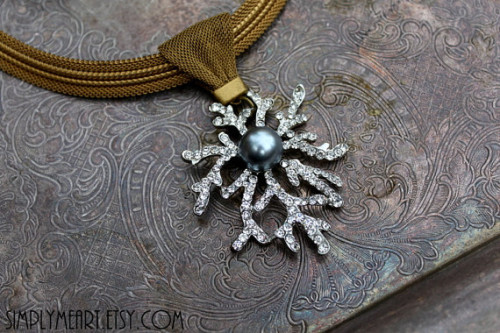 Jamie at Simply Me Art Designs has some wonderful bling jewelry created from vintage rhinestone bits. I especially love this snowflake focal on the beautiful mesh chain necklace.
---
Here is another one of Jamie's pieces. I really like how Jamie is designing with vintage rhinestone, but bringing in the flair of a bit of contemporary with the brass focal and turquoise beads. Designing in this eclectic manor takes a good eye and the willingness to keep trying over and over until just the right components work together. Very nicely done.
---
Belle Via did a lovely job of incorporating some rhinestone bling onto this vintage key!
---
If you want to see a grand designer of costume bling, do a google search on Erickson Beamon! Lovely lovely lovely!
---
I love the idea of a brooch bouquet using some of my vintage finds that I just can't make into jewelry. Romancing the Home has a beautiful blog full of inspiration on home décor.
---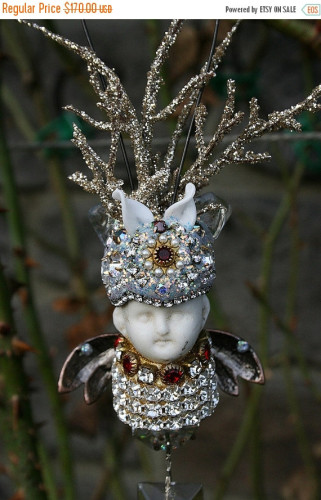 I find these pieces by Paula of A Soulful Journey to be very inspiring. I love how she is incorporating all sorts of vintage bits and bling into her artistic sculptures.
---
Rowena from Cherrypik Jewels created these great shell bling ornaments several years ago. I would look forward to pulling these bling beauties out of my ornament box year after year.
---
It would be fun to make a braided garland like this one from Traditional Home, but with some beads and rhinestone bling.
---
Bring on some bling of your own for the holidays! Create unique pieces of jewelry or use the Nunn Design Chatons and rhinestone chain to create holiday bling home décor. The possibilities are endless.
Shop: Epoxy Clay and Crystals
Shop: Rhinestone Chain
---

If you enjoyed reading this post, please subscribe to our blog. Here are 10 Reasons Why to Subscribe and a place to do so!