The Nunn Design Buy & Try Program offers a tutorial for a new technique that we have been experimenting with. It offers inspirational exploration on how to create jewelry using the new technique. And lastly, we offer the supplies for a limited period of time so that you can actually CREATE the jewelry that you were inspired to make. During the Buy & Try, we waive the $100.00 order minimum on Buy & Try items and offer the program to both wholesale and retail buyers. Pretty sweet, huh?
Let's recap:
Buy & Try Crystal Points Starts March 9th, 2017
Learn a new technique! Visit our blog to see a whole tutorial and video on how to use Crystal Points with Crystal Clay
Be inspired over the next couple weeks with jewelry created by Team Nunn using this technique and others.
Buy all of the supplies needed to create through March 19th!
The $100.00 minimum order is waived for Buy & Try purchases
Shop both wholesale and retail
Pretty sweet, huh? (say yes here).
Buy & Try Crystal Points touch upon a trend that just doesn't seem to fade, the usage of crystals within jewelry. Maybe it is boho trend that keeps this crystal stone at the forefront of popularity, or maybe it is those healing properties that so many state come with crystals. Shoot, I just know that they look great and are fun to design with.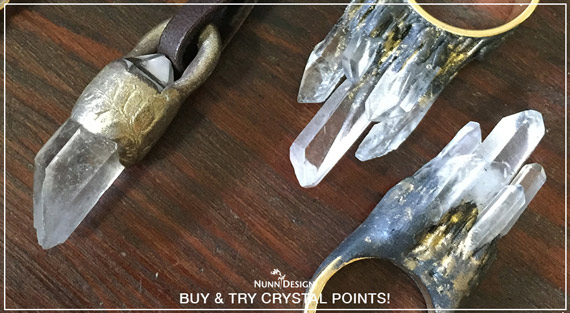 See you March 9th, 2017!
---

If you enjoyed reading this post, please subscribe to our blog. Here are 10 Reasons Why to Subscribe and a place to do so!