Former Innovation Team Member Stephanie Gard Buss created this faux druzy tutorial using pieces of stones and beads that had chipped.
Save those extra bits, grab some Nunn Design 2-Part Resin and try this technique!
---
Learn How:
Faux Druzy Pendant
By Stephanie Gard Buss
Materials Needed:
Nunn Design 2-Part Resin Kit
Deep Bezel Pendants
Mica Powders
Other Supplies:
Ziplock bag
Hammer
File
Bowl or tray of rice
---
STEP 1:
Place your chipped stones in a Ziplock bag and crush with a hammer.
---
STEP 2:
Follow the instructions for mixing the Nunn Design 2-Part Resin.
---
STEP 3:
If your stones are light in color, they will get lost in the clear 2-Part Resin. Adding colorants to your resin will help define the stones and prevent from them disappearing in the bezel. To add colorant into the resin, pour a small amount of the mixed resin into a second cup. Mix the mica powders until fully blended.
---
STEP 4: 
Place your bezels on a surface that allows them to be level. I like to work with my pieces in a bowl of rice to help keep the bail of the bezel from making the surface unleveled. Pour the 2-Part Resin into your bezel base, filling only about 1/3 of the way full. Using tweezers, place your crushed stone pieces into the resin. When you have positioned the stones to create the look that you want, continue to fill the bezel with additional resin until the bezel is full.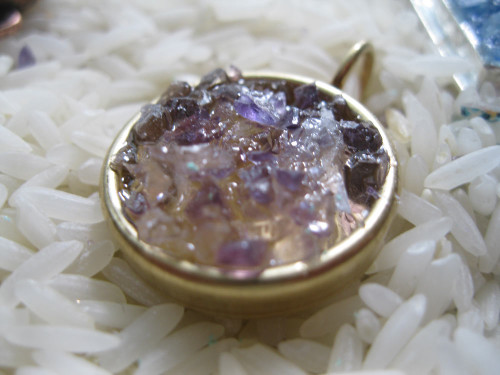 ---
STEP 5:
If you want to add a bit of sparkle, sprinkle on a bit of glass glitter or fine glitter by placing a small amount onto a cotton swab and gently tapping it with your finger.
---
STEP 6:
If you've accidentally applied too much glass or fine glitter, all is not lost. Empty your filled bezel into a mixing cup and add more mixed 2-part resin to dilute the glitter. Refill bezel and let cure for up to 72 hours.
---
STEP 7:
Once your resin is cured, file any sharp points of the crushed stones down to a smooth finish. Add chain to create unique one of a kind faux druzy necklaces and bracelets.
---
Be Inspired!
---
Shop the Supplies:
---
To see more of Stephanie's work, visit her:
Facebook: www.facebook.com/maxandlucie
ND Gallery: Stephanie Gard Buss
---
Shop Nunn Design Wholesale
Nunn Design has been supplying jewelry artists with findings for over 20 years. Shop wholesale jewelry findings for creative jewelry makers.
Shop Nunn Design!
---
How to Purchase Wholesale?
If you are interested in becoming one of the many designers who trust their jewelry to Nunn Design Findings, please join us by registering to become one of our wholesale customers!
Please visit our Where to Buy Page for a listing of online stores that sell Nunn Design Findings retail.
---

If you enjoyed reading this post, please subscribe to our blog. Here are 10 Reasons Why to Subscribe and a place to do so!