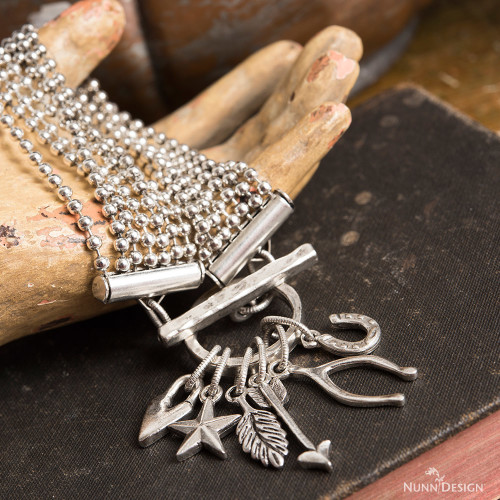 A couple years back I became obsessed with understanding how keywords worked with search engine optimization. I can't say that I'm all that educated on this subject, but basically, I was typing into Google certain words and then a report would pop up telling me how many people are searching for those types of items using those words. When I typed in "Lucky Charms" the number on the report went nuts-o. SO MANY people were searching for Lucky Charms.
This got me super curious. What exactly are people wanting here? I can't say that I know, but what I do know is that throughout history, people have adorned themselves, or have held in their pockets little trinkets or treasures to help protect them or provide them some sort of comfort. Hence, the development of a series of "lucky charms".
---
Tutorial on How To!
The Lucky Charm Bracelet is easy to assemble and takes some basic jewelry making tools. Here is a list of supplies and photos showing just how easy it is to make this bracelet. Shall I wish you luck?
Supplies Needed:
7 pieces of Ball Chain-Antique Silver cut to 5.5"(bc-sb)
2 Ribbon Ends Small Round-Antique Silver (resr-sb)
1 Tobble Bar Contemporary-Antique Silver (tbc-sb)
1 Toggle Ring Contemporary-Antique Silver (trc-sb)
11 (2 extra) Jumpring 9mm Textured Oval-Antique Silver (jr9to-sb)
1 Charm Mini Horseshoe-Antique Silver (cmhssb)
1 Charm Wishbone-Antique Silver (cw-sb)
1 Charm Mini Arrow-Antique Silver (cma-sb)
1 Charm Mini Star-Antique Silver (cms-sb)
1 Leaf Charm-Antique Silver (lcs-b)
1 Charm Primitive Heart-Antique Silver (cph-sb)
Tools Needed:
2 Pairs of needle nose pliers
Other Supplies:
Multi-purpose adhesive (such as Bond 527
Cement or E6000)
Toothpick
Wet-wipes
Small Cello bag
---
Step 1: 
To assemble the Lucky Charm focal pieces, attach the 6 charms to the Toggle Ring
Contemporary using the Jumprings 9mm Textured Oval. Use 1 of the Jumprings 9mm
Textured Oval to attach the Toggle Ring Contemporary to one of the Ribbon Ends.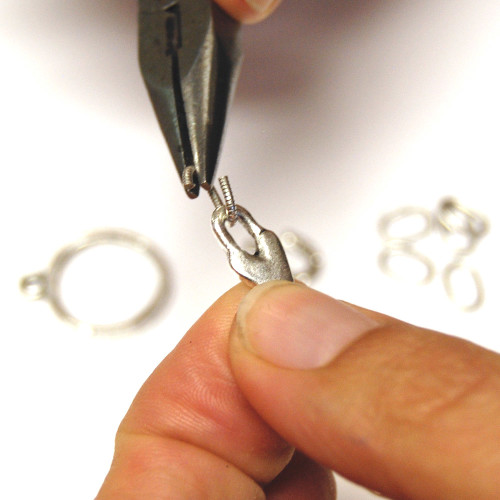 ---
Step 2:
To assemble the bracelet, cut 7 pieces of the Ball Chain to the length of 5.5".
---
Step 3: 
To provide the bracelet with additional strength, I like to insert glue into the Ribbon Ends prior to inserting the Ball Chain. Squeeze a wee bit of Bond 527 Cement onto a small cello bag. Using a toothpick, roll the toothpick in the glue and then insert it into the Ribbon End coating the sidewalls. While the glue is still wet, thread into the open end of a Ribbon End all 6 of the 5.5" strands of Ball Chain. To close the Ribbon End, press it against a firm surface to bend it close. If you have any excess glue on the metal, wipe it down with a wet-wipe.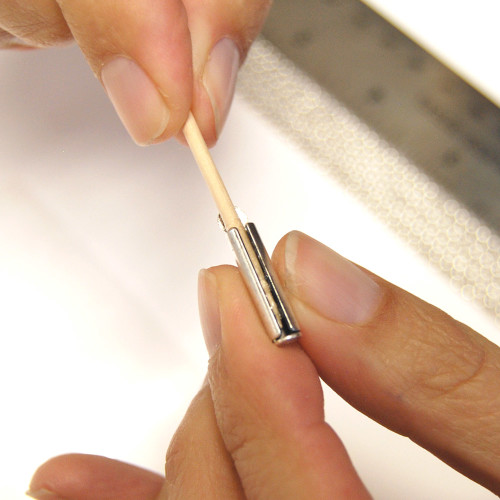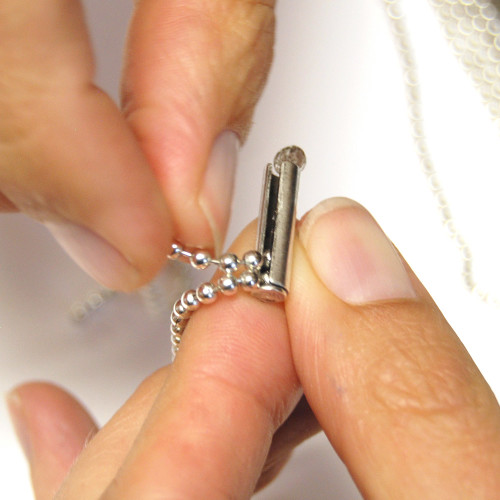 ---
Step 4:
Repeat for the other side.
---
Step 5: 
Using one of the Jumprings 9mm Textured Oval, attach the Lucky Charm focal piece, assembled in step 1, to one of the Ribbon Ends.
---
Step 6:
On the other side of the bracelet, attach 1 of the Jumprings 9mm Textured Oval to the Toggle Bar Contemporary and 1 Jumprings 9mm Textured Oval to the Ribbon End. Connect the 2 Jumprings 9mm Textured Oval.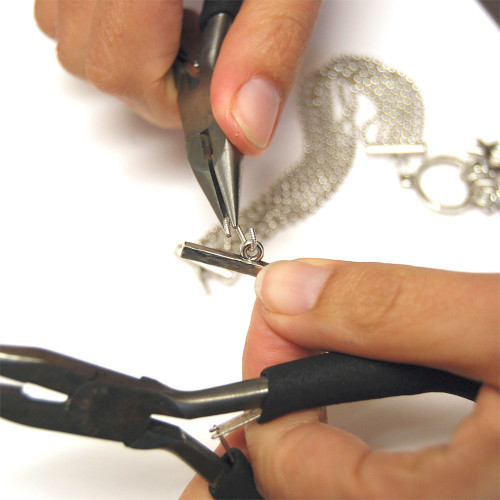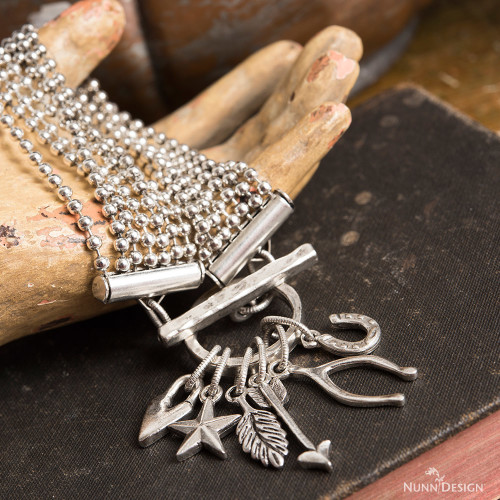 ---
Step 7:
Add additional charms to your set if you would like. You might be interested in making the matching earrings and necklace from this Lucky Charm Collection!
---
TIP: Try on your Lucky Charm Bracelet. If it is too tight, use the additional Jumpring 9mm Textured Ovals to adjust the size. If it is too loose, remove a jumpring until it feels just right on your wrist.
OPTIONAL: Add additional charms to your set if you would like.
---
Shop the Supplies!
Shop Supplies WHOLESALE:
Charms
Chain & Closures:
---
Shop Nunn Design Wholesale
Nunn Design has been supplying jewelry artists with findings for over 20 years. Shop wholesale jewelry findings for creative jewelry makers.
Shop Nunn Design!
---
How to Purchase Wholesale?
If you are interested in becoming one of the many designers who trust their jewelry to Nunn Design Findings, please join us by registering to become one of our wholesale customers!
Please visit our Where to Buy Page for a listing of online stores that sell Nunn Design Findings retail.
---

If you enjoyed reading this post, please subscribe to our blog. Here are 10 Reasons Why to Subscribe and a place to do so!