I do shows annually, and hands down, this pair of earrings gets a lot of attention. Although I used epoxy clay to connect the findings within the Ornate Mini Pendants, it could easily be adhered with E6000 or Bond 527 Cement.
Supplies
---
1. Mix Epoxy Clay
---
2. Using Epoxy Clay, Attach Beadcaps to Bezels
---
3. Cut Headpins, Insert into Beadcap
---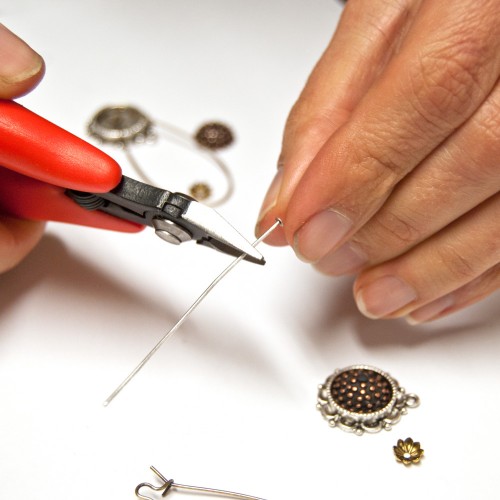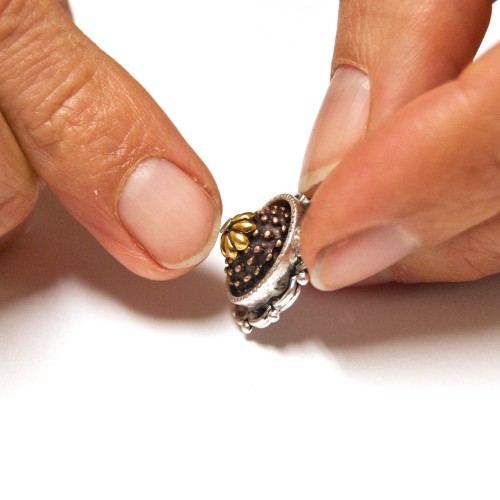 4. Thread onto Kidney Earwire
---
---
Instructions For Elegant Monte Carlo Earrings
What you will need:
Crystal Clay-Black (cryclay-blk)
2 pieces Kidney Earwire-Silver (kews-b)
2 pieces Ornate Mini Pendant Circle Single-Silver (ompcs-sb)
2 Beadcaps 9mm Urchin-Copper (bc9u-cb)
2 pieces Beadcap 6mm Petal-Gold (bc6p-gb)
2 pieces 2" Headpins-Silver (hps-b)
Tools needed:
Beeswax Toothpick or Crystal Katana
Wet wipes
Toothpick or a headpin
Cutters
To Assemble Pendants:
STEP 1:
Pinch off two equal pea-sized balls, one of Part A (the color) and another of Part B (the hardener) of the Crystal Clay. Knead the two equal-sized balls fully together until the clay is a consistent color and not marbled.
STEP 2:
Split the mixed Crystal Clay in half and roll into two round balls. Place each of the round Crystal Clay balls into the bases of the 9mm Urchin Beadcaps. You will want to have the ball big enough to make contact with the base of one of the Ornate Mini Pendant Circle, but not so big that you have clay oozing out the sides (that's an official technical term for making a mess). Make sure to use your wet wipe and wipe away any excess Crystal Clay that could be on the side of the metal or on your fingers. The Crystal Clay will dry rock hard and is super hard to remove, so get in the practice of always keeping your work surface clean and tidy.
STEP 3:
Next you will need to cut two of the 2" Head Pins. Using a pair of cutting pliers, trim away all but 3/8" of the head pin, leaving the flat head intact. Thread a 6mm Petal Beadcap onto the cut Head Pin. Press the Head Pin and Petal Bead Cap into the hole of the pendant from Step 2. If you did not have clay that oozed through the top hole of the Urchin Bead Cap, you may want to add a small dot of Crystal Clay prior to pressing in the Head Pin and Petal Bead Cap. Repeat to complete the pair. The Crystal Clay will harden within 2 hours and fully cure within 24.
To Assemble the Earrings:
STEP 4:
Open one of the Kidney Earwire. Thread on the cured pendant. Repeat for the earring's pair.
No kidding. It really is that easy to make these beauties! Did you have fun?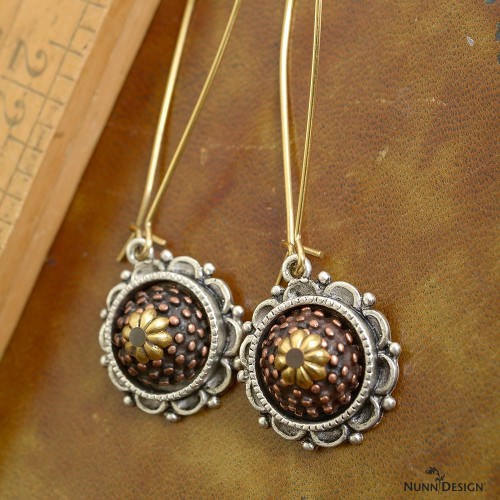 ---
Shop Nunn Design Wholesale
Nunn Design has been supplying jewelry artists with findings for over 20 years. Shop wholesale jewelry findings for creative jewelry makers.
Shop Nunn Design!
---
How to Purchase Wholesale?
If you are interested in becoming one of the many designers who trust their jewelry to Nunn Design Findings, please join us by registering to become one of our wholesale customers!
Please visit our Where to Buy Page for a listing of online stores that sell Nunn Design Findings retail.
---

If you enjoyed reading this post, please subscribe to our blog. Here are 10 Reasons Why to Subscribe and a place to do so!