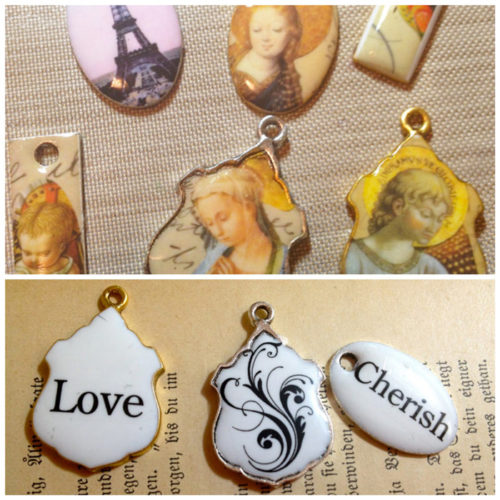 Over the past couple of weeks, Nunn Design has offered the first Buy & Try Program.
shop now! > Buy & try – faux french enamel
Shop Wholesale: Buy & Try – Faux French Enamel
Our intentions are to encourage our customers to see a new technique we are teaching, buy it, and then try it. Some customers, such as designer Karen Hess, were first in line for our new program and special offer.
Karen not only tried the Faux French Enamel Technique that we provided on our blog, Make These Great Faux French Findings, she learned the basics and then pushed beyond.
Here is an account of Karen's exploration.
---
Karen's Explorations
I just wanted to share how happy I am with the buy and try program. The faux enamels are fabulous. I've attached some pictures of my results….some faux enamel and some faux porcelain!

I took the it one step further as I was wanting color on the tags.  I pulled out my Nunn Design transfers and applied them just as I did the word transfers.  I'm thrilled with the results and feel they really look like porcelain.

Two friends have already asked to purchase completed ones. That led me to think about the durability of the transfers (esp. the color ones) over time, as in a charm bracelet or hefty dangle where they would have contact with other charms, beads, etc. I'm not familiar with how durable the ND Sealant is on its own, as I only use it under resin.
---
Note From Becky About Sealant
Karen was right to be concerned about the durability of the transfer sheet with the Nunn Design Sealant as it's only protection. Although the Sealant is a durable clear acrylic varnish, the transfer sheets themselves are very fragile and could rip if exposed to a lot of scraping and scratching caused by other charms and beads on a charm bracelet. To create an even heavier duty protection over the full image, I love the solution that Karen came up with. – Becky
---
So, this morning I "painted" resin on top of each charm to really seal them. I think it's going to be a winner! More importantly, I can feel confident using them in any of my creations.

Thanks again for everything!!
xoxo
Karen
karensmondaymusings.blogspot.com
---
Have You Made Any Faux French Enamel Tags?
Email us and tell us of your exploration, tips and techniques. We'd love to feature your story and jewelry creations.
---
Shop Supplies:
Shop Supplies RETAIL:
You can explore this technique with our Buy & Try Faux French Enamel Program.
shop now! > Buy & try – faux french enamel
Shop Supplies WHOLESALE:
---
Shop Nunn Design Wholesale
Nunn Design has been supplying jewelry artists with findings for over 20 years. Shop wholesale jewelry findings for creative jewelry makers.
Shop Nunn Design!
---
How to Purchase Wholesale?
If you are interested in becoming one of the many designers who trust their jewelry to Nunn Design Findings, please join us by registering to become one of our wholesale customers!
Please visit our Where to Buy Page for a listing of online stores that sell Nunn Design Findings retail.
---
If you enjoyed reading this post, please subscribe to our blog. Here are 10 Reasons Why to Subscribe and a place to do so!