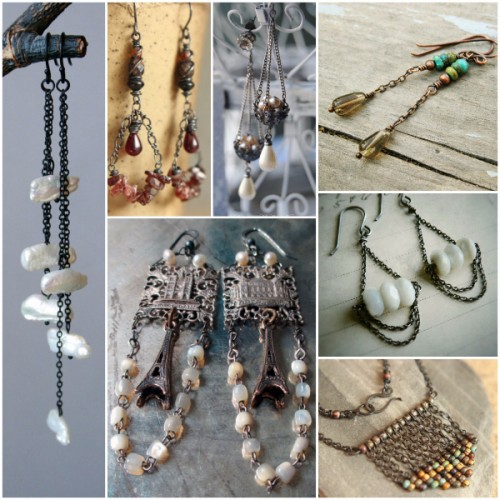 I don't know about your studio, but I have loose fragments and bits and pieces of chain scattered about and stored in containers. What about those wee bits of loose chain on the spool that are too small to make into a necklace you ask? Here are some inspirational projects to get you inspired to pull those bits out and get creating!
---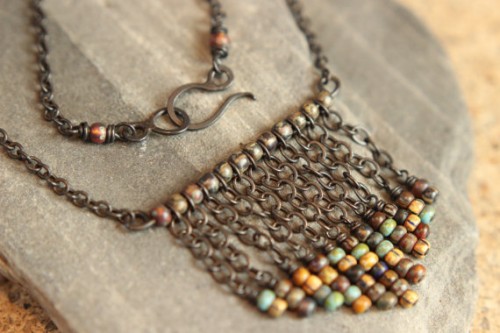 Bonnie Gray at Sparrow Tale Design is creating beautiful handmade artisan jewelry using bits of chain. Sorry, but I just had to sneak one of her fringe necklaces in too! It is just too cool!
---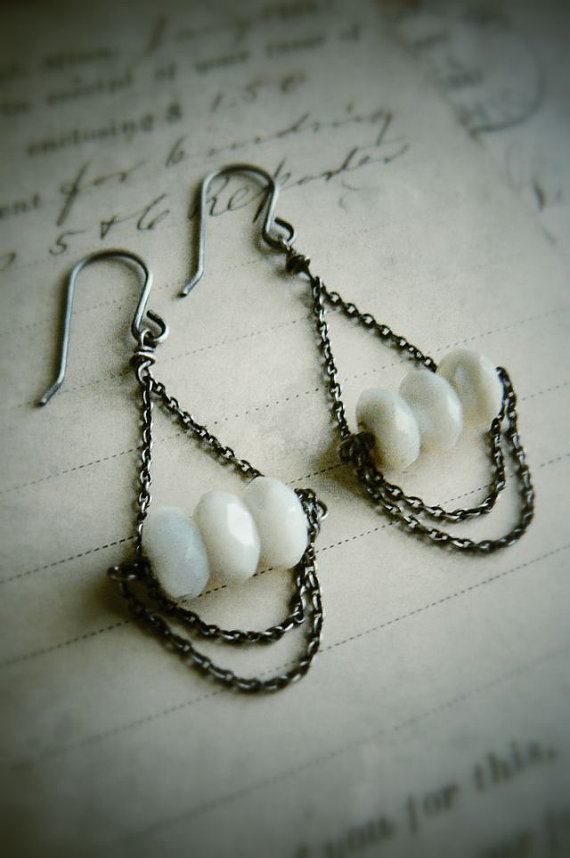 Kate at Urban Heirloom was on the trend of incorporating bits of chain many years ago with these great earring dangles.
---
Seed beaders can be inspired by the projects in Favorite Bead Stitches Magazine. I particularly like this pair of earrings.
---
The two sister dynamic duo at The White Owl are creating beautiful jewelry using vintage bits of materials scoured from their junking adventures. This pair of earrings is one of their many beautiful jewelry offerings.
---
Here are a couple of my own creations using bits of the Nunn Design Chain. I like to use chain to provide length and movement. Click any of the images to shop the Nunn Deign Findings or browse our Earrings Gallery.
---
All right, these great fringe earrings designed by Jules Smith might be using more than just bits, but they sure are awesome!
---
Kristen with Faded Into The Abstract created these very hip contemporary earrings. This woman makes some seriously cool hip and unique pieces!
---
Bear Run Road creates beautiful copper jewelry. I love seeing jewelry collections that are so consistent in brand and feel. Bear Run Road has this down!
---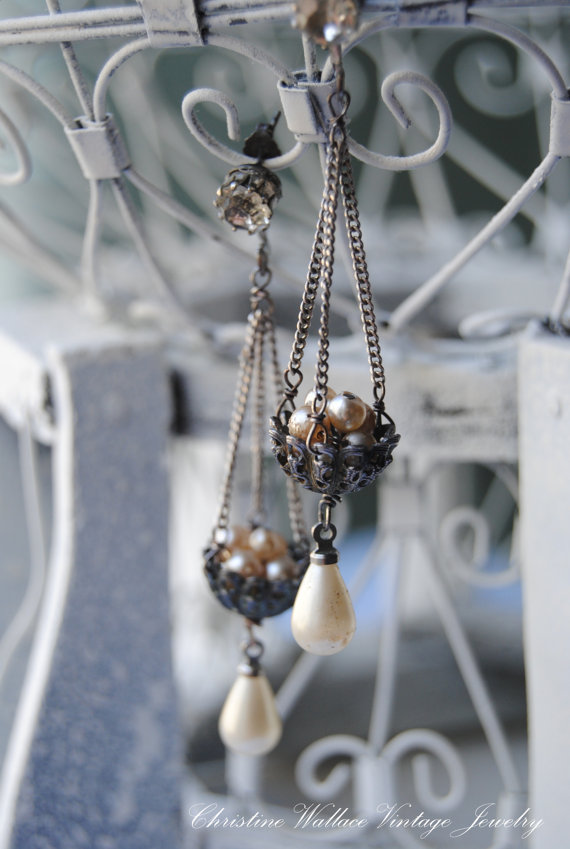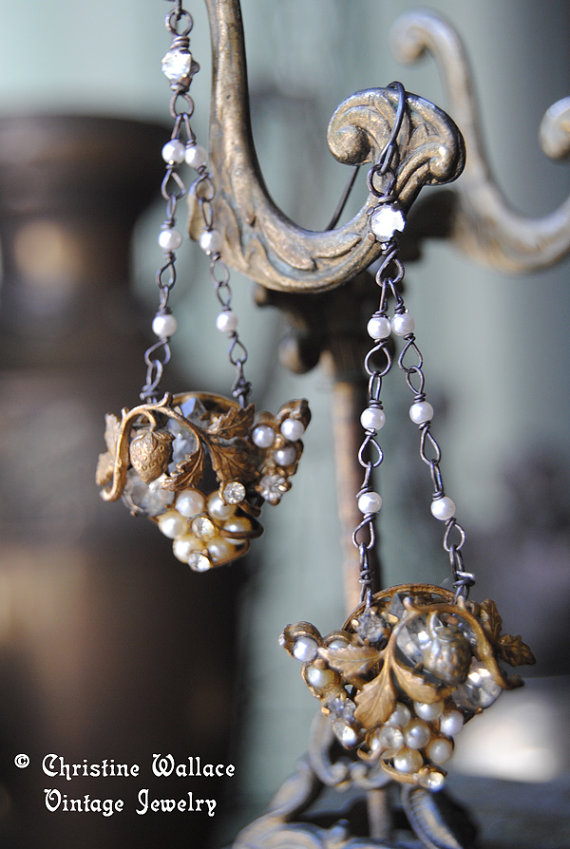 I have featured Christine Wallace's work before. I just swoon over her work!
---
Wendy from In the Willows created these beautiful Garden of the Gods earrings. I like the wee bit of chain looped this time down at the bottom.
---
Charlotte at Ode To Joy Art does a lovely job of incorporating bits of seed beads into her earring creations.
---
I really love how The French Circus incorporated some vintage chain into her earrings.
---
Lauren with Loop Handmade Jewelry is creating some really beautiful Deco-geometric designs. Very hip and very contemporary, but then she is from Portland, Oregon!
---
These earrings created by Rokdarbi are just so sweet, but that black chain makes this just as equally cool!
I hope you are inspired to create!
---
Shop Supplies Wholesale:
---


If you enjoyed reading this post,
please subscribe to our blog.
Here are 10 Reasons Why to Subscribe
and a place to do so!
---
Shop Nunn Design Wholesale
Nunn Design has been supplying jewelry artists with findings for over 20 years. Shop wholesale jewelry findings for creative jewelry makers.
Shop Nunn Design!
---
How to Purchase Wholesale?
If you are interested in becoming one of the many designers who trust their jewelry to Nunn Design Findings, please join us by registering to become one of our wholesale customers!
Please visit our Where to Buy Page for a listing of online stores that sell Nunn Design Findings retail.
---

If you enjoyed reading this post, please subscribe to our blog. Here are 10 Reasons Why to Subscribe and a place to do so!