Have you ever mixed up a batch of 2-Part Epoxy Clay with the best intentions of doing a "big" project, but your window of opportunity faded because someone wanted a snack? Well, I have. More times than I care to admit. That is what led me to finding creative ways to eliminate waste by creating fun accents with my excess Epoxy Clay bits, like wrapping a bit of excess Epoxy Clay around a Nunn Design Tube Bead to create an interesting statement bead.
---
Be Inspired!
---
Learn How!
Materials Needed:
Other Supplies:
Step 1:
Well, just in case you don't have any excess bits of clay to work with, use 2 equal size balls of part A and part B of the Epoxy Clay. Mix the clay according to manufacturer's instructions. Mix until there is no marbling. You have 90-120 minutes to work with the Epoxy Clay before it starts to harden, so take your time.
Step 2:
Pinch off a small ball. Roll the ball into a small snake about ¾" long. Wrap the clay around the outside of the tube bead, keeping the clay snake in the center of the bead.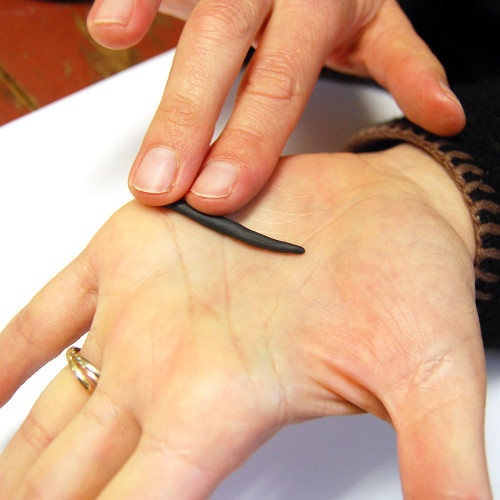 Step 3:
Roll the Epoxy Clay wrapped tube bead around in the palm of your hand. As the tube beads rolls around, it will be pressing the clay to the edges of the bead. I'm sure there is some science going on here…I just know "cool" when I see it. This is really cool!
Step 4:
Here is where you can get into some additional fancy steps. Once you have your tube bead nice and round, thread a headpin through the hole of the Tube Bead. Apply a little baby powder or Pearl Ex Mica Powder onto a Clay Squisher Texturizing Pad. Gently roll your tube bead across the surface of the Clay Squisher to create a pattern in the clay. See, neat!
Step 5:
Once your clay has cured, create a loop with a pair of needle nose pliers.
This is part of a series of tips and tutorials on using excess Epoxy Clay bits. Make sure to check the blog for the other tips!
---
Shop Nunn Design Wholesale
Nunn Design has been supplying jewelry artists with findings for over 20 years. Shop wholesale jewelry findings for creative jewelry makers.
Shop Nunn Design!
---
How to Purchase Wholesale?
If you are interested in becoming one of the many designers who trust their jewelry to Nunn Design Findings, please join us by registering to become one of our wholesale customers!
Please visit our Where to Buy Page for a listing of online stores that sell Nunn Design Findings retail.
---

If you enjoyed reading this post, please subscribe to our blog. Here are 10 Reasons Why to Subscribe and a place to do so!