This is one of my newest ways that I've started to use my excess Epoxy Clay. It is also a great way to use up excess snips of ball chain that you might have on hand.
---
Be Inspired!
---
Learn How!
Materials needed:
Other:
Wetwipes
Needle Nose Pliers
Step 1:
Follow the manufacturer's instructions for the handling and mixing of the Epoxy Clay. While wearing gloves, pinch off two equal sized balls of Part A and Part B and blend together fully until the clay is no longer marbled and uniform in color. You have approximately 90-120 minutes of working time before the clay starts to harden, so take your time. Once the clay is thoroughly mixed, remove your gloves to make it easier to work with the clay.
Step 2:
Pinch off a small ball of the clay and roll it in the palm of your hands until smooth and round. Any creases in the clay will be more challenging to smooth out later, so roll until it is nice and smooth.

---
Step 3:
Poke the end of the headpin into the ball of Epoxy Clay.  Use your fingers to gently sculpt a drop like shape around the headpin.

---
Step 4:
Starting at the bottom end of the drop, embed a Bead Cap 6mm Petal. This provides a nice base to the drop.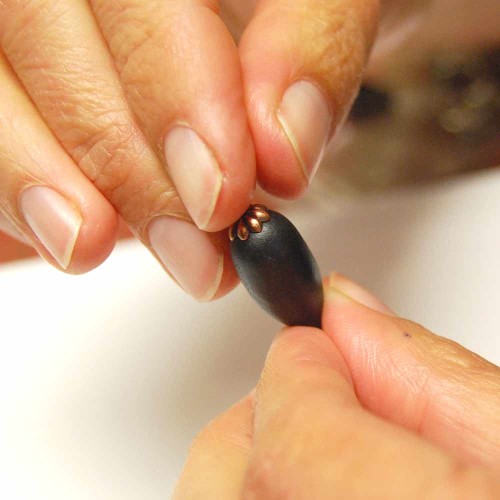 ---
Step 5:
Now you are ready to start to wrap the ball chain around the drop and embedding the chain into the Epoxy Clay. Wrap the chain around the Epoxy Clay drop pressing the ball chain lightly into the clay. This can be tricky at first because the tendency is to press too hard and this will make the chain and drop all wonky.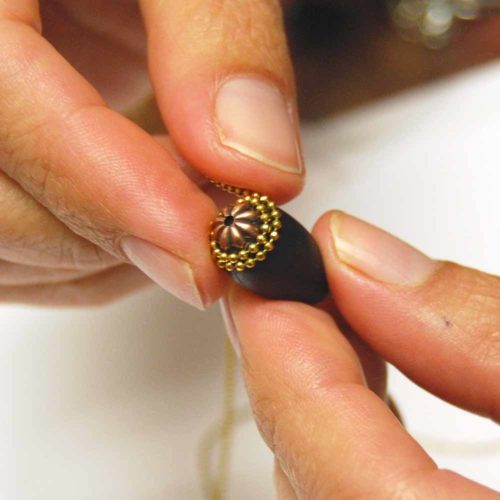 ---
Step 6:
When you arrive at the top of the Epoxy Clay drop, use your flush cutters to cut off the excess ball chain. Use your fingers to gently embed the ball chain into the Epoxy Clay and to shape the drop.
---
Step 7:
Thread on beadcaps of your choice to the top of your beaded drop and let dry until set (a couple hours).  

---
Step 8:
I added one small link of the ball chain into the center of the beadcap to provide an extra accent.
---
Step 9:
Once the drop is hard, use your needle nose pliers to create a loop from the headpin.

This is part of a series of tips and tutorials on using excess Epoxy Clay bits. Make sure to check the blog for the other tips!
---
How to Purchase Wholesale?
If you are interested in becoming one of the many designers who trust their jewelry to Nunn Design Findings, please join us by registering to become one of our wholesale customers!
Please visit our Where to Buy Page for a listing of online stores that sell Nunn Design Findings retail.
---

If you enjoyed reading this post, please subscribe to our blog. Here are 10 Reasons Why to Subscribe and a place to do so!