Facebook Live Class
With Becky Nunn at Beadaholique
Wednesday, Novemeber 16th, 2016
12:00 pm EST / 09:00 am PST
Watch Live at https://www.facebook.com/Beadaholique/
Please join me today for a Facebook Live Class at Beadaholique.
---
What We Are Covering
Here are some of the things that we will be covering during the Facebook Live Class.
1. With each release, Nunn Design creates a giveaway to highlight the new products. I will be showing the $75.00 retail value giveaway and inspiring you with the jewelry pieces that I've created using the 2016 Fall Collection.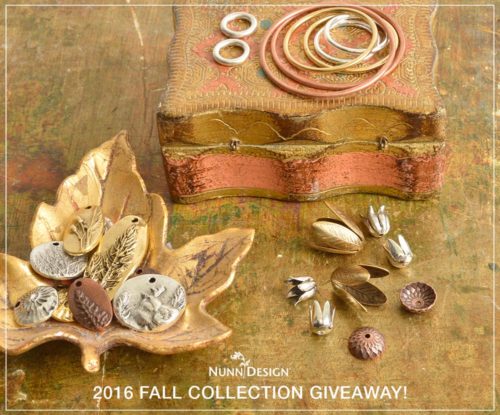 2. Within the 2016 Fall Collection, there is a new collection of beadcaps. I will be showing a whole collection of finished earrings that I've made using the beadcaps and creating a pair live for you. All the supplies will be available for purchase if you want to follow along in making a pair!
3. I have a distinct look to my jewelry design. One that incorporates all sorts of looks and techniques, yet somehow I manage to keep it from not looking like a big ol' garage sale. Learn some of my tips and techniques for how I like to design using color, theme and proportion to make things come together.
I hope that you will join us! It will be my first Facebook Live Video, so I sure would love to see that you are watching and cheering me on!
---
Learn More:
To learn even more, here is the scoop from Beadaholique: Next in our Facebook Live Classroom — Mixed Media Tips, Earring Project and Giveaway with Becky Nunn!
---
Shop Nunn Design Wholesale
Nunn Design has been supplying jewelry artists with findings for over 20 years. Shop wholesale jewelry findings for creative jewelry makers.
Shop Nunn Design!
---
How to Purchase Wholesale?
If you are interested in becoming one of the many designers who trust their jewelry to Nunn Design Findings, please join us by registering to become one of our wholesale customers!
Please visit our Where to Buy Page for a listing of online stores that sell Nunn Design Findings retail.
---

If you enjoyed reading this post, please subscribe to our blog. Here are 10 Reasons Why to Subscribe and a place to do so!