Have you ever responded to a customer's request at a craft fair or through an email exchange with "no, I'm sorry, we don't offer anything like that." I am sure you have. We all have. We can't be everything to all people. There just isn't enough time in the day, enough money to produce everything that the market may want, and we have our limits as to what we can make and produce.
It is good to be clear and set boundaries.
BUT, it is also important to listen and be willing to find a way to say "yes!"
Here is an example of what I'm talking about.
---
Looking For Ways To Say Yes:
Yes, Nunn Design has developed a brand that sets us apart. We produce innovative products that allow artists to create unique handmade jewelry.
BUT, I noticed that some of our customers were using simple bezel post earrings that I would consider a "commodity." I define a commodity as a finding that could be purchased anywhere and isn't really all that unique or special. In the past, I have said, "no, I'm sorry, we don't offer anything like that." I justified it with "there isn't enough time in the day, money to produce everything and we have our limits."
So, I needed to test my assumptions. I needed to explore this. I needed to find a way to say "yes."
---
Flash Sales For Testing Interest:
So we offered a flash sale last August and sold the bejesus out of our Bitsy Earring Posts.
---
Working Through Assumptions:
But then I came up with a bunch of reasons why we couldn't put them in our line! I knew that the market wanted them. I had the proof that we could sell them, but I came up with another level of assumptions!
Here they are:
We can't make money on these.
Anyone can produce these cheaper than Nunn Design.
Our soldering department can't keep up with this demand.
Our brand will be damaged by making a commodity item.
Our warehouse staff will be overwhelmed with pulling off sleeves from the posts (placed there to protect the surgical steel) and attaching the clutch.
The list goes on but you get the idea.
So, we didn't release the Bitsy Earrings Post in our 2018 Winter Collection. "Sorry, there isn't enough time in the day, money to produce everything and we have our limits."
---
You Were Heard!
BUT, our customers wouldn't have it! They called. They asked. They WANTED these Bitsy Earrings.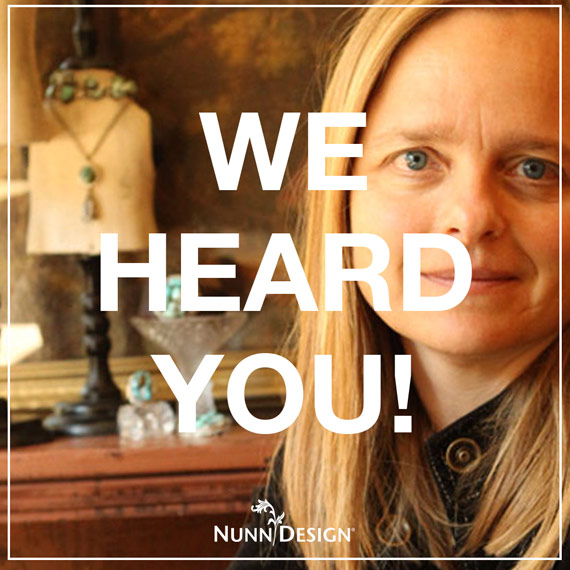 So back to the drawing board we went, to challenge our assumptions and problem solve, so we could say "yes." So we did. We kept asking ourselves, "what if we…." and then we would brainstorm some solutions.
This was the list of questions we needed to solve next:
What if we attached a different clutch?  Would our customers have more projects they could create with a butterfly clutch verses a bullet clutch?
Would butterfly clutches be less expensive?  (They are actually more, but I liked the fact that our customers could attach chain onto the butterfly clutch and dangle things from the back of the Bitsy Earring.  It was worth the extra expense to provide more options in usage).
What if we didn't attach the butterfly clutch and had them loose in the bag, saving time in labor.
What if we ordered larger quantities of the Bitsy Earrings and did fewer production runs throughout the year? (This is also referred to as fewer inventory turns).
What if we hired an additional solderer?
This is a long post to get to the part where I announce:
---
Bitsy Earrings are COMING SOON-March 26th!

We have heard you. We have made it work for both of us. Thank you for your commitment to Nunn Design. For being willing to voice what you want. For being patient while we problem solved and found a way to say YES.
Most Sincerely-
Becky Nunn
---
Shop Nunn Design Wholesale
Nunn Design has been supplying jewelry artists with findings for over 20 years. Shop wholesale jewelry findings for creative jewelry makers.
Shop Nunn Design!
---
How to Purchase Wholesale?
If you are interested in becoming one of the many designers who trust their jewelry to Nunn Design Findings, please join us by registering to become one of our wholesale customers!
Please visit our Where to Buy Page for a listing of online stores that sell Nunn Design Findings retail.
---

If you enjoyed reading this post, please subscribe to our blog. Here are 10 Reasons Why to Subscribe and a place to do so!