Our Nunn Design shipping Diva, Haylee Troncone, is an avid Cosplayer and Harry Potter Fan. She eagerly waited for her latest J.K. Rowling fix with the release of Harry Potter and the Cursed Child.
Haylee travelled a great distance from Port Townsend to attend the nearest Harry Potter Release Party, but the distance was very little in comparison to the time she poured into her costume. For the release party, Haylee chose to dress as Dolores Umbridge, a character that presents herself in the fifth Harry Potter Book in the series. Umbridge is sugary sweet, dresses in all pink and by far is one of the most evil characters in the series.
Creating the outfit consisted of a couple trips to the thrift store to gather some pink Umbridge styled clothes. But no outfit would be complete without Dolores Umbridge's kitty cat jewelry, a trademark of this character's outfit.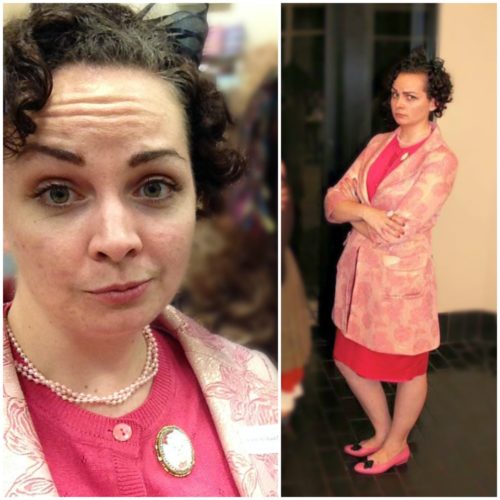 Here are some of the steps that Haylee did to create her Harry Potter Release Party Jewelry.
---
Be Inspired!
---
Learn How!
Supplies:
Crystal Clay White
Rhinestone Chain
Ornate Grande Brooch Oval
Deep Bezel Ring Circle
Other:
Acrylic Paint
Paint Brush
---
Step 1:
First, Haylee mixed up a batch of White Crystal Clay according to the manufacturer's directions.
(While wearing gloves, pinch off two equal sized balls of Part A and Part B and blend together fully until the clay is no longer marbled and uniformed in color. You have approximately 90-120 minutes of working time before the clay starts to harden, so take your time.)
---
Step 2:
Haylee then applied the White Crystal Clay into the base of a Nunn Design Ornate Grande Brooch Oval and embedded some Rhinestone Chain around the outside edges. She also applied White Crystal Clay into a Deep Bezel Ring.
---
Step 3:
She let the Crystal Clay cure (12 hours).
---
Step 4:
Using a paper plate as a quick and easy palette, Haylee chose her colors and used acrylic paints to create her images of the kitty cats and let dry.

The Harry Potter Release Party Jewelry Collection was a hit! Great job Haylee!
---
Shop Supplies:
---
Shop Nunn Design Wholesale
Nunn Design has been supplying jewelry artists with findings for over 20 years. Shop wholesale jewelry findings for creative jewelry makers.
Shop Nunn Design!
---
How to Purchase Wholesale?
If you are interested in becoming one of the many designers who trust their jewelry to Nunn Design Findings, please join us by registering to become one of our wholesale customers!
Please visit our Where to Buy Page for a listing of online stores that sell Nunn Design Findings retail.
---

If you enjoyed reading this post, please subscribe to our blog. Here are 10 Reasons Why to Subscribe and a place to do so!