Plated jewelry continues to age with time. Some of you LOVE the look of the darkening that naturally happens, others of you, not so much.
---
How to Clean Copper!
After doing some research on how to clean copper, Cheryl took an afternoon and conducted 5 tests using household ingredients.
Here are the 5 tests that Cheryl conducted and the brief description of the results.
1. Lemon Juice & Salt!
Mix together 1 tbs lemon juice and 1 tbs salt. Rub on the components with your fingers or a cloth. Rinse with warm water and dry.
Results: This technique brightened the copper quite quickly and easily. Very little rubbing needed.
2. Vinegar & Salt!
Mix together 1 cup vinegar and 1 tbs salt. For best results, submerge the tarnished copper into the vinegar and salt solution for 5 minutes.
Results: Removed tarnish nicely.
3. Baking Soda & Salt!
Cover the inside of a bowl with aluminum foil. Pour 1 tbsp baking soda and 1 tbsp salt into the bowl. Fill half way with hot water. Mix contents and submerge the jewelry for 10 minutes. Rinse and dry.
Results: This technique removed a little of the tarnishing; however seems to be less effective than the other methods.
4. White Vinegar & Salt!
Mix together 1 cup white vinegar and 1 tbsp salt. Pour the mixture into a medium sized pan and submerge the copper findings. Bring the mixture to a boil. Boil for 60 seconds. Remove, rinse and dry.
Results: "I was blown away by the results. This brightened the copper quite well. I declare this as the winner".
5. Ketchup & Water!
Lightly cover the piece with ketchup and let sit for a few minutes. Let the ketchup sit for a few minutes. Rub vigorously with a non-scratch pad or cloth. Wash with water and dry.
Results: This technique was also a surprise. I used a paper towel for the wiping and rubbing. The bracelet brightened up very well and with very little rubbing.
All of the tests worked to clean the copper and remove the darkening, but the copper soon returned to its tarnished state. Copper just naturally does that, dang it! In order to keep the copper plating bright, you will want to apply a coating to prevent the copper from tarnishing. Read on!
---
Prevent Copper from Tarnishing!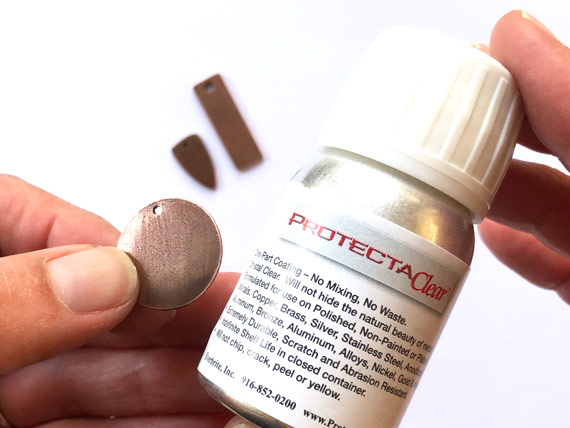 If you want the Nunn Design Findings to not darken as they age, there is a solution. The product to use is ProtectaClear*.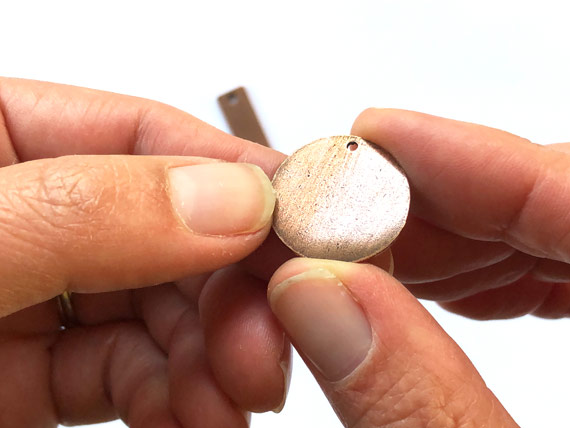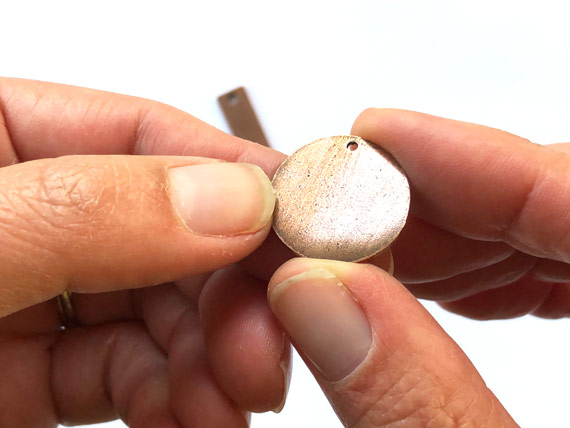 Step 1:
ProtectaClear recommends that you then wipe the finding with a solvent wipe right before applying the coating. Honestly, I'm not sure what a solvent wipe really is or what to recommend. What I did use was a Pro-Polish Polishing Pad to gently clean the metal.
Step 2:
I wasn't doing a full production run, so I just coated the ProtectaClear on with a natural bristle brush. If doing a large amount of findings, the instructions recommend that you place the findings on a piece of foil. You can also use a sponge-brush to apply the coating on both sides of the findings. There is also a spraying method that you can do.
Step 3:
Let the finding fully cure. This can take 4-5 days.
*I want to provide full disclosure about this blog post. Nunn Design does not sell or gain any financial benefit for promoting this product. I have purchased it and tested it, but my recommendation comes from numerous long time customers that have used this product exclusively. ProtectaClear comes to me highly recommended and I'm passing on the knowledge that I know.
---
Tips?
Do you have a suggestion on how to prevent plated metals from aging? Please leave a comment below.
---
Shop Nunn Design Wholesale
Nunn Design has been supplying jewelry artists with findings for over 20 years. Shop wholesale jewelry findings for creative jewelry makers.
Shop Nunn Design!
---
How to Purchase Wholesale?
If you are interested in becoming one of the many designers who trust their jewelry to Nunn Design Findings, please join us by registering to become one of our wholesale customers!
Please visit our Where to Buy Page for a listing of online stores that sell Nunn Design Findings retail.
---

If you enjoyed reading this post, please subscribe to our blog. Here are 10 Reasons Why to Subscribe and a place to do so!