In the early years of Nunn Design, I was "burning the candle from both ends" as the saying goes. I was running a business, supporting a family and raising two little girls. I was overcommitted, yet had a heck of a time passing up on opportunities to promote Nunn Design and to inspire creativity.
Being overly busy, the thing that would sometimes be left to chance was my creativity. One of these "chances" happened and it taught me a very valuable lesson. The lesson I learned was: "If you commit to doing something, be prepared to do it and do it right!"
This lesson was taught to me after I had committed to shooting a series of videos. Halfway through shooting one of the videos (I'm not telling which video!!), I realized that I was totally making junk up and I wasn't going to be able to pull off the piece that I was creating. Things were going from bad to REALLY bad! I was doing my best to salvage what I was creating but I finally had to stop and tell the film crew, "I'm going to have to stop on this and come back to it." No one seemed to really notice, but I did.
I am all about letting the creativity happen. I love a good innovative discovery! But when it comes to teaching or shooting a video, I like to know what is going to work! The last thing I want is for people to make something that they aren't happy with.
In this tutorial, I'll walk you through how to create a colorized Epoxy Clay and Jacquard PearlEx Powdered Pigment sampler. Although you are welcome to stop the film crew and say "I'll have to come back to this," taking time to experiment and explore before you create will result in finished pieces that are more in line with your brand's look and feel.
---
Supplies Needed:
Colorized Epoxy Clay
Jacquard PearlEx Powdered Pigments
Other Supplies Needed:
Q-Tips
Glossy business cards or card stock
Plastic Bags, such as a Ziploc Bag
---
Learn How!
Step 1. Mix and colorize Epoxy Clay using various formulas of Castin' Craft Opaque Pigments. Read this full tutorial to learn more: How to Mix and Colorize Epoxy Clay with Castin Craft Opaque Pigments).
Step 2. For the colorized Epoxy Clay with Jacquard PearlEx Powdered Pigments that I am creating in this tutorial, I had two colors of denim that I wanted to test –  light color denim and dark color of denim.
I created small balls of colorized Epoxy Clay and flatten them into little patties. The key to a great and useful sampler is to record exactly what you are doing. When you colorize the Epoxy Clay, make sure to record the size of the ball and the color formula you used to achieve your desired color of clay.
Step 3. I like to line all of the Jacquard PearlEx Powdered Pigments up in a row that I plan to test on the Epoxy Clay. It helps me to keep track of the powders that I have tested and it makes it easier to record my results once I'm finished. You will want to apply the powders onto the colorized clay while it is uncured.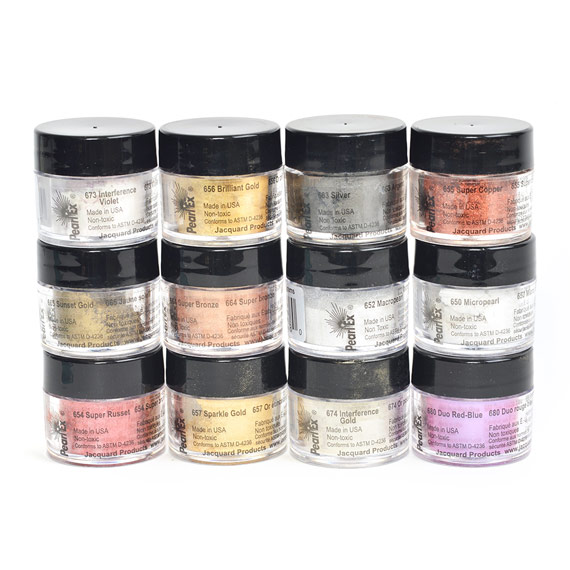 Step 4. Tap on the lid of the Jacquard PearlEx Powdered Pigment prior to opening. This will help to prevent the "dust" of the powder from floating out of the container when you unscrew the lid.
Step 5. Once the lid is opened, place a Q-Tip into the container of Jacquard PearlEx Powdered Pigment and fully coat the tip of the Q-Tip with Powder. Tap the tip of the Q-Tip on the side of the jar to reduce any excess powder.
Step 6. Smear the powder onto the colorized Epoxy Clay.
Step 7. Record your results!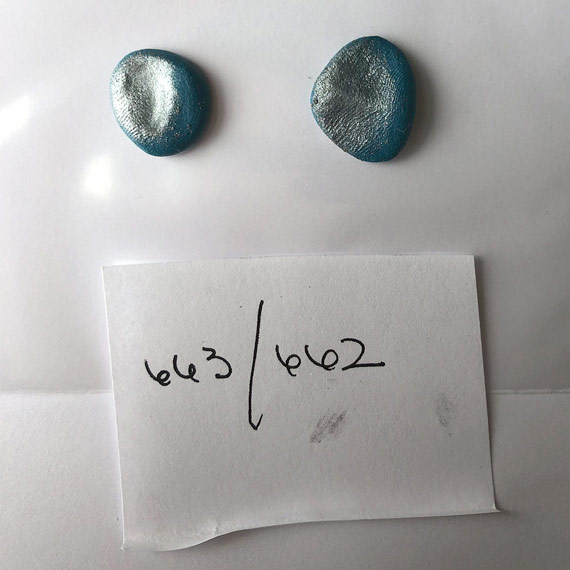 Step 8. Once your samples of Epoxy Clay have cured (12 hours), remove the patties from the plastic. Remove any excess Jacquard PearlEx Powdered Pigments off of the cured patties by gently tapping them onto the plastic-covered work surface. Turn the samples upside down and record on the backside of the sampler the color number of the Jacquard PearlEx Powdered Pigment.
Step 9. Place your samples in Ziploc bags to save for your next creative project.
And that is a wrap! Enjoy creating!
---
Shop Nunn Design Wholesale
Nunn Design has been supplying jewelry artists with findings for over 20 years. Shop wholesale jewelry findings for creative jewelry makers.
Shop Nunn Design!
---
How to Purchase Wholesale?
If you are interested in becoming one of the many designers who trust their jewelry to Nunn Design Findings, please join us by registering to become one of our wholesale customers!
Please visit our Where to Buy Page for a listing of online stores that sell Nunn Design Findings retail.
---

If you enjoyed reading this post, please subscribe to our blog. Here are 10 Reasons Why to Subscribe and a place to do so!