Making molds from freshly picked organics is a beautiful way to bring a natural element of texture and design to your jewelry. In this tutorial I will walk you through:
How to select organics with interesting texture
How to use Easy Mold Silicone Putty
How to cut a silicone mold to fit your bezel
---
Supplies Needed:

Easy Mold Silicone Putty
Other Supplies:

Freshly picked organics
Wet-wipes
Q-Tips
Toothpicks
Plastic Bags
Tools:
Tweezers
Scissors
---
Watch a Video!
Watch this short video for an overview of the process.
---
How to Select Organics with Interesting Texture
Step 1. To create a mold that will bring a natural element of texture and design to your jewelry, select freshly picked organics with a great deal of relief and definition. Do not use dried organics for this technique, for the organics can easily crumble and crack when pressed into the Easy Mold Silicone Putty.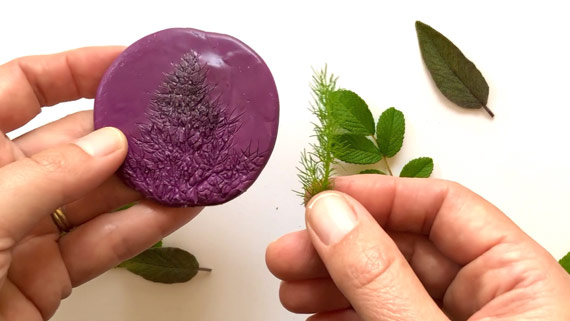 ---
How to use Easy Mold Silicone Putty
Step 2. Easy Mold Silicone Putty has a 3-minute working time. For best results and maximum window of being able to work with the putty, make sure your room temperature is brought up to 70 degrees.
Step 3. Lay a piece of plastic, such as a small Ziploc Bag onto your work surface.
 Pinch off a small grape-sized ball of Part A and Part B of the Easy Mold Silicone Putty. Getting the knack for mixing just the right amount of putty will take some practice. You might mix too much or too little putty the first time. Try your best to guess the amount of putty you will need to have approximately 1/8" putty around the outside edge of your bezel's rim. You will also want the thickness of the silicone putty to be approximately 1/8".
Step 4. Take a moment to make sure you have the following supplies as you'll need to work quickly.
The organics for your mold creation
Wet-wipes
A flat surface (I'm using a glass bowl in this tutorial) to press the silicone putty into a flat disk.
Step 5. Knead both part A and part B together until the putty is blended completely and is uniform in color.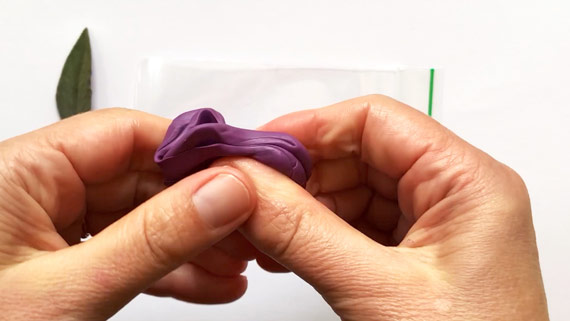 Step 6. Roll the fully mixed Easy Mold Silicone Putty into a smooth round ball that is free of creases. Place the mixed putty onto a piece of plastic. If you have creases, try your best to have the smoothest side of the mixed silicone ball facing up.
Step 7. Use one of the lids from the containers of Easy Mold Silicone Putty or a flat surface, such as a glass bowl, to press down into the silicone putty. Creating a nice round and evenly flat disk out of the silicone putty.
Step 8. Press the freshly cut organics into the molding putty right away (it sets up really fast!). Use the lid of the putty or a flat surface to press the organics firmly and evenly down into the Easy Mold Silicone Putty.
Step 9. The Easy Mold Silicone Putty will start to set and be firm to the touch after 20 minutes. Remove the organics from the putty.
TIP: If you have some organics that didn't easily release, use a pair of tweezers to remove the organics that may still be stuck in the many crevices of the putty.
Step 10. If you are using a pendant that has a bail, you will want to trim away the excess silicone putty with a pair of scissors. This will allow the mold to come into contact with the Crystal Clay.
---
Shop Nunn Design Wholesale
Nunn Design has been supplying jewelry artists with findings for over 20 years. Shop wholesale jewelry findings for creative jewelry makers.
Shop Nunn Design!
---
How to Purchase Wholesale?
If you are interested in becoming one of the many designers who trust their jewelry to Nunn Design Findings, please join us by registering to become one of our wholesale customers!
Please visit our Where to Buy Page for a listing of online stores that sell Nunn Design Findings retail.
---

If you enjoyed reading this post, please subscribe to our blog. Here are 10 Reasons Why to Subscribe and a place to do so!