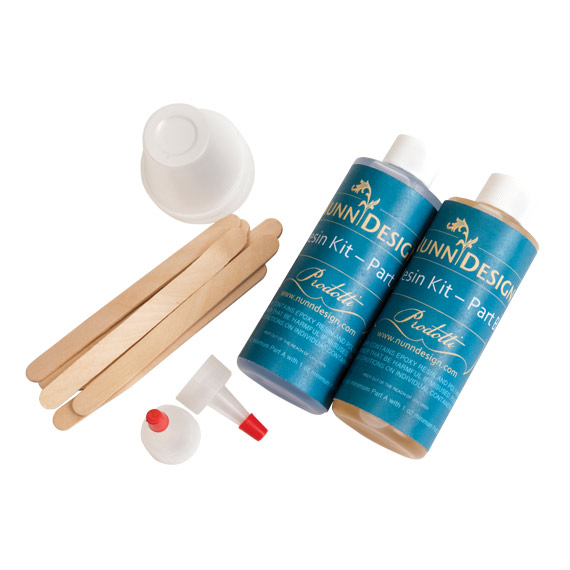 How to Mix Nunn Design Resin
Resin is a mixed media medium that has been on the market for years. If you had a positive experience with resin in the past, you probaby LOVE this medium. If you had a negative experience, you likely HATE it. A lot of the challenges that have occurred with resin is due to inconsistent information and education on how to create with it. As a result, it is easy to have mixed outcomes and limited success. Those who have persisted have been rewarded with their hard work of figuring things out, while the rest of us may have given up.
This video tutorial will help you identify the steps and habits you will need to have consistent success with Nunn Design Resin.
You will learn:
About Nunn Design Resin and why it is more expensive than other resins
How to prepare your Nunn Design Resin mixing station
How to prepare your Nunn Design Bezels and Findings
How to mix Nunn Design Resin
How to store Nunn Design Resin
Following these steps will result in resin habits that will lead to consistent success.
---
Watch a Video!
Watch this short video for an overview of the process.
---
1. About Nunn Design Resin and Why It Is More Expensive Than Other Resins?
Some of the qualities that you will want to look for and will find in Nunn Design Resin are:
Viscosity. The Nunn Design Resin is semifluid in consistency, making it ideal for pouring over photos, clay, fabric, organics and much more!
Clarity. The Nunn Design Resin is very clear.
Air releasing properties. This is important. If the air isn't able to release, then bubbles are caught in the resin. Less expensive resins don't have nearly the quality because they set-up and cure much quicker.
Doming capabilities. You know the importance of this one! Resin is all about the dome!
Curing temperature. The Nunn Design Resin cures at room temperature, making it easy for a jewelry artist to cure the resin within their studio (or kitchen table in my case!).
Pot Life. The pot life is the working time that you have with the resin. Technically, you have 50 minutes to work with the Nunn Design Resin. I say "technically" because I have had varying pot lives, with 50 minutes being the longest, but maybe not the norm. To have the maximum amount of working time, make sure that your resin is an exact 1:1 ratio, that room is 68-72 degrees and that the resin is also brought up to 68-72 degrees.
---
2. How to Prepare Your Nunn Design Resin Mixing Station
Developing great preparation habits for using Nunn Design Resin will aid you in having great results (it also helps me stay calm and clear in my thoughts as I am working). Some of the habits that I consistently practice are:
The day you plan to mix your resin, make sure your room in brought up (or down) to room temperature. 68-72 degrees is the ideal resin mixing zone for working.
If you are waiting for your room to get up to 68-72 degrees, bring your resin up to temperature too. Place your resin into a bath of warm water. I don't have an exact time or temperature on this one, but this little extra tip does help.
As the room is coming up to temperature, you will also want to plan for air ventilation. On a warm summer day, open up a door or window near where you are working. If it is chilly, have a heater on while you have a door or window slightly opened.
Make sure that your resin work area is fully protected. You can use a garbage bag to cover up your surface. I highly recommend that you tape down the edges onto your work surface and plan to reuse the same garbage bag time and time again.
Open your Nunn Design Resin Kit and have all of the supplies and content ready for mixing. In addition to the kit, you will want to have:

Latex gloves
Additional stir sticks. We sell these, but I save mine from Starbucks!
A pile of toothpicks
Rubbing alcohol.
Q-Tips
A timer (I use my phone)

A stack of glossy business cards. I add tape to mine to prevent the resin from sticking. Business cards make it easy for me to move the findings around without touching them once I've poured my resin.
Styrofoam. These are great for poking earring posts into to create a level surface for the resin to cure.
Wooden blocks. The create a nice flat surface for ring shanks to rest in between. I like to tape the blocks fully. If you don't the resin will attach to the wood and clean-up becomes a big mess!
Wet-wipes that are out of the container!!! I typically work with these in my lap or right on my work surface. It is hard to pull these out when you need them and have resin on your hands!
---
3. How to Prepare your Nunn Design Findings for Resin
Remove any oils and dirt from the Nunn Design Bezel and jewelry findings that you are using for resin. Resin will adhere to a clean and dry surface better. I also like to remove any of the oxidization to prevent this from mixing into the resin or releasing onto clay or other items you plan to embed into the findings.
Dip a Q-Tip into rubbing alcohol and clean all surfaces of the bezel.
Use a toothpick and a wet-wipe to get down into the crevices of the bezel.
Place each of your clean findings onto a business card. This will make it easy to move the card around and not disturb the resin.
Watch this video for a detailed process!
---
4. How to Mix Nunn Design Resin
The Nunn Design Resin Kit contains:
A 4-ounce bottle of clear epoxy resin
A 4-ounce bottle of epoxy hardener
2 precision tips to screw onto the bottles
5 mixing cups
5 mixing sticks
Printed instructions on how to mix the resin
Read the resin instructions for safety concerns regarding the Nunn Design Resin.
Put on your latex gloves and I would recommend safety glasses. I wear readers so I think that my eyes are protected. Make sure you have a pile of wet-wipes on the ready!
To mix the resin you'll want to have an exact one-to-one ratio. The one-to-one ratio has to be one tablespoon of Part A first and one tablespoon of Part B. This is a volume thing, not a weight thing. You have to mix the full mixing cup of resin to have the resin properly activate. I thought this was an excuse to get me to use more resin, but trust me, it isn't! It is important to pour Part A first into the cup and then Part B. It is a chemical thing about part A being heavier or something.
Place one of the mixing cups included in the Nunn Design Resin Kit onto your table.
I suggest getting your eyes level with the resin so you can see the lines on the measuring cup. Remove the lid to Part A of your resin kit and slowly pour the resin into the mixing cup up to the 1 Tablespoon mark. I suggest that you go slow until you start to gain more confidence. When you start to get near the 1 Tablespoon line, tilt the Part A bottle down, slowing the flow of the resin. Slowly drizzle the resin into the cup until you have hit the 1 Tablespoon mark EXACTLY! To end the flow of the resin, twist the bottle. Use a wet-wipe to fully clean-up resin from the edge of the bottle. Make sure to put the Part A lid back onto the resin bottle.
I fold over my wet-wipe to make sure I don't contaminate Part B when I clean up the edge of that resin after I pour it. I am also making sure that I don't get any of the resin onto my hands.
Following all the same steps of taken with Part A, pour Part B into the mixing cup until it is EXACTLY at the 2 Tablespoon mark. Clean up the edge of the resin bottle and securely twist the Part B cap back onto the resin.
Set your timer for 2 minutes. Using the stir stick from your Nunn Design Resin Kit, slowly and carefully stir your resin scraping the bottom of the cup and the sidewalls as you stir. Go slowly because it is easy for the cup overflow. I hold the cup down at the base and use my fingers to help rotate the cup around. Stop from time to time and scrape the resin from the sides of the stir stick and continue to stir for the full 2 minutes. If your resin is still cloudy after your timer has gone off, continue to mix until clear.
After mixing is complete and your resin is clear, scrape both sides of your stir stick on the edge of your resin filled cup.
Another habit that I have, is being aware of where I rest my stir sticks. To avoid getting resin all over my work surface, I like to rest the resin stir sticks in one of the mixing cups or onto a small Ziploc. I can easily peel the resin off of the Ziploc and reuse it. I can also reuse my stir stick once the resin has fully cured. I do know people who wipe out and reuse their mixing cups, but I haven't done that so cannot recommend it.
If you are going to pour your clear resin right away and not colorize it, I recommend placing it under a warm lamp for 5 minutes. This will help the air bubbles rise to the surface and the heat of the warm light will make the air expand and pop.
---
4. How to Store and Care for Nunn Design Resin
Taking a few moments to learn about how to best store your Nunn Design Resin will enhance the shelf life of the product. We believe learning these tips is time well invested.
Nunn Design Resin is good for over a year. We recommend you don't purchase more resin than will be used in a 6-month time frame, as the hardener may yellow.
Even if the resin has expired, the resin will still be usable; we just won't be able to guarantee it. We suggest doing a test after it has expired to assure that the resin will cure prior to using it on an important piece of jewelry,.
Store Nunn Design Resin out of direct sunlight.
Store Nunn Design Resin at a consistent temperature of 70° F. Do not store near a source of heat.
Store Nunn Design Resin in a dry humid free environment.
Once the Nunn Design Resin is opened, store each bottle of resin in an individual plastic bag. This will prevent from any leakage if somebody doesn't screw the lid on properly after usage and prevent contamination of the resin.
Good mixing practices for Nunn Design Resin will prevent contamination of the resin. Always wipe the lids of the resin prior to securely fastening the tops back on the bottles. Do not mix the lids of Part A and B with one another.
Do not mix batches. Once part A is done, you may have a little of Part B remaining. Dispose of the remaining resin and start a fresh package of resin.
If resin thickens, try warming the resin in a pool of warm tap water (70° F) prior to mixing. This will help soften the resin.
---
Let's Review! Follow these steps to have consistent resin success!
Work with a quality resin!
Prepare your Nunn Design Resin mixing station
Prepare your Nunn Design Bezels and Findings
Consistently follow the steps to successfully mix Nunn Design Resin
Store Nunn Design Resin to prolong the usage
---
Resin Tips?
Leave a comment if you have other tips that you would recommend! Please share this content so that others have success with resin!
---
Shop Wholesale Nunn Design Findings
---
Shop Nunn Design Wholesale
Nunn Design has been supplying jewelry artists with findings for over 20 years. Shop wholesale jewelry findings for creative jewelry makers.
Shop Nunn Design!
---
How to Purchase Wholesale?
If you are interested in becoming one of the many designers who trust their jewelry to Nunn Design Findings, please join us by registering to become one of our wholesale customers!
Please visit our Where to Buy Page for a listing of online stores that sell Nunn Design Findings retail.
---

If you enjoyed reading this post, please subscribe to our blog. Here are 10 Reasons Why to Subscribe and a place to do so!