Over the past 3 years, Nunn Design has created color formulas to help our customers create on-trend colors using our brand of resin and Castin' Craft Opaque Pigments.
The color formulas created are based on annual predictions of the top colors across all industries. The company that predicts these colors is the Pantone Color Institute, the "global authority on color."
In this tutorial we will:
---
Supplies Needed:
Nunn Design Resin Kit
Castin' Craft Opaque Pigments-White, Black, Blue, Brown, Red, Yellow
Other Supplies Needed:
Wet wipes
Toothpicks
Gloves
Baby Powder
Plastic Bags, such as a Zip-Lock Bag
---
Watch a Video!
Watch this short video for an overview of the process.
---
How To!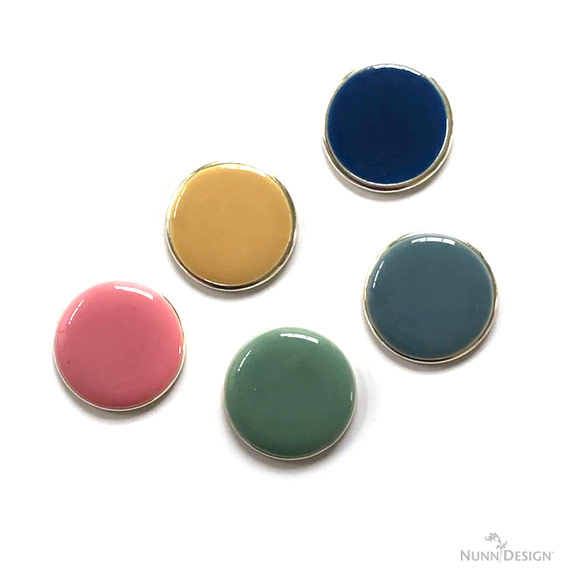 Decide Your Pantone Color Formula
Step 1. To see all the Pantone colors that can be created, download the Nunn Design Pantone Color Cheat Sheet. These color formulas are created using clear mixed Nunn Design Resin and Castin Craft Opaque Pigments in white, black, blue, brown, red and yellow.
Step 2. Following the instructions for "How to Mix Nunn Design Resin," mix a full mixing cup of clear resin.
Step 3. The formulas are based on mixing the colorants with 1 TSP of clear mixed Nunn Design Resin. To colorize the resin, place another empty resin mixing cup onto your work area. Pour the clear, mixed resin into the cup, filling it to the 1 TSP mark. If you are mixing a larger amount of resin, just duplicate your formula appropriately.
Step 4. The Castin' Craft Opaque Pigments are very potent. Let's define what a "tiny toothpick tip" and a "toothpick tip" amount of colorant should look like. This is not an exact science. If you don't get the exact amount, your color will still come out fairly close.
A "tiny toothpick tip" should look like this.

A "toothpick tip" should look like this.

"Large toothpick" should look like this.

Step 4. Follow the formulas supplied in the Nunn Design Pantone Cheat Sheet to create the desired colors. In the tutorial video, I'm making Silt Green.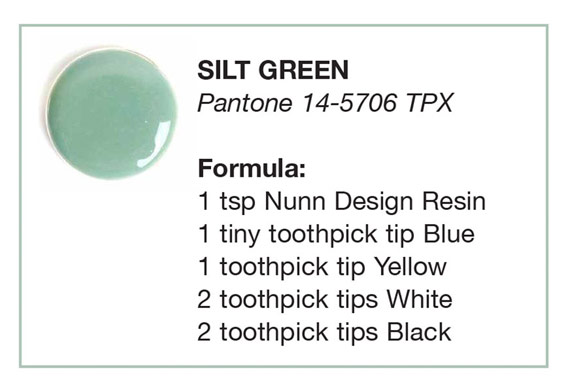 Let resin sit for 5 minutes to allow the bubbles to rise to the surface and pop.
Tip: Be sure that the colorant does not equal more than 10% of your resin as having more than 10% could cause issues with curing.
Step 5: Apply the colorized resin into Nunn Design Bezels and Flat Tags, within Nunn Design Earrings and Rings or apply it over Crystal Clay to create wearable pieces of art.
---
Be Inspired!

Make these Bitsy Earrings with Colorized Resin!

Colorized Resin in an Open Back Bezel with Transfer Sheets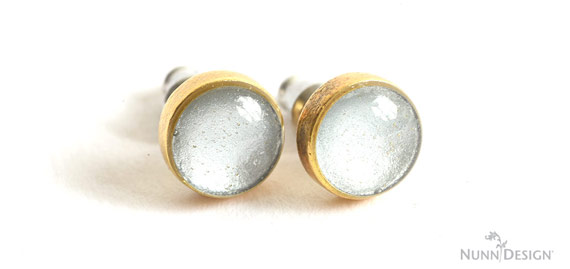 Crystal Clay, Jacquard PearlEx Powders & Colorized Resin

How to Use Nunn Design Transfer Sheets with Colorized Resin on Flat Tags

How to Use Organics with Colorized Nunn Design Resin on Flat Tags

Make These Earring Post Bar Earrings with Colorized Resin
---
Shop Nunn Design Wholesale
Nunn Design has been supplying jewelry artists with findings for over 20 years. Shop wholesale jewelry findings for creative jewelry makers.
Shop Nunn Design!
---
How to Purchase Wholesale?
If you are interested in becoming one of the many designers who trust their jewelry to Nunn Design Findings, please join us by registering to become one of our wholesale customers!
Please visit our Where to Buy Page for a listing of online stores that sell Nunn Design Findings retail.
---

If you enjoyed reading this post, please subscribe to our blog. Here are 10 Reasons Why to Subscribe and a place to do so!