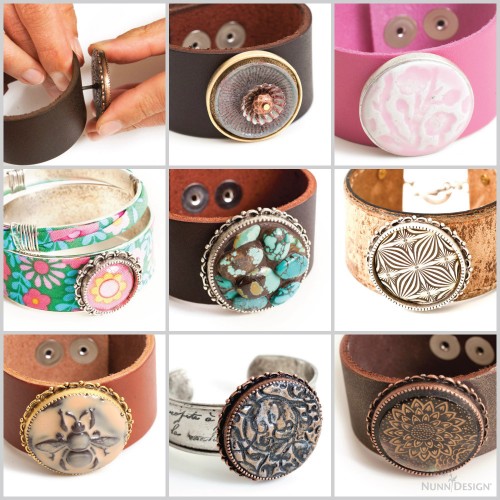 Screw Back Bezels are an easy way to add a bezel to any leather surface. The bezel is cast with a screw embedded into the backside, hence the item's name "Screw Back Bezel". We don't try to be too clever around here, we just try to call them as we see them. Punch a hole into a leather cuff, thread through, trim off the excess and wear. It is as easy as that. Here is a tutorial showing you how to create unique jewelry with these innovative bezels.
NUNN DESIGN SUPPLIES:
Screw Back Bezel Ornate Large Circle – Antique Copper (sbbolc-cb)
Cuff Bracelet Leather 1.25 inch width Brown (cbl1.25br-b)
TOOLS NEEDED:
Flush Cutter Pliers (plfc)
Hole Punch Pliers 1.8mm (plhp18)
---
Step 1:
Punch a hole in your surface; leather, fabric, shoes, belts, hats, metal…You can use
needle nose pliers to make the hole big enough for the Screw Back Bezel.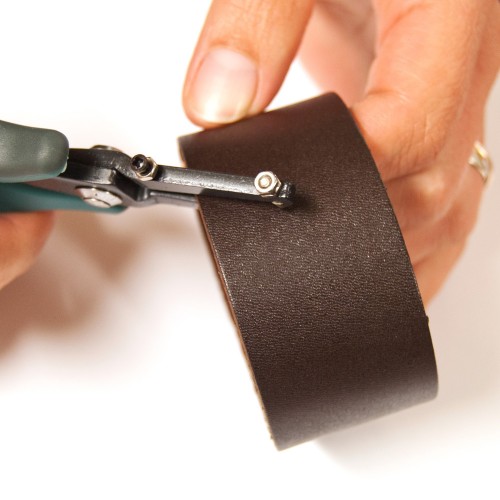 ---
Step 2:
Insert the screw shank through your surface and screw on the nut.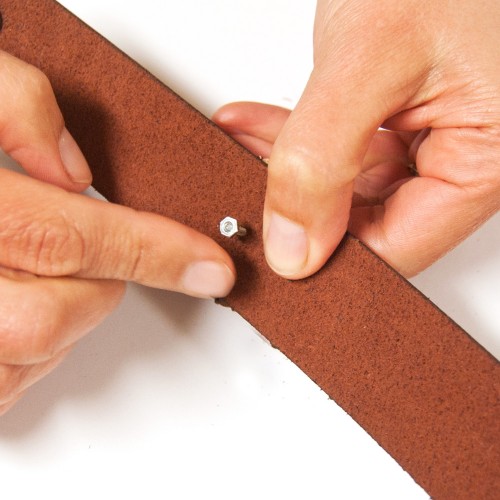 ---
Step 3:
I like to apply a dab of glue on the base of the nut and then tighten it down with needle nose pliers. You can even twist the nut down into the leather so it is recessed.
---
Step 4:
Using a pair of flush cutters, trim away the excess screw shank. The screw shank is very heavy duty, so I recommend placing the flush cutters on the screw right next to the nut. Turn your piece upside down so that when you cut the excess screw shank won't go flying.
---
Step 5:
Using a file or in my case, an emery board, file the edge of the shank to make it nice and smooth.
---
Download:
Download our tutorial to take this show on the road!
---
Be Inspired:
Visit the leather section of our gallery for inspiration on what to do with the bezel now that you know how to attach it to your cuff.
---
Shop Wholesale:
---
Shop Nunn Design Wholesale
Nunn Design has been supplying jewelry artists with findings for over 20 years. Shop wholesale jewelry findings for creative jewelry makers.
Shop Nunn Design!
---
How to Purchase Wholesale?
If you are interested in becoming one of the many designers who trust their jewelry to Nunn Design Findings, please join us by registering to become one of our wholesale customers!
Please visit our Where to Buy Page for a listing of online stores that sell Nunn Design Findings retail.
---

If you enjoyed reading this post, please subscribe to our blog. Here are 10 Reasons Why to Subscribe and a place to do so!