Sharon produces art because she must.  She describes herself as a person obsessed with beads and making jewelry.  "I have always had a passion for passion itself", states Sharon.  "To be able to create a mood or stir an emotion in someone through my creativity, makes me feel that I have done my job".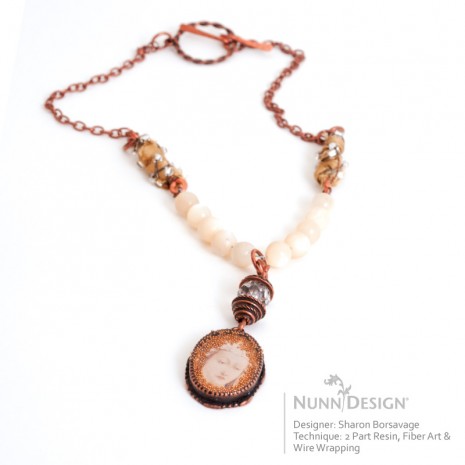 Sharon brought a lot of success to the Nunn Design Innovation Team.  Her pieces either have been or will be featured in Jewelry Affaire, Belle Amoire Jewelry and Bead Style Magazine.
Sharon uses fibers, natural elements, wire wrapping, etched copper and resin throughout her pieces to create one of a kind unique treasures.  "I am drawn to combining textures, fabrics and metal, the hard and soft contrasts that I believe create depth and mystery.  I am always seeking a different texture to add, that represents another layer of our lives…telling a story through elements and components through my jewelry".
Thank you Sharon, for having brought your spirit to the table and for having created such items of beauty that bring meaning to those who adorn themselves with your creations.
To visit more of Sharon's work:
Blog:  http://livewirejewelry.blogspot.com/
Etsy:  http://www.etsy.com/shop/livewirejewelrysb
Facebook: https://www.facebook.com/pages/Livewire-Jewelry/
Pinterest:  http://pinterest.com/sharonbor/
---

If you enjoyed reading this post, please subscribe to our blog. Here are 10 Reasons Why to Subscribe and a place to do so!