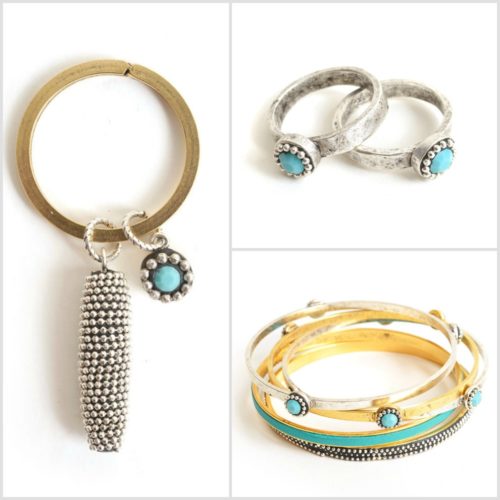 During our most recent Art Day, the team here at Nunn Design rolled up their sleeves and dove into creating with the latest items from our 2016 Summer Release. Besides just focusing on the new, they incorporated  some of the oldies but goodies into their jewelry collections from the Nunn Design Findings Line.
The first of the Nunn Design Team members to be featured this week is our shipping Diva, Haylee Troncone.
Here is what I think really works about Haylee's collection.
I love how there is a cohesive feel to all of Haylee's jewelry collection.
I love her use of mixed silver and gold. By mixing her metals, I feel that her pieces of jewelry have more range. If she had only done silver with those turquoise cabochons, her market might have been limited to just "Southwest" styled jewelry. By adding in the gold, her line became elegant and eclectic.
I love how Haylee tied in some Deerskin Lace to give the pieces additional color, but also texture. I think the leather of the Deerskin Lace opens up her audience range to the younger urban consumer by capturing in that boho jewelry feel.
Let's explore how Haylee created the Itsy Bezel with Faceted Bead Chain, Turquoise Chatons and Crystal Clay in her collection.
---
 
Learn How!
Supplies Needed:
Ring Hammered Itsy Circle or Bangle Bracelet Flat Large with Bezel
Crystal Clay-Black
Faceted Bead Chain Fine-Silver
Turquoise Chatons
Others:
Wet-wipes
Toothpick or headpin
Tools:
Flush Cutter Pliers
---
Step 1:
Follow the manufacturer's instructions for the handling and mixing of the Crystal Clay. While wearing gloves, pinch off two equal sized balls of Part A and Part B and blend together fully until the clay is no longer marbled and uniform in color. You have approximately 90-120 minutes of working time before the clay starts to harden, so take your time. Once the clay is thoroughly mixed, remove your gloves to make it easier to work with the clay.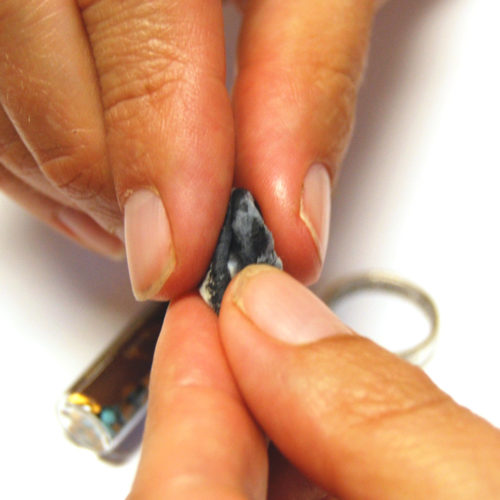 ---
Step 2:
Pinch off a small lentil sized ball of the Crystal Clay and roll it in the palm of your hands until it is smooth. Place it into the Ring Hammered Itsy Circle or Bangle Bracelet Flat Large with Bezel and pat it down into the bezel creating a flat and even surface. If you have too much Crystal Clay in your bezel, pinch off the excess and pat it with your fingertip to make it smooth and crease free.
---
Step 3:
Use a wet-wipe to remove any Crystal Clay from the ring or bracelet. When the clay hardens, it is like cement. Cleaning your hands and the metal surface as you go will result in a higher quality finished piece.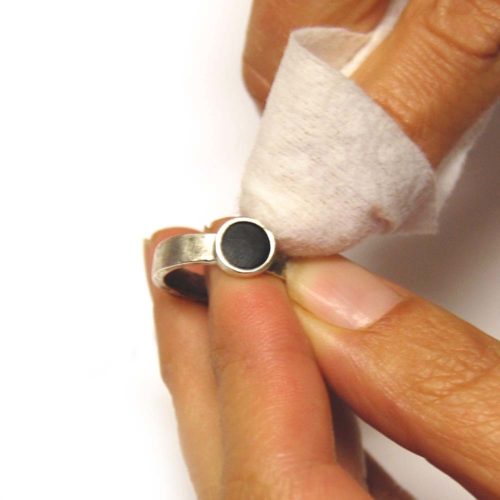 ---
Step 4:
Embed the first bead of the Faceted Bead Chain Fine into the Crystal Clay within the Ring Hammered Itsy Circle or Bangle Bracelet Flat Large with Bezel. Wrap the Faceted Bead Chain Fine around the outside edge. Use a pair of Flush Cutter Pliers to trim away the excess where the chain begins to overlap.
---
Step 5.
Gently press the Faceted Bead Chain Fine down into the bezel making sure it is fully attached to the Crystal Clay.
---
Step 6:
Pour out some of the Crystal Chaton Turquoise onto your surface. Using the beeswax toothpick that is included in the Crystal Clay Kit, pick-up one of the 20ss Turquoise Chatons (the largest in the mix) and place it in the center of the Ring Hammered Itsy Circle or Bangle Bracelet. Press down gently, fully embedding the chaton.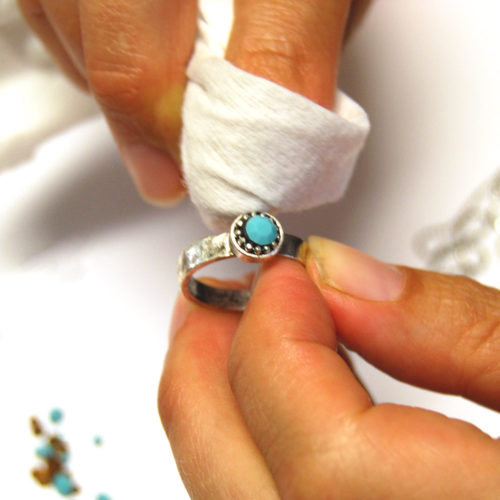 ---
Step 7:
Gently wipe down your piece with a wet-wipe and you are done!
---
Shop the Supplies!
Do you want to make some now?
---
Shop Nunn Design Wholesale
Nunn Design has been supplying jewelry artists with findings for over 20 years. Shop wholesale jewelry findings for creative jewelry makers.
Shop Nunn Design!
---
How to Purchase Wholesale?
If you are interested in becoming one of the many designers who trust their jewelry to Nunn Design Findings, please join us by registering to become one of our wholesale customers!
Please visit our Where to Buy Page for a listing of online stores that sell Nunn Design Findings retail.
---

If you enjoyed reading this post, please subscribe to our blog. Here are 10 Reasons Why to Subscribe and a place to do so!