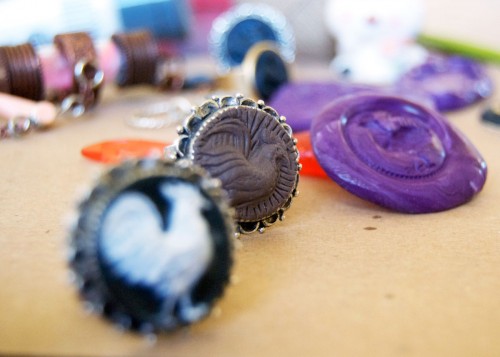 There is a hodgepodge of  "ideas," in various states of completion, on my coffee table. My massive coffee table is often my creative space, that or my bed. But since I'm playing more with epoxies and resins I've since stopped trying to create on my bed. My duvet has enough acrylic paint and ink stains as it is!
Currently, I am experimenting with epoxy clay, and molds of roosters and peacocks. Cocktail Rings, get it? Heehee. I made these molds from a vintage rooster button and a metal box found in Becky's stash. It's a hard life – having access to Becky's treasure trove of inspiring goodies!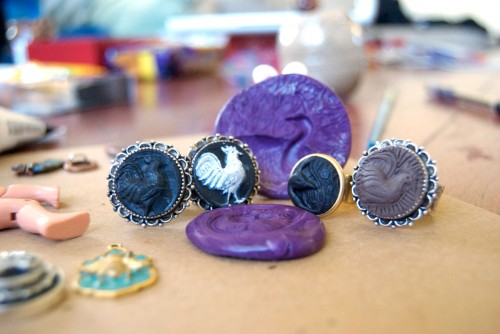 I mixed up epoxy clay, patted it into the rings with a little dome and then rolled the mold over the clay. (Inspired by our texturizing epoxy clay tutorial) It took a few times to get the placement figured out, but I just pulled the clay out of the ring and re-patted it into the bezel and re-rolled the mold until it aligned where I wanted it. My first ring was a test with brown clay, and then I did black and painted the rooster white to get the cameo effect I'm going for. I'm wearing the ring around to see how the acrylic paint endures but soon I will try a hit of 2-part resin over the top to seal it and make it shiny! After that I'm going to experiment with using white and black clay together!
Thanks for looking at my COCKTAIL RINGS!
– Melissa
——————
Melissa is the person currently responsible for all of the things you see graphically from Nunn Design. From our weekly newsletters, blog and Facebook posts, website, catalogue, postcard, collage sheets, to our packaging. Anything you see graphically designed – she is the person doing it.
---
How to Purchase Wholesale?
If you are interested in becoming one of the many designers who trust their jewelry to Nunn Design Findings, please join us by registering to become one of our wholesale customers!
Please visit our Where to Buy Page for a listing of online stores that sell Nunn Design Findings retail.
---

If you enjoyed reading this post, please subscribe to our blog. Here are 10 Reasons Why to Subscribe and a place to do so!