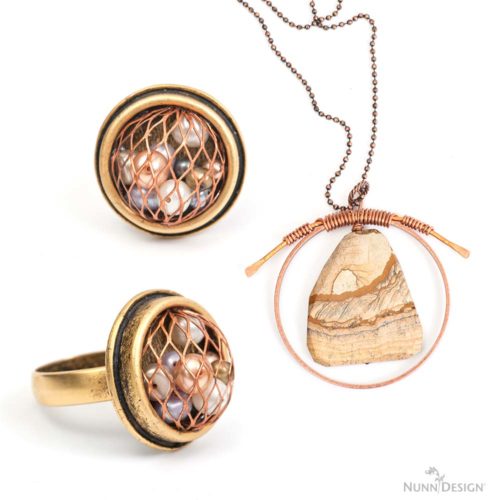 Karen McGovern has a flair for creating organic looking pieces of jewelry. Here are two more tutorials from the Nunn Design archive during Karen's Innovation Team days.
---
Pirate Treasure Ring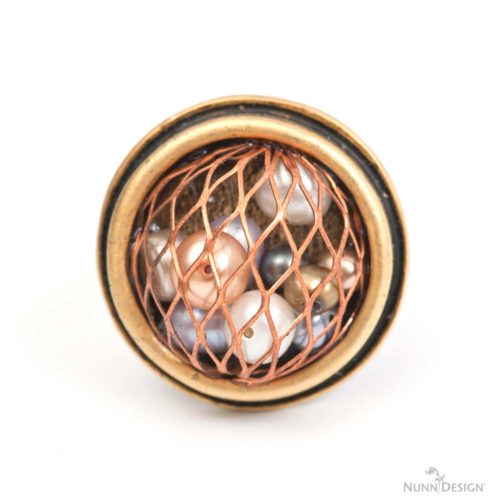 Supplies Needed:
Ring Adjustable Traditional Circle-Antique Gold
Copper mesh sheet
Assorted small pearl beads
Tools Needed:
Flush Cutters
Dapping block
Chasing hammer
Other:
Two-part fast drying clear epoxy glue
---
Step 1:
Cut a circle of copper mesh sheet slightly larger than the circle bezel of the adjustable ring. Dap the circle in a dapping block to form a nice, deep dome and trim as needed to fit snug inside the bezel of the ring.
---
Step 2:
Mix a small amount of clear drying two-part epoxy glue. Using a toothpick, drizzle a line of glue around the interior edge of the ring bezel. Place a variety of 3 and 4mm pearl beads in the copper mesh dome. Holding the pearl filled dome in one hand, place the ring on over the dome, fitting the mesh inside the edges of the bezel.
---
Step 3:
Flip the ring over, and place on a ring mandrel or in a vise to cure for at least 24 hours.
---
Wire Wrapped Pendant
Supplies Needed:
4" 14 Gauge Copper Wire
24" 20 Gauge Copper Wire
Nunn Design Copper Bangle-Antique Copper
Jasper Stone
1 6mm Large Jump Ring-Antique Copper
26" 2.4mm Ball Chain-Antique Copper
1 Ball Chain Connector-Antique Copper
Tools Needed:
Flush Cutters
Chasing Hammer
File
Needle Nose Pliers
Micro Torch
Quenching Pad with water
Other:
Cloth
---
Step 1:
Cut a 4-inch length of 14 gauge copper wire, bend around a Nunn Design copper bangle, trim to length. Flatten ends with chasing hammer and file smooth.
---
Step 2:
Cut approximately 18 inches of 20 gauge copper wire and tightly wrap the 14 gauge accent wire created in step 1 to the copper bangle, leaving a loose wrap at the center for attaching a jump ring. Tighten wrapped wire with round nose and flat nose pliers, hammer slightly to secure.
---
Step 3:
Cut a six-inch length of 20 gauge copper wire, ball one end in a micro torch. Quench and clean.
---
Step 4:
String a large nugget of picture jasper on the wire, and wrap to attach inside the copper bangle, centered below the loose wrap created in step 2.
---
Step 5:
Add a 6mm Circle Jump Ring to the loose wrap created in step 2, string the pendant on 26 inches of copper ball chain.
---
To see more of Karen's work, visit her at:
---
Shop Nunn Design Wholesale
Nunn Design has been supplying jewelry artists with findings for over 20 years. Shop wholesale jewelry findings for creative jewelry makers.
Shop Nunn Design!
---
How to Purchase Wholesale?
If you are interested in becoming one of the many designers who trust their jewelry to Nunn Design Findings, please join us by registering to become one of our wholesale customers!
Please visit our Where to Buy Page for a listing of online stores that sell Nunn Design Findings retail.
---

If you enjoyed reading this post, please subscribe to our blog. Here are 10 Reasons Why to Subscribe and a place to do so!