I really enjoy using the Ornate Flat Tags to create earrings. These sweet drop earrings were created using the Ornate Flat Tag Drop, Crystal Clay and Crystal Turquoise colored chatons. The process of embedding the stones is very addicting. I'm not sure what about it that is so fun, but it is! Maybe it is seeing something come to life in such a short period of time.
Crystal Clay is a two-part epoxy clay that air dries. You have 90-120 minutes to work with the clay before it hardens and you no longer can embed items and have them adhere. After 12 hours, the piece is cured and your jewelry creation is ready for a night on the town (or a trip to pick-up your child at the bus stop!).
Nunn Design is based out of a historical seaport town, Port Townsend, WA. I think Melissa was using her earrings as fishing bait while hanging out on the dock. Did you catch anything Melissa?
I caught some nautical inspiration. lol – Melissa
---
Instructions For Ornate Flat Tag Drop Earrings
Supplies Needed:
2 Ornate Flat Tag Drop – Antique Silver (oftd-sb)
2 Jump Ring 6mm Textured Circle – Antique Silver (jr6tc-sb)
2 Jump Ring Grande Rope Circle – Antique Silver (jrgr-sb)
2 Ear Wires – Antique Silver (ews-b)
Crystal Clay-Black (cryclay-black)
Chaton Turquoise (cha-tur)
Tools Needed:
Beeswax Toothpick or Magic Pick Lite
2 pairs of needle nose pliers
Wet wipes
Headpin
---
Step 1: Mix up some epoxy clay
Pinch off two equal lentil-sized balls, one of Part A (the color) and another of Part B (the hardener). Knead the two equal-sized balls fully together until the clay is a consistent color and not marbled.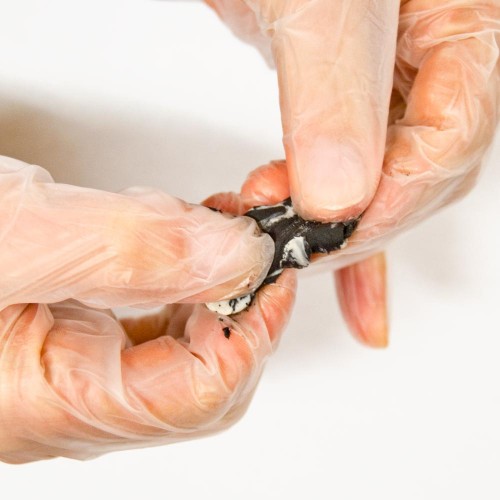 ---
Step 2: Pat gently into Ornate Flat Tags
Split the mixed clay in half and roll one half into a ball and press it into the base of Nunn Design Ornate Flat Tag Drop. Pat the clay gently until it is slightly domed and fully flushed to the edges. Repeat with the other half of clay and the second Ornate Flat Tag Drop.
---
Step 3: Gently press chatons into epoxy clay
Using a beeswax toothpick, Magic Pick Lite or Jewel Setter, pick-up the individual Turquoise Chatons and gently press each into the Epoxy Clay. Continue to press Chatons in until complete. You have approximately 2 hours to work with the Epoxy Clay, so take your time and enjoy. Repeat with the second Ornate Flat Tag Drop.
---
Step 4: Fill gaps
If you have a gap within your Chatons and have more clay showing through than you would like, pinch off a small ball of clay and press it gently into the gap with a headpin. Press in a Chaton into the built up area and clear away the excess Epoxy Clay. Repeat for the second Ornate Flat Tag Drop.
---
Step 5: Gently secure chatons with fingers
Use your fingers to gently press the Chatons into the clay, making sure that all of the Chaton points are secure and embedded fully into the clay. You can also use your fingers to gently sculpt the Chatons/Epoxy Clay to be evenly domed. The Epoxy Clay will harden within 2 hours and fully cure within 24. Repeat for the second Ornate Flat Tag Drop.
---
Step 6: Attach jumprings
Using two pairs of needle nose pliers, open the 6mm Textured Jump Ring. Thread through the Ornate Flat Tag Drop and the Jump Ring Grande Rope Circle. Close jump ring. Repeat for the second earring.
---
Step 7: Attach earwires
Open the loop on one ear wire and attach the jump ring grande rope circle, and close the ear wire. Repeat for the second earring.
---
Shop Nunn Design Wholesale
Nunn Design has been supplying jewelry artists with findings for over 20 years. Shop wholesale jewelry findings for creative jewelry makers.
Shop Nunn Design!
---
How to Purchase Wholesale?
If you are interested in becoming one of the many designers who trust their jewelry to Nunn Design Findings, please join us by registering to become one of our wholesale customers!
Please visit our Where to Buy Page for a listing of online stores that sell Nunn Design Findings retail.
---

If you enjoyed reading this post, please subscribe to our blog. Here are 10 Reasons Why to Subscribe and a place to do so!