Metal stamping onto Nunn Design Blanks is different than stamping on other alloys. Blanks are cast in lead-free pewter and then plated with precious metals for, rubber stamping, metal stamping and engraving. Stamping on pewter does require some education in order to have consistent success.
Here are a couple of tips to help you have success with the Nunn Design Metal Stamping Blanks.
Shop Wholesale: Metal Stamping Flat Tags
---
1. Clean the Flat Tag
Nunn Design Metal Stamping Blanks are cast in lead-free pewter and plated with copper, 24k gold and .999 fines silver. A secondary plating process of adding oxidation to the tags creates an aged finish to the precious metal.
Only use a wet wipe to clean the surface of the stamped tag, not a polishing cloth. If you do use a polishing cloth, and really go to town with polishing, you will eventually rub away the plating.
---
2. Secure the Tag:
For best results, tape your Nunn Design Metal Stamping Blank onto a steel block for stamping. This will provide a firm and flat surface.
---
3. Mark the Tag:
You will not want to use any type of permanent pen or Sharpie Marker on the Nunn Design Metal Stamping Blanks when marking your tags. Permanent Markers will not be removable when you go to clean the surface.  Use a pencil to provide a stamping guide.
---
4. How to Hold the Hammer:
When using your stamping hammer to make your impression, grip close up to the hammer's head. This will allow you to strike with less impact, more of a "bing" than a "bang". For best results use an 8oz Ball Pein Jeweler's Hammer.
---
5. How to Hold the Stamping Tool:
When "binging" the Nunn Design Metal Stamping Blank, you should be certain that the metal stamping tool is held firmly (but not too tightly) with your fingers and held upright. Resting your fingers on the metal stamping base will also allow you to keep the stamp steady and to not slip when binging.
---
6. "BING" once:
When you "bing" – do it initially just one time. If you "bing, bing" you run the risk of the stamp slightly moving and creating a shadowed image.
---
7. "BING" again if necessary:
If you "bing" and it isn't enough of a "bing" to provide a good impression, you can line up the stamping tool in the impression and "bing" again to provide a deeper impression.
---
8. Stay away from the edge:
Metal stamping forces the metal to move, it doesn't just go someplace else. If you stamp too close to the edge of the Nunn Design Metal Stamping Blanks, it will distort the shape and potentially chip the plating. Stay away from being too close to the edge.
---
9. "BING" vs "BANG":
If you "bang" too hard, you could chip the plating both on the surface and on the backside of the blank. Don't get me wrong, you do have to "bing" with some meaning, you just don't want to smack the heck out of it. Once the blank is smacked there is no going back or correcting.
---
10. Darken the Impression:
When darkening your impression, use a Fine Tip Sharpie Marker within the recessed stamped area. Before you darken your impression with the Sharpie Marker, have a Q-Tip and rubbing alcohol at the ready. You will want to act quickly to remove the permanent ink from the non-recessed areas. DO NOT use a polishing cloth, for it will remove the precious metal plating from the cast lead-free pewter.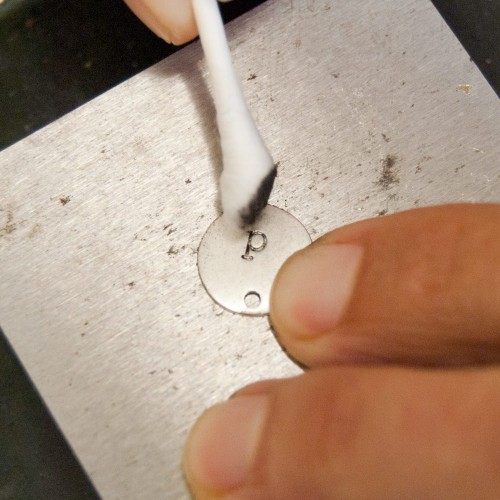 ---
11. Support Raised Tag Surfaces
If you have a surface that does not have a flat back, you will need to place something underneath to prevent the tag from collapsing in the center when stamping.
---
12. Fixing "Mistakes"
If you have tags you aren't happy with, you can cover them with colorized resin!
Here are a couple tutorials on applying colorized resin to flat tags!

How to Add Colorized Resin to Nunn Design Flat Tags Tutorial + Video

How to Use Organics with Colorized Nunn Design Resin on Flat Tags

How to Use Nunn Design Transfer Sheets with Colorized Resin on Flat Tags
---
13. Make a Punching Buffer
If you want to punch additional holes, cut a small piece of card stock to prevent the punch from damaging the flat tag. The card stock provides a buffer.
---
14. Register with an Indent, Line Up, Punch:
Before actually punching your hole you can press down slightly without the card being in place. This will provide an indented area so that you can easily line up your punch into the hole while the card stock is in place (making it hard to see).
---
15. Bending Flat Tags
We do not recommend bending the Nunn Design plated pewter tags. The plating can easily crack when being bent with nylon bending pliers.
---
16. Practice, Practice, Practice!
Metal stamping, like any other art form, takes practice. Allow yourself the time to learn this new craft. Otherwise, you just won't have any fun making beautiful jewelry.
---
Be Inspired:
I love this bracelet that I made for myself last year in celebration of my wedding anniversary to my husband. Brett and I (B&B) had just marked our 20th wedding anniversary (20) and from our union had two sweet (well most of the time sweet) girls; Emillia (E) and Isabella (I)". -Becky
---
Shop Supplies:
Shop Supplies WHOLESALE:
---
Shop Nunn Design Wholesale
Nunn Design has been supplying jewelry artists with findings for over 20 years. Shop wholesale jewelry findings for creative jewelry makers.
Shop Nunn Design!
---
How to Purchase Wholesale?
If you are interested in becoming one of the many designers who trust their jewelry to Nunn Design Findings, please join us by registering to become one of our wholesale customers!
Please visit our Where to Buy Page for a listing of online stores that sell Nunn Design Findings retail.
---

If you enjoyed reading this post, please subscribe to our blog. Here are 10 Reasons Why to Subscribe and a place to do so!