We are starting a new "Buy & Try" Program this week at Nunn Design. It is always exciting to see new techniques and projects, but sometimes it takes forever to gather the supplies for that afternoon of creating.
shop now! > Buy & try – faux french enamel
Shop Wholesale: Buy & Try – Faux French Enamel
---
What is the Buy & Try Program?
Nunn Design offers a Buy & Try Program to encourage jewelry makers; both wholesale and retail, to buy the products needed to try something new. Be inspired and purchase just the items needed to explore the technique we are featuring! Enjoy!
For Wholesalers: How the Wholesale Buy & Try Program works:
Minimum wholesale quantities for "Buy & Try" items are waived, allowing you to receive the lowest tiered price possible.
No need to purchase a wholesale minimum order of $100.00 on "Buy & Try" items. You can add these items to your cart and check out with just the items you will need for a day of creating!
"Buy & Try" items cannot be combined with other wholesale products. 
Sorry it may be a bit confusing, so email Cheryl at Cheryl@nunndesign.com if you have any questions.
"Buy & Try" items are a limited time offer for wholesale buyers. The "Buy & Try"-Faux French Enamel" offer expires March 23, 2014 11:59 pm PST. Orders will ship by March 28, 2014.
After 

March 23rd

:

Buy & Try items will stay up for purchase however you will be required to purchase full bulk packs of findings and you may combine these items with regular wholesale items.
$100 Minimum order back in effect.
---
Buy & Try – Faux French Enamel Technique
The new Faux French Enamel technique, can be purchased either ala-carte or in a combo pack. Some of you might already have the Nunn Design Resin or Nunn Design Sealant, so purchasing ala-carte will be your best options. For others, purchasing in a combo pack will allow you to purchase all of the products you will need, saving you 10% off!
---
Buy & Try – Faux French Enamel Findings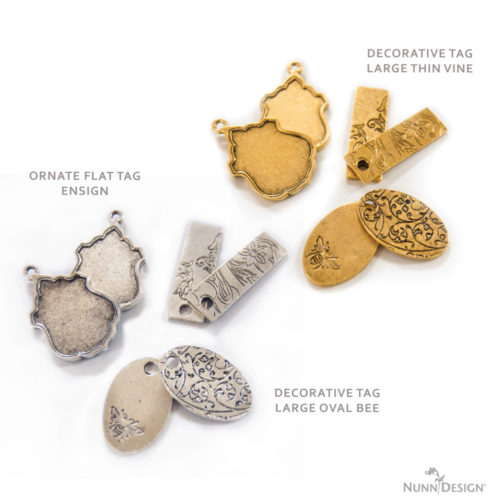 If you already have a stash of Nunn Design findings to try out this new technique, you are good to go. But maybe you have been eyeing some of the flat tags that are featured in this tutorial. Purchase the Faux French Enamel Findings in a gold and silver plate set, or purchase the Faux French Enamel Combo Pack and save 10%!
---
Learn How:
Learn how to create this great look of Faux French Enamel in our tutorial. Stay connected as we show projects and provide a chance to win the Faux French Enamel Giveaway in the upcoming weeks!
Tutorial: Make These Great French Enamel Tags
---
For even further information, watch our 2 part video series on how to create this great look!
[youtube]http://www.youtube.com/watch?v=OXbxuGbh5TE[/youtube] [youtube]http://www.youtube.com/watch?v=TTJXwXNJXgA[/youtube]
---
Shop Supplies:
Shop Supplies RETAIL:
You can explore this technique with our Buy & Try Faux French Enamel Program.
shop now! > Buy & try – faux french enamel
Shop Supplies WHOLESALE:
---
Shop Nunn Design Wholesale
Nunn Design has been supplying jewelry artists with findings for over 20 years. Shop wholesale jewelry findings for creative jewelry makers.
Shop Nunn Design!
---
How to Purchase Wholesale?
If you are interested in becoming one of the many designers who trust their jewelry to Nunn Design Findings, please join us by registering to become one of our wholesale customers!
Please visit our Where to Buy Page for a listing of online stores that sell Nunn Design Findings retail.
---

If you enjoyed reading this post, please subscribe to our blog. Here are 10 Reasons Why to Subscribe and a place to do so!