You are here:
New Flat Tags – 2018 Summer Collection Product Review
New Flat Tags – 2018 Summer Collection Product Review
New Flat Tags!
All this week I am providing product reviews for the 2018 Summer Collection. Based on the amount of inspiration, I think it is apparent how crazy fun these new Flat Tag shapes, of the 2018 Summer Collection, are! I really couldn't stop making stuff!
---
There are 4 new shapes that are the latest addition to our line of flat tags – a Grande Circle Eclipse, a Grande Half Circle, an Inverted Triangle Single and a Small Marrakesh Single. The tags have smooth rounded edges on one side of the tag with a crisp 90-degree edge on the other. For resin purposes, I tend to use the side that has a crisp 90-degree edge. The tags are designed to work with the full line of Nunn Design Flat Tags and jump rings.
---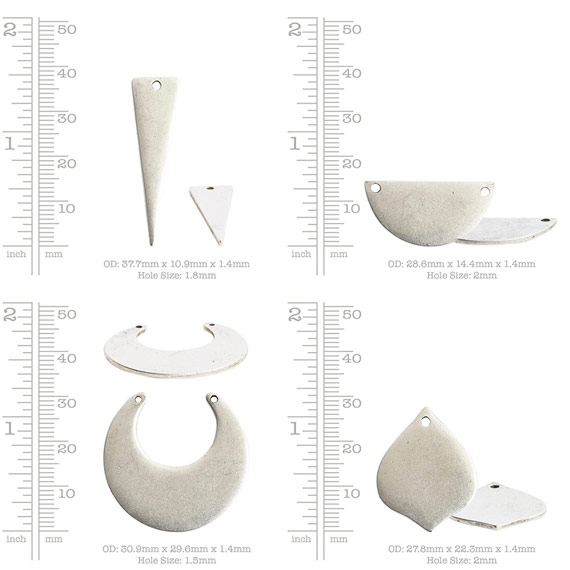 Each tag is cast in lead-free pewter and plated for metal stamping or engraving with copper, 24k gold and .999 fine silver. Made in the USA.
---
Be Inspired!
Mix and match color combinations, add different jump rings or add resin and clay. There are just so many options of fun things that you can create. To see which jump rings I used, or which chain I selected, click on any of the jewelry pieces below to see all of the products used in each piece.
---
Shop Wholesale!
---
Save the Date!
If there are so many options within the 2018 Summer Collection that you find yourself a wee bit dizzy, make sure to save the date of June 18th for the 2018 Summer Collection 1 Day Flash Sale! You will be able to shop the full 2018 Summer Collection, purchase a minimum of 1 piece per style and plate and checkout with less than the $100.00 minimum order.
---
How to Purchase Wholesale?
If you are interested in becoming one of the many designers who trust their jewelry to Nunn Design Findings, please join us by registering to become a wholesale customer of ours!
---

If you enjoyed reading this post,
please subscribe to our blog.
Here are 10 Reasons Why to Subscribe
and a place to do so!
You may also like to read: