Since May I have been in the warehouse pulling each and every one of your orders. I love doing this work because it helps me feel connected to each of your creative businesses. I can see firsthand what is working and what is not.
Product development has always been one of Nunn Design's strengths. Mostly because you all tell us what you want and we do our best to solve that. What we try to achieve is staying one step ahead of you by offering something fresh and new.
This September we have 4 new items to add to our line. All items are cast in the USA using imported lead-free pewter and are electroplated in the USA using imported precious metals; copper, 24k gold and .999 fine silver.
Let's take a look at what is new!
---
Itsy and Mini Link Hammered Circle Bezels
When Covid hit in March of 2019, what we saw our customers do was go back to the basics. The shape that was safest during a time filled with unknowns was the Itsy and Mini sized circle bezels. Now, a year and a half later, we are still seeing very small sized bezels still trending along with organic and hammered textures. It provides a feeling of handmade and one-of-a-kind.
Itsy Link Hammered Circle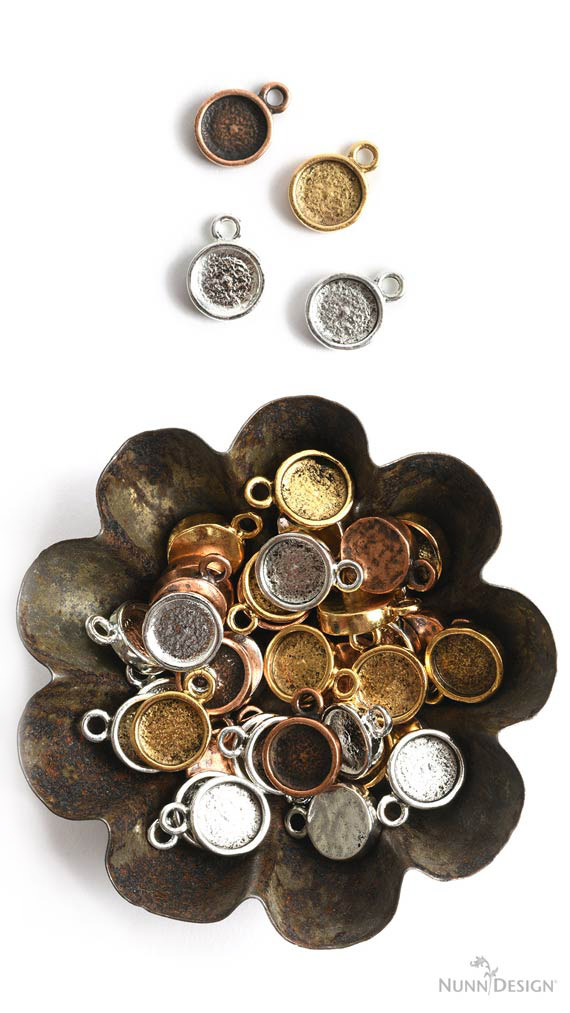 Mini Link Hammered Circle
---
Charm Mini and Small Hammered Circles
Customized jewelry by metal stamping on Nunn Design Flat Tags is a great way for a small business to find a niche. We have continued to see this trend of customization through metal stamping continue as well as the trend of very organic looking findings.
These new charms are plated to be metal stamped on, but they could also be used with resin. Charms are very thick and substantial.
Charm Mini Hammered Circle
Charm Small Hammered Circle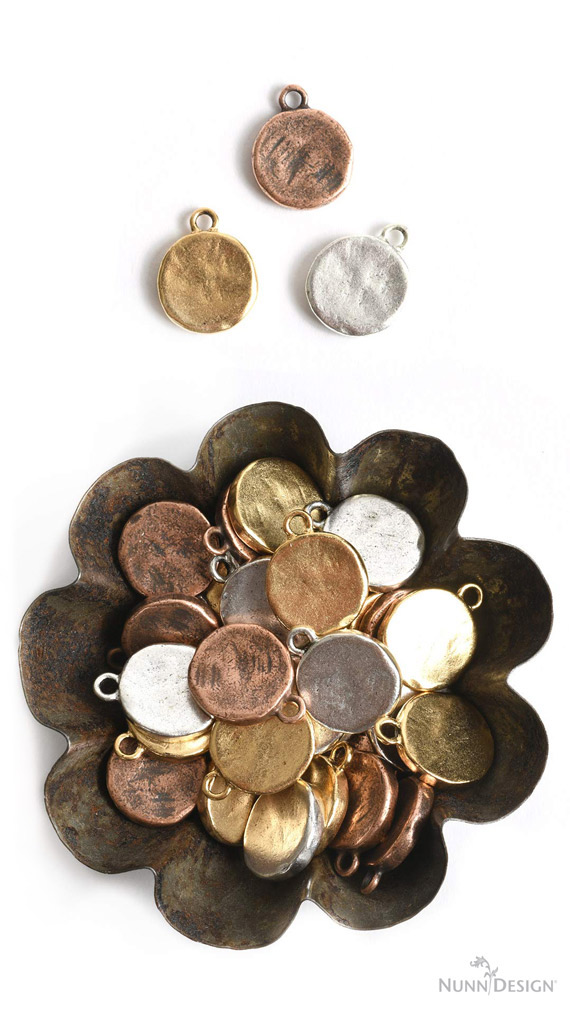 ---
Updated Pantone Cheatsheet
As the weather cools and fall arrives, I'm enjoying pouring resin. We've updated our Pantone Cheatsheet to include some of the 2021/22 colors that are trending.
---
Shop!
Shop Wholesale:
Shop Wholesale new Hammered charms & Bezels!
---
Shop Nunn Design Wholesale
Nunn Design has been supplying jewelry artists with findings for over 20 years. Shop wholesale jewelry findings for creative jewelry makers.
Shop Nunn Design!
---
How to Purchase Wholesale?
If you are interested in becoming one of the many designers who trust their jewelry to Nunn Design Findings, please join us by registering to become one of our wholesale customers!
Please visit our Where to Buy Page for a listing of online stores that sell Nunn Design Findings retail.
---
If you enjoyed reading this post, please subscribe to our blog. Here are 10 Reasons Why to Subscribe and a place to do so!