Credit left to right: Susan, Andrea, Lindsay, Roxanna, Cheryl, Kelsey, Tabitha, me, Janet, Joan, Jane, DiAngelinis, Katie (not shown).
If you weren't able to join us here in Port Townsend for our first ever Nunn Design Art Retreat, you were missed! Here is a photo of the great group of woman that gathered together to have their creativity inspired and nurtured.
---

Image credit: http://blog.gorving.com/2015/01/the-northwestern-most-point-of-the-contiguous-usa/
The Art Retreat started on Thursday night at the Nunn Design office and warehouse. Everyone had the opportunity to connect with each other in person (they'd already been chatting it up in a Facebook Group for months prior), enjoy some snacks and to explore the Nunn Design warehouse.
---
After some gabbing, the class project was unveiled. In the class we would be focusing on multiple techniques, but the theme of the bracelet could be individually altered to fit each person's personality and taste. Off to the "table of decisions" everyone headed to start going through a check-list of decisions that they would need to make in order to design their bracelet just the way they wanted it.
---
And here is what came from 2 days of play!
Susan created this bracelet.
---
Here is Andrea's bracelet creation.
---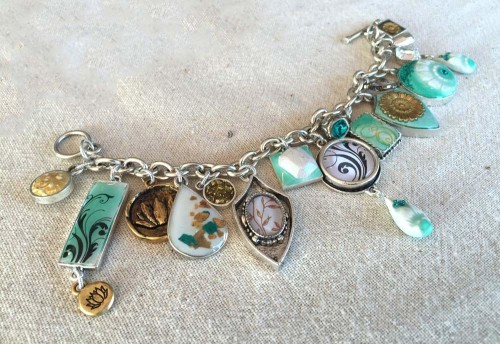 Lindsay of Fusionbeads.com created this bracelet.
---
Roxanna had fun creating this lovely collection of charms.
---
Cheryl had some extra play to add to her weekend project.
---
Kelsey from Fusionbeads.com was Lindsay's partner in creative crime.
---
Tabitha created this blue tinted beauty.
---
Janet did a great job on this bracelet.
---
Love that Joan included that soft pink colorized resin to her bracelet's theme.
---
Jane won our prize for having traveled the farthest! Thanks so much Jane from coming all the way from Australia!
---
DiAngelinis had a lot of fun exploring with Crystal Clay.
---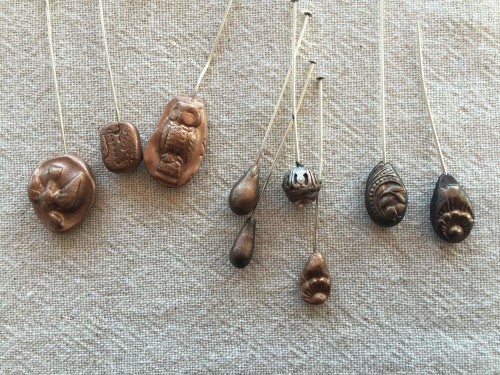 Katie, also from Fusionbeads.com, wasn't able to join us for the second day to assemble her bracelet, but her parts and pieces sure are looking great!
---
The Techniques Covered in Class
Here is a breakdown of all of the techniques that we covered from left to right.
A. Texturizing Crystal Clay in an Open Frame Pendant
B.C.D. Sculpted Relief with Colorized Resin
F.  Transfer Sheet over Crystal Clay
E.  Colorized Resin with Transfer Sheet
G. Glitter Roxs with Gel du Soleil
H. Collage Sheet with Nunn Design 2-Part Resin
I. Collage Sheet with Glass Domes
J.  Rubber Stamping on Crystal Clay with Nunn Design 2-Part Resin
N.  Embedded Crystal Clay with Nunn Design 2-Part Resin
M.  Prong Settings
O.  Embedding with 2-Part Resin
Other baubles and bits were techniques showing how to use excess Crystal Clay.
What do you think? Look like fun?
Thank you to all 12 of Class of 2016 Super Stars!  It was a BLAST!
---
Shop Nunn Design Wholesale
Nunn Design has been supplying jewelry artists with findings for over 20 years. Shop wholesale jewelry findings for creative jewelry makers.
Shop Nunn Design!
---
How to Purchase Wholesale?
If you are interested in becoming one of the many designers who trust their jewelry to Nunn Design Findings, please join us by registering to become one of our wholesale customers!
Please visit our Where to Buy Page for a listing of online stores that sell Nunn Design Findings retail.
---

If you enjoyed reading this post, please subscribe to our blog. Here are 10 Reasons Why to Subscribe and a place to do so!