The Bead & Button Show is approaching and I've started to take inventory of my supplies. One item that I continue to purchase (even though I DO NOT NEED ANY MORE) is pearls. I just can't seem to pass up all those tables filled with these beautiful creations from the sea. Here are some inspirations on lovely jewelry being created with pearls, pearls and more pearls!
---
And here is a great tutorial from Kleines Feines Nestchen. Their blog is no longer accessible, but you can learn a lot of great "how to" projects in this blog post. 12 Tutorials on How to Create Leather Wrapped Bracelets
---
Tied Up Memories incorporates vintage pearl findings into fresh new jewelry pieces on her Etsy site: https://www.etsy.com/listing/169112711/emma-romanticrhinestonefreshwater
---
Malina of Just Dangles wraps up pearl pendants that are oh so lovely. https://www.etsy.com/listing/179197625/white-pearl-jewelry-freshwater-pearl?ref=shop_home_active_20
---
Katrin of Frosted Willow creates such lovely bangles! I especially love the use of pearls in these jewelry pieces. https://www.etsy.com/shop/FrostedWillow
---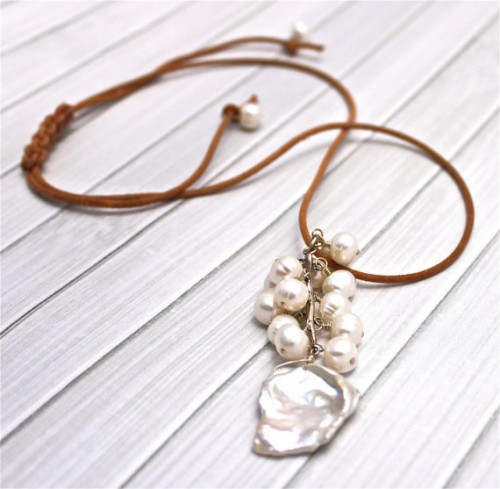 Denise at RustyRoxx made these beautiful pieces. All right, so the bracelet isn't made from pearls, but it is lovely and I couldn't help but sneak it in!!!
https://www.etsy.com/transaction/69513690
---
Aren't these bangles awesome from Wallin and Buerkle? Love the black metal and the fiber wrapped pearls.
http://wallinandbuerkle.com/products/leather-gem-bracelets-ii
---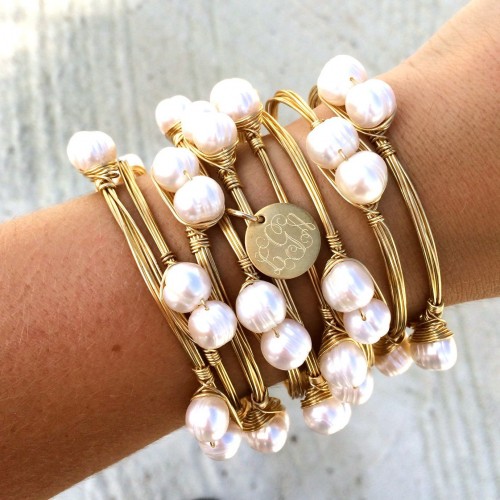 The more pearls the better! Love these beauties!
http://ilovejewelryauctions.com/products/pretty-in-pearls-monogram-wire-wrapped-bangle-bracelet
---
On the subject of MORE, we have hit the mother load with this awesome necklace from Stephanie of Savage Salvage. https://www.etsy.com/transaction/1010213341?
---
Learn How:
As with all the inspiration, comes some education! Here are a few tutorials that can teach you some tips and tricks on working with pearls.
Sunstones Gem and Jewelry walk you through making this great gem-drop necklace. http://www.sunstonesbeads.com/tutorials/index_files/gem-drops-necklace.php
---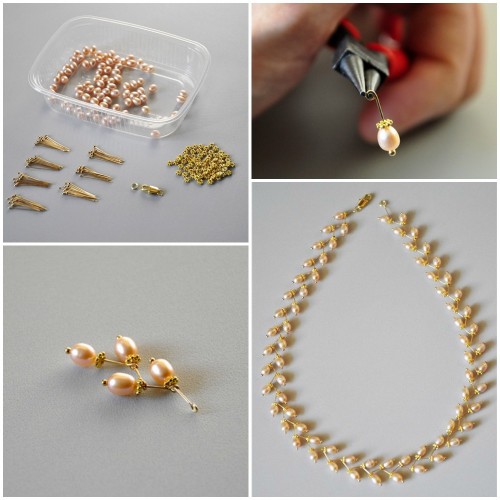 I really like the look of linking the pearls together as shown in this tutorial. It is in another language, but google translator is pretty helpful. http://www.livemaster.ru/topic/40653-kole-landysh?msec=1?
---
Shop These Findings:
As you can see, I like pearls! Here are some of my jewelry creations. To shop any of the findings, click on the image to link to our gallery. There you can shop all the parts and pieces to get you started on your own jewelry collection. Maybe you too have some pearls that need to be put to use!
---
Shop Nunn Design Wholesale
Nunn Design has been supplying jewelry artists with findings for over 20 years. Shop wholesale jewelry findings for creative jewelry makers.
Shop Nunn Design!
---
How to Purchase Wholesale?
If you are interested in becoming one of the many designers who trust their jewelry to Nunn Design Findings, please join us by registering to become one of our wholesale customers!
Please visit our Where to Buy Page for a listing of online stores that sell Nunn Design Findings retail.
---

If you enjoyed reading this post, please subscribe to our blog. Here are 10 Reasons Why to Subscribe and a place to do so!