I'm home from a week long vacation traveling up the Washington Coast. I was so inspired by the natural treasures that I found along my coastal journey, I wanted to come home and start to play. Some of my treasures were smooth rocks that I picked up on the beaches. Here is some of the inspiration that I have found to inspire us all!
---
Drilled Rocks!
I found this tutorial on how to drill natural stones from Jenny Hoople to be great. This is a woman who does a lot of great river stone jewelry with her company Authentic Arts. Working artists like Jenny are the best to learn from!
http://www.papernstitchblog.com/2011/07/18/make-this-drilled-natural-stone-jewelry-tutorial/
---
Wire Wrapped Rocks!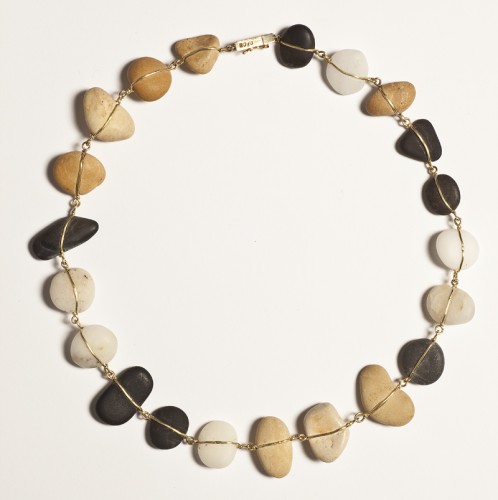 Dania Chelminsky does a beautiful job of wire wrapping stones and linking them together. http://www.daniachelminsky.com/?page_id=486
To be truly inspired, visit Strukova Elena's website. She is doing some really interesting and beautiful jewelry pieces using natural elements and wire wrapping. http://www.strukova.ru/shop/737/desc/kameshki-s-glendonitom
---
Riveted Rocks!
Nicole Ringgold is a fellow Washington State artist based out of the beautiful Methow Valley. Nicole created this tutorial on how to rivet rocks for her blog Live in Art. http://www.liveinart.org/2013/08/how-to-rivet-natural-stones.html.
---
Painted Rocks!
Although Waii Waii isn't creating these painted stones for jewelry, she should be! http://waii-waii.com/editions/objects/
---
Inlayed Rocks!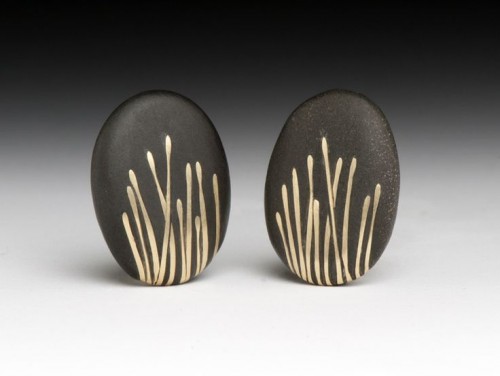 Andrea William of Bound Earth Jewelry Design work is beyond stunning. There isn't a piece that I have seen of hers that I'm not in awe over. http://www.boundearth.com/
---
Strung Rocks!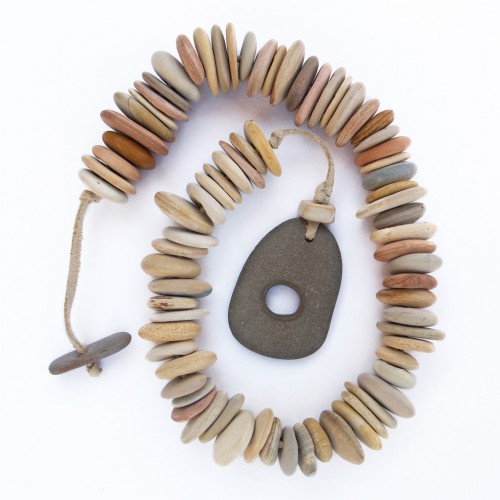 Helen and Soren are the artists behind The Natural Free Human Being. They tan the deerskin that Helen uses in her jewelry creations!
http://thenaturalfreehumanbeings.com/collections/creations/products/abund
---
Leather Wrapped Rocks!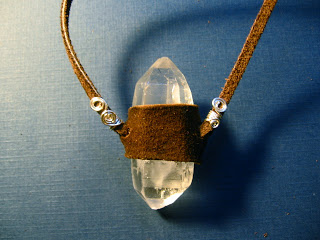 All right, so it is a crystal and not a river rock, but you get the idea! Here is a tutorial showing you how to use leather and wire to wrap the stone.
http://naturalwitchlife.blogspot.com/2012/11/how-to-make-crystal-necklace-with.html
---
Prong Setting Rocks!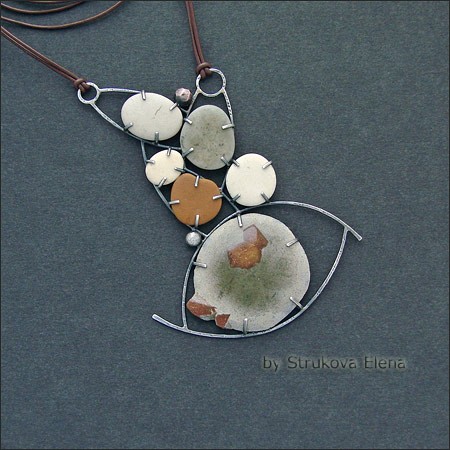 More of Strukova Elena's beautiful work, but this time showing how she has used prong settings to hold her rocks in place.
http://www.strukova.ru/shop/737/desc/kameshki-s-glendonitom
---
Stacked Rocks!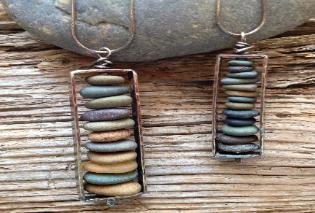 I really enjoyed looking at the work of Cape Cod Beach Stone Jewelry. Finding stones to stack like this might be a wee bit challenging, but this company does it with ease. http://kemdesigns.net/index.html
---
Carved Rocks!
Ashley Hackshaw of Lil Blue Boo has a great tutorial on how to carve river rocks with a handheld Dremel. http://www.lilblueboo.com/2012/09/carving-rocks-with-a-dremel.html
There is a lot of wonderful artist doing great things. Thank you to all that have provided us with such great inspiration!
---
Shop Nunn Design Wholesale
Nunn Design has been supplying jewelry artists with findings for over 20 years. Shop wholesale jewelry findings for creative jewelry makers.
Shop Nunn Design!
---
How to Purchase Wholesale?
If you are interested in becoming one of the many designers who trust their jewelry to Nunn Design Findings, please join us by registering to become one of our wholesale customers!
Please visit our Where to Buy Page for a listing of online stores that sell Nunn Design Findings retail.
---

If you enjoyed reading this post, please subscribe to our blog. Here are 10 Reasons Why to Subscribe and a place to do so!