You are here:
Embedding into Crystal Clay – Buy & Try Crystal Points
Embedding into Crystal Clay – Buy & Try Crystal Points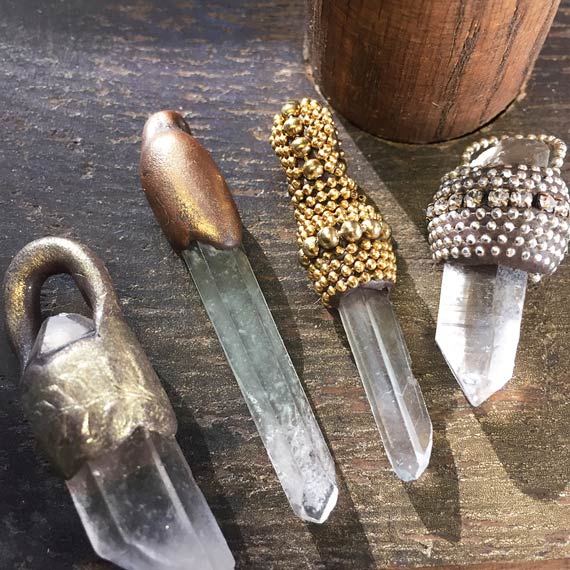 If you haven't worked with Crystal Clay yet, you are in for a real treat. The name of Crystal Clay is a wee bit limiting, because you can do so much more than just embed crystals into it.
Crystal Clay is an air dry 2-part epoxy clay. Like most epoxies, you mix equal sized balls of parts A and B to activate the super powers of the clay. Once you activate the Crystal Clay, you have up to 120 minutes to embed and sculpt it before it sets up. The clay will cure within 12 hours.
shop now! > Buy & try CRYSTAL POINTS
Shop Wholesale: Buy & Try Crystal Points
---
Be Inspired!
---
Learn How to Embed into Crystal Clay
In an early tutorial we posted on our blog, we showed how to mix Crystal Clay and attach in onto a Crystal Point. Here are some of step-by-step photos of how to do this:

Once the clay is attached to the Crystal Point, you can embed chain to create a unique design pattern. Here are some tutorials on how to embed chain into Crystal Clay.
---
Other Inspiration!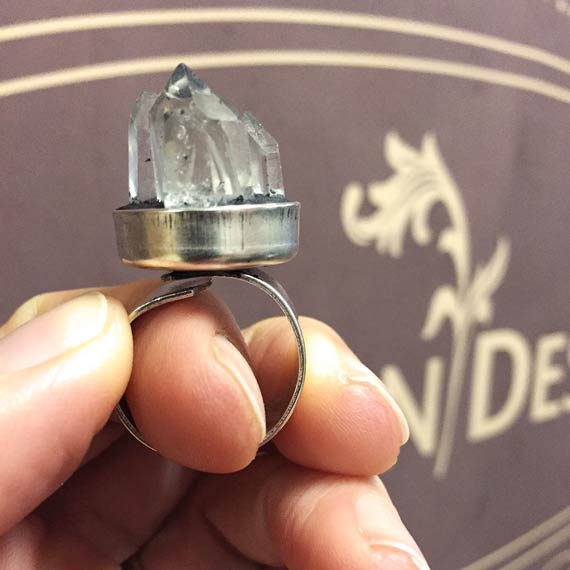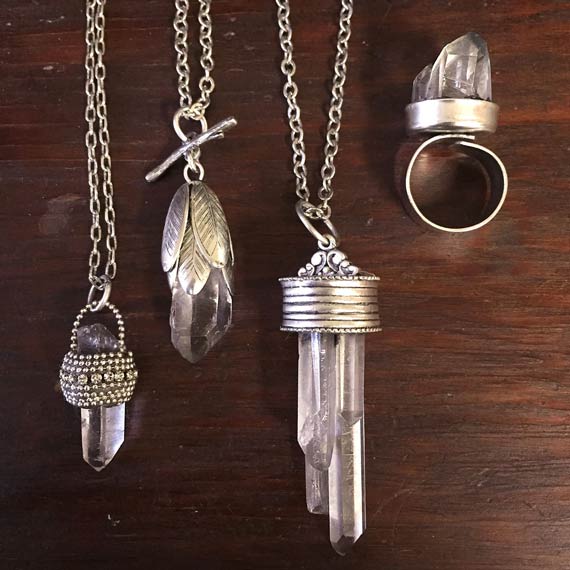 Create unique pieces of Crystal Point Jewelry using beadcaps, the top of the Nunn Design Keepsake Pendant and one of our Deep Bezel Rings. To create this look, mix the Crystal Clay, press the clay into the cavity of choice and embed the Crystal Points. Make sure the Crystal Points are fully embedded into the clay, making them very secure and durable against wear and tear.
---
Here is how the Buy & Try Program works:
Be inspired and purchase just the items needed to explore the technique we are featuring.
"Buy & Try" offers might contain items that we don't typically have in stock, yet you will be able to purchase at wholesale prices.
Minimum quantities for "Buy & Try" items are waived, allowing you to receive the lowest tiered price possible.
No need to purchase a minimum order of $100.00 on "Buy & Try" items.  You can add these items to your cart and check out with just the items you will need for a day of creating!
"Buy & Try" items are a limited time offer.
The Buy & Try Crystal Points offer expires March 19th, 2017 at midnight. Orders will ship on or before March 27th, 2017.
---
Shop Supplies Here!
Shop Supplies RETAIL:
You can shop items needed for this project in our Retail Buy & Try Crystal Points Program!
shop now! > Buy & try CRYSTAL POINTS
Shop Supplies WHOLESALE
You may also like to read: