There are many decisions to be made when designing an indoor trade show or craft fair booth. In Part 1 of this 4 part blog post series we covered the steps of designing and creating the booth's sidewalls and addressed the signage. In Part 2, we covered the designing and building of the trade show tables. In this post, Part 3, we will cover the lighting of the trade show booth.
In this 4 part blog series, I am covering these 7 steps for designing an indoor trade show or craft fair booth.
Step 1:  Trade Show Booth Side Walls
Step 2:  Signage
Step 3:  Trade Show Tables
Step 4:  Lighting
Step 5:  Displays
Step 6:  Floor
Step 7:  Shipping
---
Here are links to the other parts in this series:
---
4. Lighting
To get clear on my lighting needs, I started by making my list of questions. (Are you seeing a pattern in my process for designing? I tend to ask myself a lot of questions and get clear on what it is that I'm trying to solve.)
Here are the questions I asked myself:
Where will I need lighting? On the signage and tables?
How will the signage lighting attach to the pipes and sidewalls?
How many signage lights will I need?
How will the lighting tie in with the look and feel of the trestle tables?
How will the table lighting attach to the tables?
Where will all of the cords attach to the power strip?
How many extension cords will I need?
Will I be able to hide all of cords and keep things tidy?
What is my budget?
How expensive are the replacement bulbs?
To get started with exploring my options for trade show booth lighting, I did a Google search for inspiration.
---
Researching Lighting Options
Researching lighting options took me a lot of time. Although it was easy for me to find lighting that looked like it would work, it was in reading the reviews on Amazon that I learned the most. There are so many things people pointed out I just wouldn't have been aware of!
For the lighting for the signage, I was searching for lights I could clamp onto the pipe. From reading the reviews I learned all clamps are not created equal! Some have more suction and grip than others! And on some, the adjustable neck wouldn't stay in position.
---
Signage Lighting
From this research I selected these lights for the signage.
Design wise, I liked the idea of having a series of 3 signage lights across the top of the framed photos. I ordered just one of the lamps so I could test the all important suction I read about and the staying power of the adjustable neck. I was also interested in seeing the brightness of the light.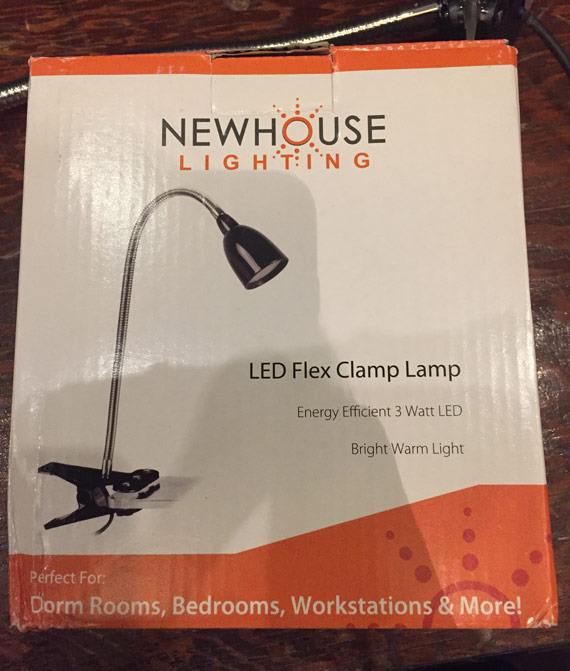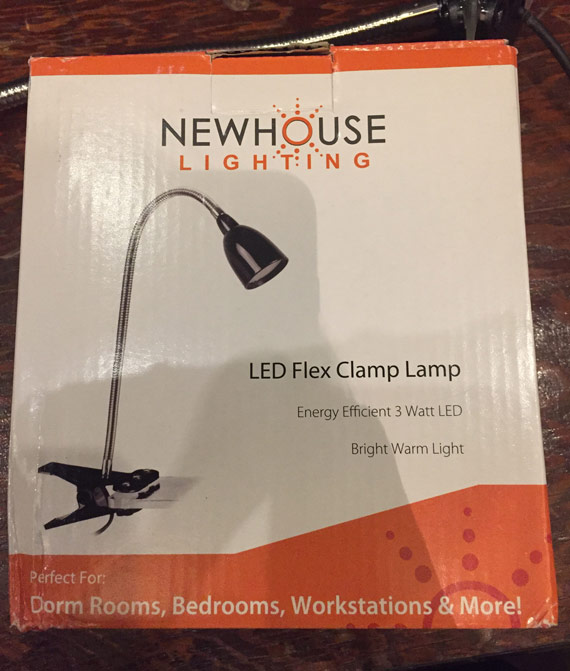 ---
Table Lighting
I liked the idea of having the lights clamp onto the wooden tables, providing more table surface and less clutter. After reading many more reviews, I ordered 1 lamp of the ToJane Swing Arm Desk Lamp, Architect Desk Clamp Mounted Light, Adjustable Arm Drawing/Office/Workbench Table Lamp, Grey Metal Finish. I purchased it through Amazon. Upon the time of writing this blog post, I wasn't able to locate the ToJane Lamp in the grey, just the white. Maybe it was out of stock?
Once I received the signage lamp and the table lamps and tested them, I ordered the other lamps I would need along with some replacement bulbs for the table lamps.
---
Power to the Lighting
I had multiple extension cords that plugged into a main power strip. For turning the lights on and off, we were able to just flick one switch on the power strip during opening and closing of the booth. (At the To Bead True Blue Show in Tucson, we did need to request power and pay extra for it). Once all of the lights were plugged in, Cheryl climbed under the tables and hid all the cords.
What to Buy for the Lighting:
---
3 Parts Down, 1 More To Go!
3 Parts and down! Make sure to see the other blog posts in this 4 part blog series!
Here are links to the other parts in this series:
---
Shop Nunn Design Wholesale
Nunn Design has been supplying jewelry artists with findings for over 20 years. Shop wholesale jewelry findings for creative jewelry makers.
Shop Nunn Design!
---
How to Purchase Wholesale?
If you are interested in becoming one of the many designers who trust their jewelry to Nunn Design Findings, please join us by registering to become one of our wholesale customers!
Please visit our Where to Buy Page for a listing of online stores that sell Nunn Design Findings retail.
---

If you enjoyed reading this post, please subscribe to our blog. Here are 10 Reasons Why to Subscribe and a place to do so!