Tassels have been around in fashion for years already, but they still attract my attention. Perhaps it is something about the free flowing movement they bring to a jewelry piece. Here are some of my favorites that I have gathered to inspire you to create and use tassels in your jewelry endeavors.
I love these necklaces from Friendly Gestures on Etsy. The elegance of the beads, the old world feel of the coins and then the funkiness of the leather all seems like a formula that shouldn't work, but it does. I love this eclectic look! https://www.etsy.com/shop/friendlygesture
---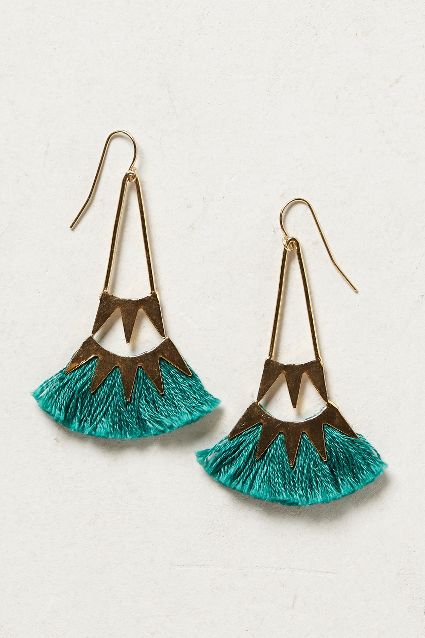 I like how the metal covers up the top of the fringe area on these fringe earrings from Anthropologie. Maybe a Brass Embellishment could do the job.  http://www.anthropologie.com/anthro/product/shopsale-jewelryaccessories/
---
I like the mixed colors of the tassels with the simple filigree bead cap on this pair of earrings from Anthropologie. It is difficult to design with this many components and have it all work. Bravo!  http://www.anthropologie.com/anthro/pdp/33875584
---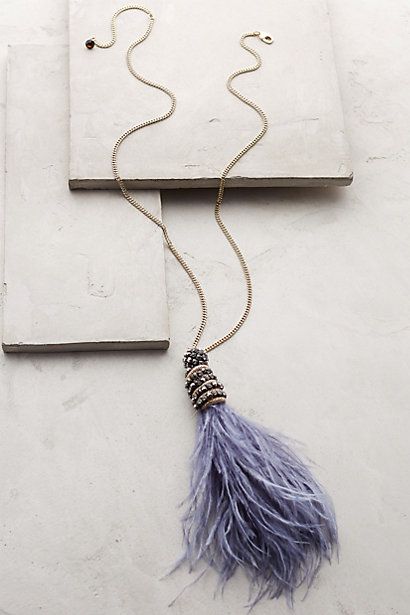 This tassel is created with feathers. I just want to run it across my face!!! The top part looks like a Nunn Design Channel Bead wrapped with rhinestone chain. This is oh so cool and I want to try it! Who knows of a good feather source  http://www.anthropologie.com/anthro/product/34565622
---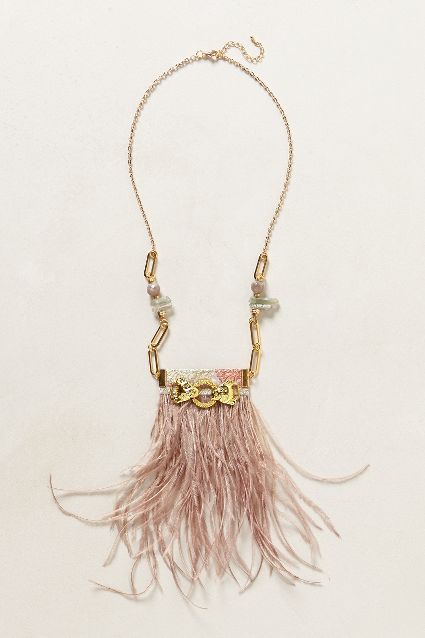 All right, sorry, this is not an Antrhopologie advertisement; but seriously, they have some really awesome designers working with them! I love this necklace. The pink feathers, the stones and pearls and all that yummy gold!!! http://www.anthropologie.com/anthro/product/accessories-jewelry/30771653
---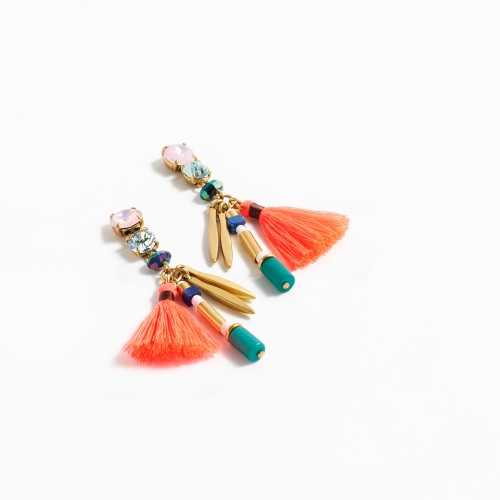 Here is a more modern look from JCrew.
https://www.jcrew.com/womens_category/jewelry.jsp
---
This bracelet by Max and Chloe is really elegant and classic.
http://www.maxandchloe.com/ali-ny-gold-city-tassel-belcher-bracelet
---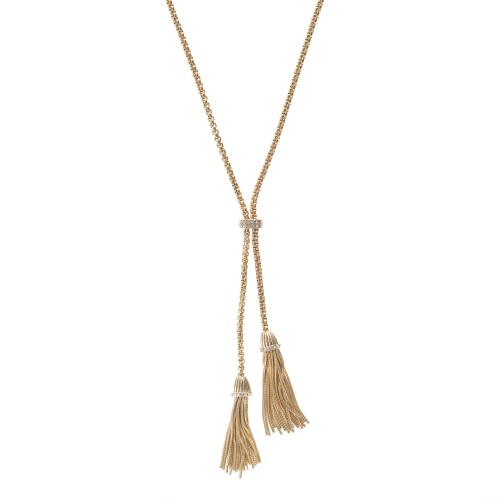 This too is by JCrew!
https://www.jcrew.com/womens_category/jewelry/necklaces/
---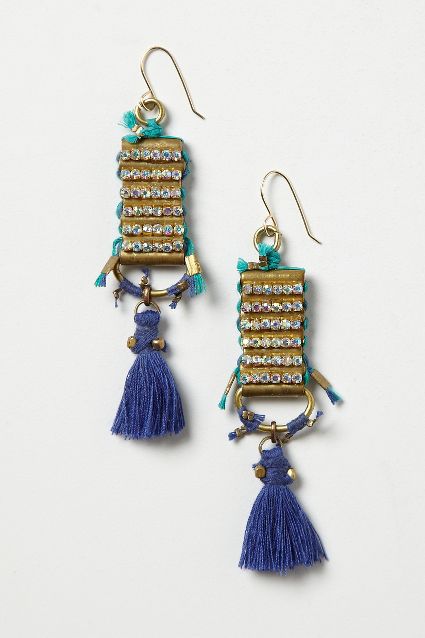 I like how the designer from Anthropologie tied the thread throughout the whole piece in this pair of earrings. http://www.anthropologie.com/anthro/product/27445816
---
This necklace is no longer available from Stella and Dot, but I love how the rhinestone chain wraps around the top.
---
Rachel Zoe created these fun tassel earrings for Bergdorf Goodman. They too are no longer available, but I love the little extra bits at the bottom of the chain.
---
I also love how Etsy Artist with Primitive Fringe finished off her awesome bohemian leather cuff bracelet. https://www.etsy.com/shop/PrimitiveFringe
---
Amy Cope at ChristianOPearls has some lovely jewelry pieces. I really like how she incorporated leather to create this tassel necklace. https://www.etsy.com/listing/199655255/pearls-and-leather-tassel-necklace-boho
---
Oh, my! I have died and gone to heaven! These are simply DIVINE! 3DivaStudio has my vote hands down! https://www.etsy.com/listing/229567428/pink-tassel-necklace-love-always-heart
---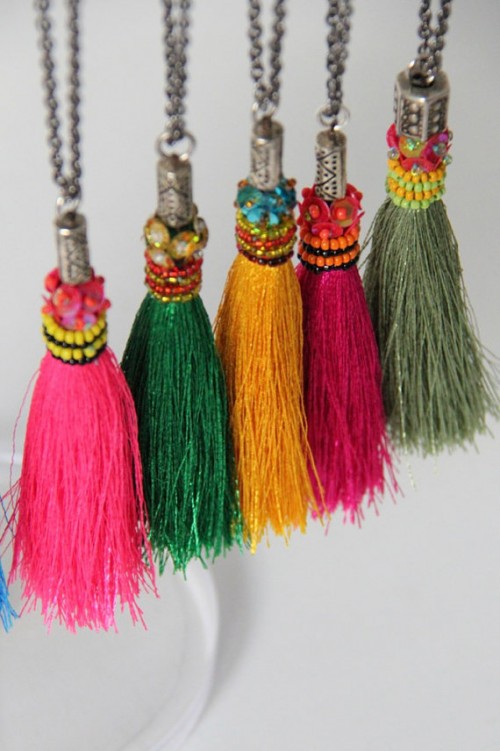 Michelle at Crayon Chick is doing some super great tassels on her Etsy Site!
https://www.etsy.com/transaction/214770650
---
Oh my! Now that is some tassel! This necklace by Mimoza is actually 5 in 1! The chains are detachable! www.etsy.com/listing/205672824/five-in-one-rainbow-tassel-necklace
---
These are cool bracelets. Maybe the tassel could be wrapped around a bangle bracelet or leather cord? www.tabletonic.com.au/nima-tassel-bracelet-by-krysos-chandi-maroon-peach-neon-orange-gold/
---
Learn How!
All right, now that I have you all inspired, here are some tutorials that I have come across to teach the basics of how to make a tassel. If you know of others, please let me know!
Videos:
Learn How To Make Chain Tassel Earrings with this video from Beadaholique.

In this video Beadaholique walks you through How to Make a Beaded Tassel

---

Fusionbeads.com has a simple tutorial showing the basics. I think the key is the fiber! http://www.fusionbeads.com/Making-A-Tassel
---
Design Thrift Blog has a great tutorial walking you through the easy steps of creating these fun fringe hoop earring. http://designthrift.blogspot.com/2013/04/diy-threaded-tassel-hoop-earrings.html
---
Jennifer at Beading Daily has a quick tutorial on how to add tassels onto a stretchy-cord bracelet. I especially like all the comments about "which stretchy-cord" is the best to work with. Some good info there if you are interested in creating some bracelets like this.
http://www.beadingdaily.com/blogs/daily/archive/2014/12/15/bead-stringing-with-stretchy-cord.aspx
---
Super simple chain tassel tutorial from Make It and Fake It.
http://www.makeitandfakeit.com/2012/03/diy-gold-tassel-earrings-step-bystep.html
---
Where To Buy:
I didn't put much time into researching sources of tassels, but would love to know if you have a good source that you would be willing to share. Here is a quick search of tassel vendors that might be of interest to you.
Don't you agree that tassels are AWESOME?
---
Shop Nunn Design Wholesale
Nunn Design has been supplying jewelry artists with findings for over 20 years. Shop wholesale jewelry findings for creative jewelry makers.
Shop Nunn Design!
---
How to Purchase Wholesale?
If you are interested in becoming one of the many designers who trust their jewelry to Nunn Design Findings, please join us by registering to become one of our wholesale customers!
Please visit our Where to Buy Page for a listing of online stores that sell Nunn Design Findings retail.
---

If you enjoyed reading this post, please subscribe to our blog. Here are 10 Reasons Why to Subscribe and a place to do so!