I have been attracted to loom woven belts and bracelets since I was a child. Do you remember those beaded belts you would see in the gift shop when you were on a road trip traveling someplace with your family? Well I do, and I always wanted one. Maybe that is where my love for this look originated. Regardless, loom weaving is on my bucket list of things to explore.
Here are some inspirations, tutorials and videos that I have found to inspire and to educate myself into learning something new. I hope you enjoy it too.
---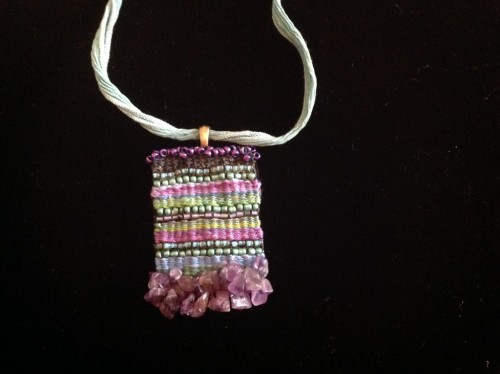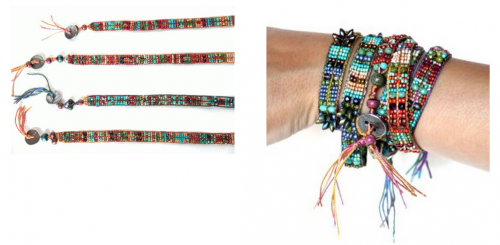 Don't these look cool! Mirrix Tapestry & Bead Looms has some really beautiful projects and tutorials on their site. http://blog.mirrixlooms.com/category/bead-weaving/
---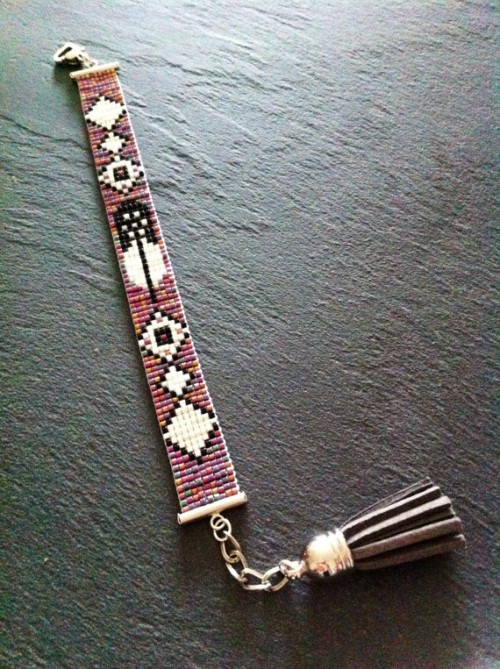 It is a price like $21.78 that makes me want to just buy one instead of make one – especially with the cool tassel (did you see last weeks tassel post?). But then again, where's the joy in that? https://www.etsy.com/listing/171792611/native-american-inspired-feather-cuff
---
I don't know if this Cocobelle Bali Beaded Belt by Garnet Hill is loom woven, but it is sure cool and shows the trend in this look. http://www.garnethill.com/cocobelle-bali-beaded-belt/shoes-accessories/belts/389031
---
Fly By Night Bracelets creates some beauties. I really love the soft leather tied onto the ends with a button clasp. www.etsy.com/listing/220274679/hand-loomed-denim-blue-creams-rusty
---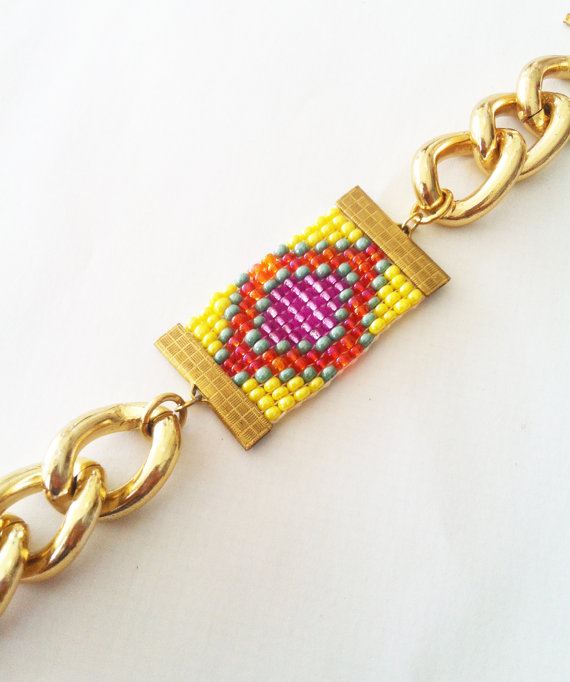 Mix some loom weaving up with a bit of chain. Shh By Sadie has done a beautiful job of mixing it up! https://www.etsy.com/listing/168203024/priestess-woven-bead-necklace-with
---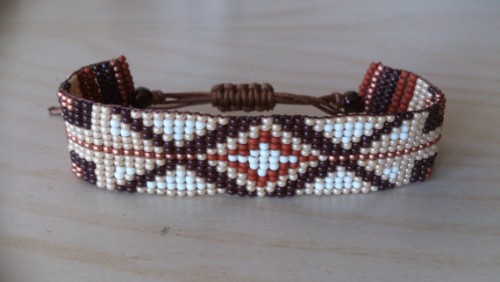 I really like how Suusajabeads is tying off her loom woven bracelets with an adjustable closure. https://www.etsy.com/listing/216235575/loom-beaded-braceletbeaded-bracelet-with
---
Learn How!
I spend a lot of time scouring the web looking for ways to educate myself when trying to learn something new. Here are some of the tutorials, videos and tidbits I found. While I was looking at 100's of samples of loom weaving, the key is in the materials as well as the design. If you use inexpensive materials, the wrong colors or a poor pattern, loom weaving looks cheap. But, the right combo and boom! I guess that is true for anything.
---
Fusion Beads has several great tutorials on their site, like this Color Crush Bracelet. http://www.fusionbeads.com/Color-Crush-Bracelet
---
This Deco Design project also by Fusion Beads is hip and trendy in color, shape and design. http://www.fusionbeads.com/Deco-Delight-Necklace
---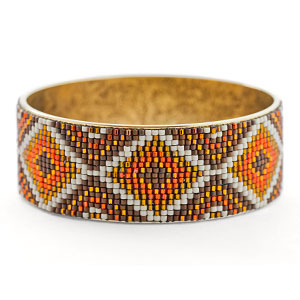 This Autumn Sun Bracelet uses one of the Nunn Design Large Channel Bangles. All of our Channel Bangles and Channel Beads are perfect for loom weaving. http://www.fusionbeads.com/Autumn-Sun-Bracelet
---
Videos:
Beadaholique has a basic How to Use a Beading Loom video on their site.
http://www.beadaholique.com/t-video-How-To-Use-A-Bead-Loom.aspx
They also have videos on how to Finish and Back Bead Loom Weaving and How to Tie Off and Add New Threads. Beadaholique is a great place for learning the basics through watching their videos.
---
Mirrix Tapestry created a webinar crash course. I didn't watch it yet, but I plan to prior to investing in a loom.
---
Pueblo Bead and Supply has patterns that you can download, such as this one. https://www.etsy.com/listing/213190605/turquoise-diamonds-loom-cuff-bracelet
Am I just out here on my own? Or doesn't loom weaving seem like fun?!
---
Shop Nunn Design Wholesale
Nunn Design has been supplying jewelry artists with findings for over 20 years. Shop wholesale jewelry findings for creative jewelry makers.
Shop Nunn Design!
---
How to Purchase Wholesale?
If you are interested in becoming one of the many designers who trust their jewelry to Nunn Design Findings, please join us by registering to become one of our wholesale customers!
Please visit our Where to Buy Page for a listing of online stores that sell Nunn Design Findings retail.
---

If you enjoyed reading this post, please subscribe to our blog. Here are 10 Reasons Why to Subscribe and a place to do so!