This time of year is one of the busiest for me. Especially this year since all of us are involved in creating a new Nunn Design Master Catalogue.
If you have ever wondered how we do it, here is a run down of the steps it takes to create a catalogue of 64 pages.
---
1.
Heather begins the process of getting our 64-page, 2016 Master Catalogue to various printers for a printing bid. With the bid she builds the budget and we begin planning for the catalogue expense as well as all mailings of the catalogue over a year in advance.
---
2.
Heather and I watch the trends of production to get an idea of the products that are slowing down in sales. This process helps us determine which items we will be retiring. To see which items made this list, shop our 2015 Retiring Items on our website (they are on sale for 20% off while supplies last!).
---
3.
Next, Heather runs all of our cost analysis to see if there will be any pricing increases coming our way. We hold off as long as we can, but then we hit that tipping point where we must increase prices in order to continue to offer the product. We do our best to keep it to a minimum!
---
4.
While doing these tasks, Heather and I are also crunching the numbers and building out prototype samples for our 2016 Winter Collection. The new line will release on January 7th, 2016 and will be included in the Master Catalogue, so all those products need to be photographed and prepped for the upcoming catalogue.
---
5.
I then make a big mess on my office floor! It is time to start figuring out the layout of the new catalogue. This is a big task that consists of:
Combining all three of the current catalogues into one.
Pulling out all of the items that are retiring.
Adding all of the items that will be added in the 2016 Winter Collection.
---
6.
After the information is organized, the rough layout is passed off to Melissa to start on. Melissa works with the layouts and starts the beginning process of seeing if everything will fit where I've intended.
---
7.
Once Melissa has a rough of the overall catalogue, I start to look at the actual flow of the catalogue. With 64 pages to work with, I need to know how many pages I have to "play" with. During this phase I get clear on how many beauty shots I will need for the new catalogue and get an idea of what shots will go where.
---
8.
Next I organize all of my jewelry samples. I wanted this catalogue to focus on collections of pieces within various techniques, so by organizing all of the jewelry samples I can start to see if I need to make additional samples in order to communicate what I want.
---
9.
Time to haul everything into the photo studio. I went through all of my props and organized and cleaned everything. I tend to like to keep the various props separated into like kind categories. All the glass, wire, wood, metal, backgrounds etc. go into different piles for me to design with.
---
10.
Each shot is set-up individually and photographed. I tend to set-up 10-12 still life shots at a time and then shoot all of them in a row.
---
11.
Here is a taste of some of the shots that I put together.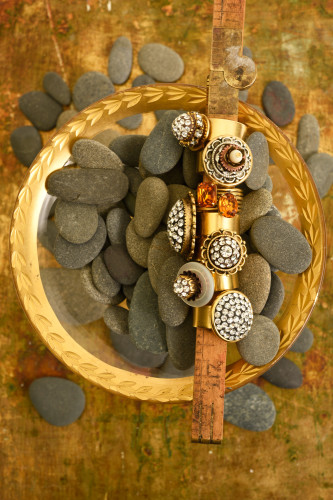 ---
12.
Now it is a matter of deciding which photos to incorporate into the catalogue, reworking and reworking the page layouts until we have it just right, proofing, proofing, and proofing again, putting the table of contents together and then sending it off to the printer.
---
13.
Then we hope that you find it helpful!
---
Do you find glimpses into the world of Nunn Design to be interesting? Would you like to know more things like this?
---
Shop Nunn Design Wholesale
Nunn Design has been supplying jewelry artists with findings for over 20 years. Shop wholesale jewelry findings for creative jewelry makers.
Shop Nunn Design!
---
How to Purchase Wholesale?
If you are interested in becoming one of the many designers who trust their jewelry to Nunn Design Findings, please join us by registering to become one of our wholesale customers!
Please visit our Where to Buy Page for a listing of online stores that sell Nunn Design Findings retail.
---

If you enjoyed reading this post, please subscribe to our blog. Here are 10 Reasons Why to Subscribe and a place to do so!