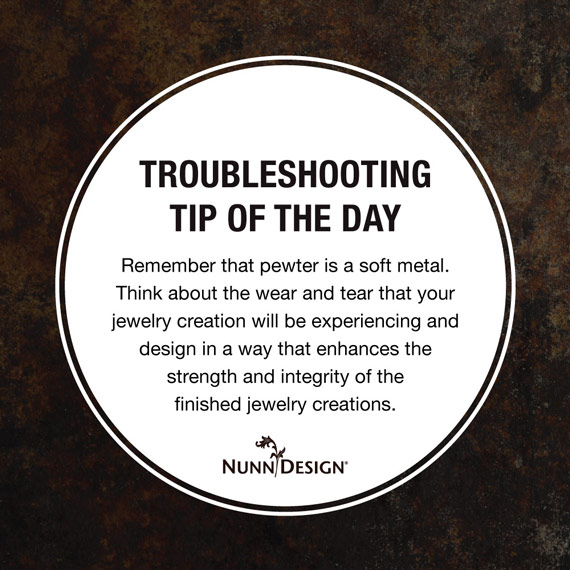 One of the customer service calls we have received in the past have been from customers who had a bail or a loop on a Nunn Design Bezel break. In both cases, the finished jewelry that the customer had challenges with involved the use of a Nunn Design Bezel threaded onto a keyring.
We went through a wave of loop breakage when we first introduced the Nunn Design high quality brass key rings.
We had several customers who were threading the bail bezels, that we have within the Nunn Design Collection, right onto the brass key ring.
The loop on the bail pendant is "beefy" and very substantial, but because the end consumer was using it as a key ring (imagine that!) there were several customer service calls about the bail and loop breaking. The everyday use of a keyring was too much stress on the pewter bezel – regardless of the strength.
Pewter is a soft metal. I have found through my own experience and years of customer service that the best way to avoid breakage, on the loop and bails of the various bezels within the Nunn Design Collection, is to design in a way that doesn't cause stress to the pewter.
---
A Solution:
What solved the breakage in the examples of the keyring loop and bail breakage was having the designer add jumprings to their keyring design. This eliminated the stress that was being placed on the pewter. The brass jumpring was able to take the wear that the pewter wasn't able to navigate.

This is also true for bangle bracelets. If there isn't enough room for the jumpring to easily navigate wear, it will cause additional stress on the loops of charms and bezels when the bracelet is taken on and off.
---
Troubleshooting Tip of the Day:
Troubleshooting Tip of the day, remember that pewter is a soft metal. Think about the wear and tear that your jewelry creation will be experiencing and design in a way that enhances the strength and integrity of the finished jewelry creations.
---
Shop Nunn Design Wholesale
Nunn Design has been supplying jewelry artists with findings for over 20 years. Shop wholesale jewelry findings for creative jewelry makers.
Shop Nunn Design!
---
How to Purchase Wholesale?
If you are interested in becoming one of the many designers who trust their jewelry to Nunn Design Findings, please join us by registering to become one of our wholesale customers!
Please visit our Where to Buy Page for a listing of online stores that sell Nunn Design Findings retail.
---

If you enjoyed reading this post, please subscribe to our blog. Here are 10 Reasons Why to Subscribe and a place to do so!